10 scenic drives in Ireland
For a small island Ireland packs a punch when it comes to scenery. Here are 10 scenic drives that show the best of the country.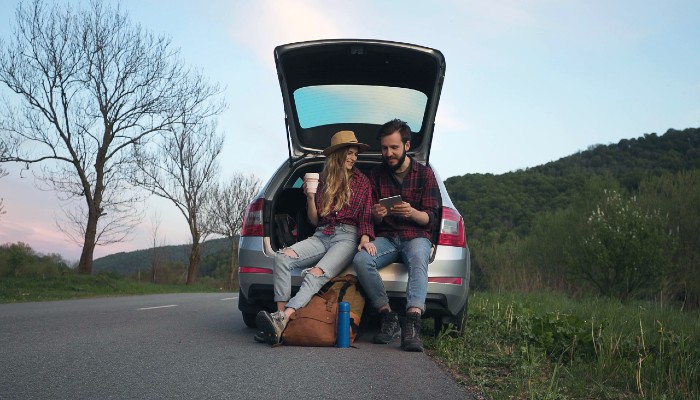 You don't have to venture too far to be spoilt with nature. From rugged mountains to dramatic coastlines, Ireland has some spectacular scenic drives that take in outstanding countryside and seascapes. Here are a list of the top ten scenic drives in Ireland:
1. The Ring of Kerry, Co Kerry
The world famous Ring of Kerry is one of the most scenic drives in Ireland. Every summer the Iveragh Peninsula is thronged with cyclists taking part in the Ring of Kerry cycle, but if you want to take in this coastal route at your leisure, driving it provides many breath-taking views with lots of places to stop along the way.
Starting in Killarney, drive for 25 minutes to the town of Killorglin, famous for the Puck Fair festival. From there a short spin to the coast will see you get to Glenbeigh where the long, sandy, blue flag status Rossbeigh Strand awaits.
It's then on to Cahersiveen and from there towards Coomakista and Caherdaniel which is home to one of the most beautiful beaches in Ireland – Derrynane, which holds blue flag status. A short drive from there brings you to the picture postcard town on Sneem – a wonderful place to stop for a bite to eat.
Kenmare is the next stop on this route and then a short spin back to Killarney to finish. As this route is 180km its best to break it up over a few days to really enjoy all it has to offer.
2. The Ring of Beara, Co Cork
With rugged mountains the backdrop to craggy coastlines, West Cork's Ring of Beara is breathtakingly beautiful. Starting in Kenmare, a stunning drive along the coast brings you to villages such as Lauragh, Ardgroom, Eyeries and Allihies before going up the other sides of the peninsula towards Gour Pass.
Next stop is Castletownbere, a picturesque fishing town with views out on to Bere Island. Surrounded by the Caha mountains, the quaint village of Adrigole is another nice place to stop and take in the views. But if you want to drive on a bit further to Glengarriff (meaning the 'rugged glen'), is a well-known holiday destination. Here there are plenty of dining options, all the while surrounded by stunning scenery.
3. Wild Atlantic Way, west coast of Ireland
One of the longest defined coastal routes in the world, the Wild Atlantic Way is 2600 km in length so you might want to break up this drive into different stages. The Wild Atlantic Way starts in Donegal and goes all the way down to Cork so there are plenty of stunning coastlines to explore. If you're a fan of surfing, Mullaghmore Head in Sligo is one of Irelands best spots for big waves, but if you're a beginner, why not visit the Strandhill Surf School in Sligo.
The route is divided into 14 stages to make it easier to navigate. Discover the various routes here and decide which ones you will take.
4. Loop Head, Co. Clare
As you drive south from the small coastal village of Kilkee in Co. Clare, expect to be impressed with the dramatic Loop Head drive. Along the way you will encounter sensational views out over the cliffs, stunning seascapes and the prominent Loop Head lighthouse.
Stop off at the Pollock Holes to see these calm and protected sea pools, which on a clear day, and when the tide is in, are filled with aqua coloured waters. This route also has a number of places for surfers to try, including Kilkee Beach and Lahinch Beach which both hold blue flag status.
5. Wicklow Mountains, Co. Wicklow
Depending on your starting point, the Wicklow mountains will take you on a circular route from the Sally Gap where you can turn off north to Dublin, south to Glendalough, west to Blessington or east to the village of Roundwood.
Glendalough also known as the 'valley of the two lakes' has spectacular scenery. A visit to the famous monastic site and round tower is a must. Whatever route you decide to take, you're sure to appreciate the wild and mountainous beauty of the National Park and realise why Wicklow is called 'the garden of Ireland'. Be sure to keep your eyes peeled for some of the wildlife that live around the mountains such as deer, goats and red squirrels.
6. Slea Head, Co. Kerry
The Slea Head drive, which loops around Slea Head from Dingle town, is a very popular drive and rightly so. The seascapes are really something along this route and there are plenty of places to stop to take in the views along the way.
The Slea Head Drive starts and finishes in the buzzing town of Dingle. From there head to the beautiful beach at Ventry, which holds blue flag status. From there its on to Dun Chaoin Pier which has views out over to the Blasket Islands. Other great viewing points along the way are Dunmore Head and Coumeenoole Beach.
It's not a long drive – about one hour – but with so many beautiful vantage points to stop at along the way, it's best to give yourself 3-4 hours to really soak up the scenery.
7. Causeway Coast Drive, Co. Antrim
Depending on how long you have, the Causeway Coast drive can take you a few days or a week to do. In its entirety its long so if you don't have loads of time you might decide to do a section of it.
Starting in Belfast City and ending in Derry, it follows the coast road through the nine Glens of Antrim, before coming to the World Heritage site that is the Giant's Causeway.
Whether its rugged coastline or quaint villages and towns, this route has something for everyone. This route is steeped in history too and Carrickfergus Castle and Dunluce Castle are two must see stops along the way.
8. Clonakilty to Mizen Head, Co Cork
This route is over 80km long and takes in the best that West Cork has to offer. From the busy town of Clonakilty head south on the N71. If you have time it's worth going off the main road to some hidden gems along the route.
Rosscarbery is the first main town on the route and is home to two stunning beaches - Owenahincha Beach with blue flag status and Warren Beach. Next stop is Glandore. Its harbour and great dining options makes it a popular holiday destination. Skibbereen is another great place to stop for a bite to eat.
Coming into Schull, on a clear day you should be able to see out over the islands doted across the sea, while further along this route is home to hidden coves and beaches.
When you get to Mizen head – the most southern point in Ireland – you can visit the visitor centre to step back in time and experience what life was like for the lighthouse keepers.
9. Boyne Valley, Co. Meath
The Boyne Valley is one of only three World Heritage Sites in Ireland. There is a lot to see along this relatively short route and you could easily spend the day stopping off at historical sites along the way.
Starting in Drogheda places of note along the route include St Laurence's Gate, Monasterboice, Mellifont Abbey, Kells where the book of Kells originated, Trim Castle, the Hill of Tara and the place of the Battle of the Boyne.
10. The Copper Coast, Co. Waterford
With so much to offer in the city of Waterford and with the Greenway route that goes from the city to the town of Dungarvan, many people forget to check out a scenic drive along Waterford's Copper Coast.
As the name suggests, this route boasts beautiful beaches and coves and plenty of towns and villages along the way. Clonea Strand in Dungarvan, holder of blue flag status, is worth a stop off as is Bunmahon Beach and Dunabrattin Head. As well as this, The Copper Coast UNESCO Global Geopark extends over 25km from Kilfarrasy to Stradbally, it was also the first geopark to be dedicated in the country. The Geopark also has a visitor centre in Bonmahon.
About: How can we better discover our world?
No matter where you are travelling to in your car, your car and protecting those in it will be the most important element of the journey. Car insurance is a legal requirement in Ireland and having your car insured with Zurich Insurance gives you peace of mind that should the worst happen such as a breakdown when you are on your road trip, you are protected. Our car insurance also has many great benefits depending on the cover you choose.
Related articles
Filter by category
Follow us on

Sending Answer, please wait ...
Your answer has been successfully submitted. Thank you for your participation.
An error has occurred attempting to submit your answer. Please try again.