Putting the well into being
How do you tackle your feelings? Empowering yourself to connect with your emotions and open up about how you are feeling can inspire you and others to be more aware of your mental wellbeing.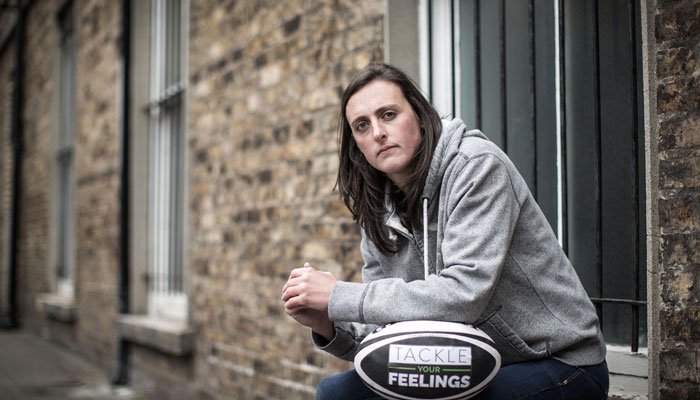 As part of Zurich's CSR commitment to communities in Ireland, we partnered with the Irish Rugby Union Players Association (IRUPA) on a three year mental wellbeing campaign called Tackle Your Feelings (TYF).
TYF was established with a clear vision to promote the view that being honest with how you are feeling is brave. Being connected to your emotions encourages people to open up to others for support, and by taking this preventative measure, allows people to look after and maintain their mental and emotional wellbeing.
Créde Sheehy-Kelly, TYF Campaign Manager, says the core message of the campaign is that self-awareness is key. "Tackle Your Feelings is asking people to be honest with themselves, about how they are feeling, create space for personal self-reflection and figure out the coping strategies that work best, and of course use them. If you can make a daily habit of practising these simple steps you should be able to prevent stress from reaching crisis point and be in a much better mental, emotional and resilient state."
Tackle Your Feelings IRUPA Ambassadors, Connaught's Jake Heenan, former Leinster player Shane Jennings and Irish rugby union player for Leinster Rugby, Jack McGrath share their emotional wellness stories and explain why it's important to be open about our feelings and be brave enough to seek support.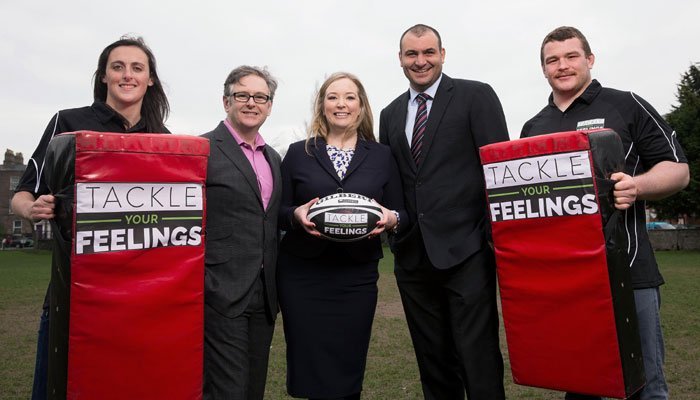 Hannah Tyrrell; Dr Eddie Murphy; Elaine Hayes, Zurich; Omar Hassanein, CEO, IRUPA; Jack McGrath.
As part of the Tackle Your Feelings initiative, IRUPA and Zurich hosted a number of events recently to promote mental wellness to staff employees. In Dublin and Wexford, panel discussions took place featuring TYF Zurich Ambassadors who shared their personal stories about dealing with a mental wellbeing challenge, along with former Leinster and Ireland player, Shane Jennings and mental health expert and Clinical Psychologist, Dr Eddie Murphy who provided practical advice on how to proactively manage mental wellbeing.
In September, there was a panel discussion in Galway that was open to the general public and which featured Jake Heenan, Shane Jennings and Dr Murphy, and two further events in Belfast and Dublin in October and an additional event in Thomond Park in Limerick in May.
At the panel discussion held in Dublin's Lansdowne Rugby Club, over 150 attendees heard from Tackle Your Feelings Ambassador, Jack McGrath, who recently came forward to tell his own personal story about the impact of his brother's death by suicide. Irish Women's Sevens and Fifteens rugby player, Hannah Tyrrell spoke candidly about her struggle with self-harm and bulimia and former Ireland and Leinster Flanker, Shane Jennings discussed the mental and emotional challenges of retiring from professional rugby.
When Hannah Tyrrell was asked was she apprehensive signing up to take part in the campaign, she said it was a no-brainer and she was more than happy to talk about her mental wellness challenges if it meant that it would help other people to open up too.
Jack McGrath echoed this sentiment and said: "Initially I wondered if it was a good idea to put myself out there because of the stigma but I chose to go ahead with it and it's probably one of the best things I've ever done because its opened my eyes up to so much. I'm a different person after doing it. When people come up to me and thank me for doing this it makes it all worthwhile because it was a difficult thing to do."
When Jack's brother died he said he felt he had to be strong for his family, and as a rugby player he had to appear tough. "That's how I felt for five years up until I did the campaign," he said. "I bottled it up, I put my head in the sand and thought it would go away, and obviously it didn't."
According to Jack, people always have good and bad thoughts and it's about managing those thoughts. "The most important thing I've learned is to be more positive and to talk to people when things are not going so well."
Dr Eddie Murphy agreed and said that it's braver to be able to talk about things than keep them bottled up. "The key message is you can be both vulnerable and strong," he said.
About: Tackle Your Feelings (TYF)
Tackle Your Feelings is a three year partnership between Zurich and the Irish Rugby Union Players Association (IRUPA) aimed at encouraging people to take preventative measures to look after and maintain their mental and emotional wellbeing.
Sign Up Here
For promotional offers, news, updates and access to exclusive reports from Zurich
Your answer has been successfully submitted. Thank you for your participation.
An error has occurred attempting to submit your answer. Please try again.