Power and politics shape investments
Political events in the US and across Europe mean equities remain attractively valued on a relative basis compared to bonds and cash, writes Richard Temperley.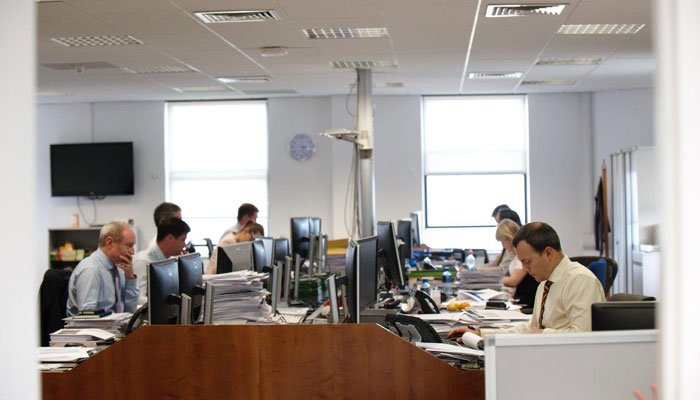 Equities rose strongly in November as market participants reacted positively to the US presidential election result and the US rate rise in December. The new US administration is expected to cut corporation tax rates and to introduce an expansionary economic policy, such as increased infrastructure spending. There was further sector rotation out of 'bond-proxies' such as real estate and utilities and the US Q3 earnings' results season was a positive for the market..
World equities rose by 4.4% during November and have given a total return of 8.7% in the first 11 months of the year. It's worth remembering that the world market had fallen by almost 15% in the first six weeks of the year. There were mixed returns amongst the major equity markets in local currency terms in November ranging from plus 5.5% in Japan to minus 2.4% in the UK. The influential US market was up 3.4%. Year-to-date, the strongest equity markets in local currency terms have been the UK (+8.7%) and US (+7.6%).
There was sector rotation in November from 'bond-proxies' into some cyclical stocks. In the US, utilities fell by 6.0% whilst financials rose by a staggering 13.7%. Cyclical stocks have clearly outperformed defensive areas in the US so far in 2016 with energy (+21.5%) being the best performing sector and healthcare (-4.9%) the worst.
Bonds and interest rates
The Merrill Lynch Euro over Five Year Index fell by 2.5% in November adding to October's hefty 3.2% fall; although it remains up 3.9% year-to- date. Eurozone bonds had been supported up to the end of July by economic growth concerns and increased quantitative easing. However, they are now facing an environment of higher US rates and the prospect of an expansionist US economic policy. Core eurozone markets have been stronger so far this year with Italy, in particular, underperforming.
The German 10-year bond yield rose over the month from 0.16% to 0.28%. The yield had hit an all-time low of minus 0.19% on 8th July. Equivalent US rates rose sharply from 1.83% to 2.38% reacting to the likely change in US economic policy by the incoming administration.
There is now a 95% chance that the Fed will raise US interest rates again in mid-December 2016. The first rate rise in many years took place last December. Eurozone rates are likely to remain at current ultra-low levels for the foreseeable future.
Commodity prices overall were up by 1.6% in November and are up by 7.5% so far during this volatile year. The oil price increased by 5%, from$47 to over $49 per barrel, reacting to the first agreed oil output cut by OPEC in eight years, as well as proposed cuts from non-OPEC countries. The gold price fell sharply in November, down 8% to $1,171 per troy ounce.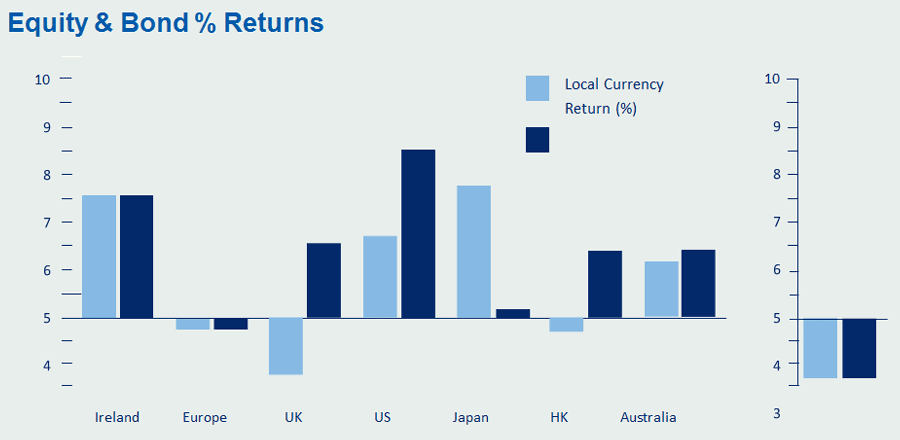 This graph shows the performance of the major equity markets over the month of November. The returns are shown in both local and euro currencies. The bond index is the Merill Lynch over 5 year Euro Government Bond Index. Source: Bloomberg, December 2016.
This Monthly Investment Review does not constitute an offer and should not be taken as a recommendation from Zurich Life. Advice should always be sought from an appropriately qualified professional.
About: Richard Temperley
Richard Temperley is Head of Investment Development at Zurich Life Ireland. The team at Zurich Investments is a long established and highly experienced team of investment managers who manage approximately €20bn in investments of which pension assets amount to €9.5bn. Find out more about Zurich Life's funds and investments here.
Warning: Past performance is not a reliable guide to future performance.
Warning: Benefits may be affected by changes in currency exchange rates.
Warning: If you invest in these products you may lose some or all of the money you invest.
Warning: If you invest in these funds you may lose some or all of the money you invest.
Sign Up Here
For promotional offers, news, updates and access to exclusive reports from Zurich
Your answer has been successfully submitted. Thank you for your participation.
An error has occurred attempting to submit your answer. Please try again.