Taking the first step to a healthier life
Two former professional rugby players, Mike Ross and Isaac Boss, share their experiences of how technology impacted their game and why wearable devices can motivate us all to keep fit.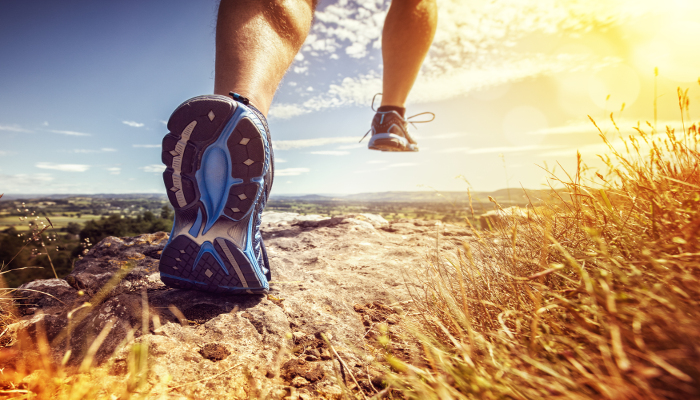 Wearables are revolutionising how we keep fit and the vast array of fitness apps and online tools is making it easier to be healthy and stay connected to your physical and mental wellbeing. From serious athletes to aspiring fitness enthusiasts, wearables and smart fitness technology are motivating us to maintain a healthy lifestyle and transforming how we keep fit.
Former Leinster Rugby and recently appointed scrum coach to Ireland's women's rugby team, Mike Ross has seen first hand the benefits of technology for improving fitness. "Technology features heavily in a player's fitness", he says, "it won't do the work for you, but it easily allows you to see how hard you're working and helps tailor exercises to you individual needs."
Isaac Boss is a New Zealand-born former Irish rugby union player. Now retired from playing professionally, he says technology still helps keep him motivated. "Technology brings the fun aspect back into sport and fitness for me now that I am not a professional player." Boss is a firm believer in the power of technology when it comes to setting goals and getting a fitness plan in place. "It is very hard to motivate yourself or see improvements when there is no plan and no recording. And technology helps provide the data to explain why the results are occurring," he says.
The growth of apps and fitness devices has been phenomenal and the pace of change in smart technology has been impressive. Ross, who announced his retirement in 2017, agrees and says that throughout his career he has witnessed the huge changes that have taken place.
"When I started out, the only thing commonly available were heart rate trackers. I was there when individual GPS trackers came in, and they've gradually become essential to tracking and regulating training loads, as well as monitoring your work-rate. Software has been developed too which can prevent injuries by flagging issues identified by regular testing of physical metrics."
While technology clearly has a big role to play for professional sports, it can be equally important for personal fitness and motivation. Aside from the proven physical benefits you get from a healthy lifestyle, exercise has been shown to help with a person's mental and emotional wellbeing too. "I have noticed the mental wellbeing benefits of a healthy lifestyle more so since I have retired from rugby", Boss reveals. "Being able to clear the head through some sort of exercise helps me deal more effectively with daily challenges and makes me more productive in work."
He also points out that wearables are empowering people to make changes and decisions to their training and fitness routine, based on the data. "Wearables such as smart watches give real time information which enables you to make quick decisions and adjustments if necessary. Previously, there was a delay in the information and all decisions were in hindsight, and often too late to have any real effect."Ross agrees that you don't have to be a professional sportsperson to get the benefits from fitness technology. "I know from personal experience that wearing a step tracker can encourage you to get out for a walk so that you hit your steps goal for the day. Other more sophisticated trackers can tell you how many calories you've burnt, how you've slept or what your heart rate is ... all of which are assisting people to make better decisions that encourage a healthier way of life."
Inadvertently, just by looking to see how far you have ran or walked can help you realise how active or inactive you have been. Technology can help you develop a better awareness of your fitness level, motivate you to challenge yourself, and in turn, help you realise if you have in fact succeeded in reaching your goal. Just like with any plan, starting small and building up is often the best advice. Setting realistic goals that you are likely to achieve, will help you strive for greater challenges further down the line, Boss says.
In this fast-paced world we live in, we are all prone to feeling time poor, but according to Ross small changes to your lifestyle can have a huge impact. "Having recently made the transition to fulltime employment, I can definitely sympathise with people who say they don't have time to exercise. But I would say that you can find time for it, it's just a matter of prioritising." Ross says he often exercises at the weekend when he has more time, or he might incorporate family time with going for a walk in the evenings. "You don't need to exercise for hours. An hour in the gym is plenty, as long as you maximise your time there," he says.
Isaac Boss says he has met plenty of people who are living busy lives but they still find time to have a regular and consistent fitness routine. "The rest of us (myself included) choose not to take that 20 - 30 minute exercise break, as we feel under pressure to get other things done. It has taken me a while to realise that having that break actually makes me more productive and efficient. Being organised enough to schedule this into your day is the key place to start."
Join the movement
Zurich is currently running a Join the Movement which has many great advantages for customers including a free Garmin watch and money back on life insurance premiums.
If you are interested in getting a free Garmin wearable watch and money back on your life insurance, call us directly on 1850 804232 to find out more, or sign up today for a no obligation call with one of our financial advisors.
Warning: Past performance is not a reliable guide to future performance.
Warning: Benefits may be affected by changes in currency exchange rates.
Warning: The value of your investment may go down as well as up.
Warning: If you invest in these funds you may lose some or all of the money you invest.
Related articles
Filter by category
Follow us on
Sign Up Here
For promotional offers, news, updates and access to exclusive reports from Zurich

Sending Answer, please wait ...
Your answer has been successfully submitted. Thank you for your participation.
An error has occurred attempting to submit your answer. Please try again.