Equities and bonds rise as investors focus in on 'Powell Put' potential
Markets moved higher throughout the course of the week, as analysts cheered the concept of the 'Powell Put'.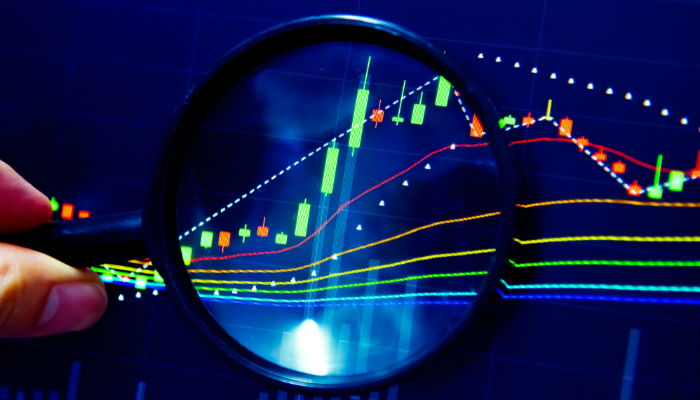 Markets moved higher throughout the course of the week, as analysts cheered the concept of the 'Powell Put'. As data weakens, most notably the latest US employment figures, investors are betting that the Fed will step in to cut interest rates and once again ignite the roaring bull market. What action the Fed takes remains to be seen. As alluded to above, Non-Farm Payrolls disappointed for May with just 75,000 jobs added, far below the average expectation. Bond yields fell immediately as the threat that higher interest rates may pose to fixed income markets continues to dissipate. The ECB also look poised to act, with the reintroduction of asset purchasing becoming a live option. German Bund Yields fell even further as a result, falling below the 10 year Japanese equivalent. President Trump also announced a last minute reprieve for Mexico by postponing the threat of a blanket 5% tariff on all imports; as Mexico vowed to step up efforts to curb illegal migration to the US.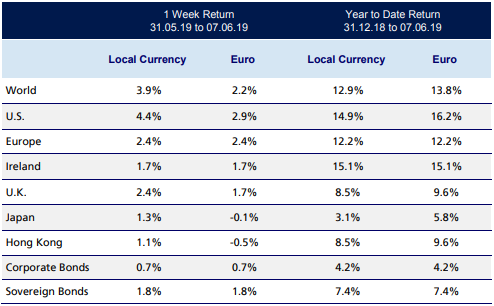 Equities
Global markets had a strong week, up nearly 4% in local terms, whilst a stronger euro reduced returns for Irish investors.
The influential US market led the globe higher, up 4.4%, as all major markets enjoyed a positive week.
Fixed Income & FX
The U.S. 10-year yield ticked lower again during the week, moving to 2.08% from 2.12%, having started the year at 2.68. The German equivalent moved to a record low of -0.26%.
The Euro/US Dollar exchange rate moved higher to close at 1.13, whilst Euro/GBP was at 0.89.
Commodities
Oil finished the week slightly higher at just below $54 per barrel.
Gold finished the week up at $1,341 per troy ounce. Copper finished the week down at $5,778 per tonne.
The week ahead
Tuesday 11th June
US PPI and UK unemployment data are both released to the market.
Wednesday 12th June
The US and China inflation figures (CPI) go to print.
Friday 14th June
US retail sales data is released where a rise of 0.6% (MoM) is forecast.
Related articles
Filter by category
Follow us on
Sign Up Here
For promotional offers, news, updates and access to exclusive reports from Zurich
Your answer has been successfully submitted. Thank you for your participation.
An error has occurred attempting to submit your answer. Please try again.