Zurich begins sponsorship of Wexford GAA with new jersey launch
Zurich Insurance in Ireland, proud new headline sponsor of Wexford GAA, unveiled the new Wexford GAA jersey for 2020 at a media event today. The sponsorship deal will run for an initial four-year period year and will further embed Zurich, a very significant employer in, Wexford, in the local sporting community.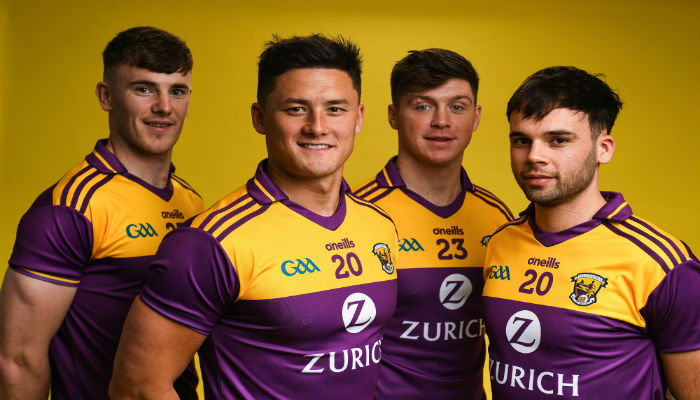 Zurich has grown its presence in Wexford since 2008 and it now employs over 230 people in the county and has demonstrated a strong commitment to the local community. Zurich employees at all levels of the business have a strong engagement in grassroots GAA and this new partnership will further strengthen Zurich's involvement in the GAA across the county.

Anthony Brennan, CEO of Zurich Ireland, said: "We are incredibly proud to be the new headline sponsor of Wexford GAA and the Wexford Ladies Intermediate Football and Senior Camogie teams. We are excited to see the new men's jersey reveal today. The sponsorship is a true reflection of our values as a long-standing proud member of the Wexford business community and is consistent with Zurich's long-term association with grass roots sport in Ireland."
Derek Kent, Wexford County Chairman, commented: "Wexford GAA are delighted to launch this partnership with Zurich. This is an exciting time for Wexford GAA on and off the pitch, we have excellent work being done both at underage and adult level which we are now seeing the benefits of. This sponsorship agreement with Zurich further facilitates investment in our games and infrastructure and points to some very positive years ahead. We are thrilled to have Zurich alongside us on the next phase of our journey as we aim for continued success at all levels of Wexford GAA"
About the new Wexford GAA Jersey
Inspired by the iconic Wexford jerseys of the past, the dark purple with gold upper is a modern re-imagining of the county's traditional attire. The inclusion of "Le Croí agus Lámh", a phrase synonymous with Wexford GAA, on the inside collar, captures the rich history associated with the County and gives reference to Wexford's rebellious tradition. The imprint of the Wexford Crest on the rear is a further acknowledgment to all past players who inspired a county and fought with heart and hand. We believe that the current players will recognise the new jersey as a symbol of all that have gone before them and will wear it with pride.
The new Wexford jersey will have its first outing against Offaly in the O'Byrne Cup on Saturday 4th of January. The jersey will go on general sale for the 25th of January with online presale on January 10th from www.oneills.com
Sign Up Here
For promotional offers, news, updates and access to exclusive reports from Zurich
Your answer has been successfully submitted. Thank you for your participation.
An error has occurred attempting to submit your answer. Please try again.