Dalkey Literary Awards winners announced
The Dalkey Book Festival, in conjunction with Zurich Insurance, has announced the winners of the inaugural Dalkey Literary Awards.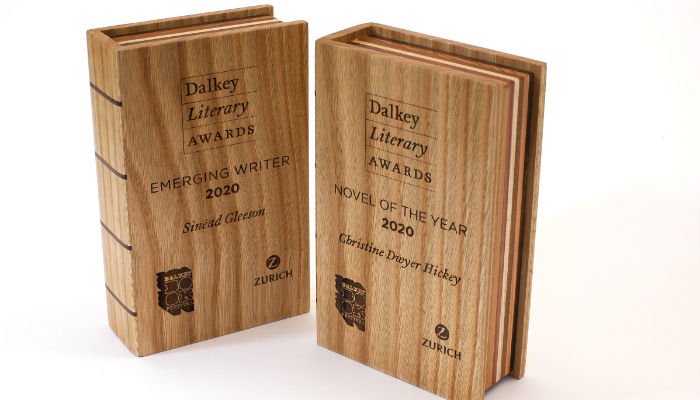 This marks the first year of the Dalkey Literary Awards, launched in collaboration with Zurich Insurance, and is aimed exclusively at Irish writers with a total prize fund of €30,000. The winner of the 'Novel of the Year' category walks away with €20,000 whilst the 'Emerging Writer' receives €10,000. The Awards are the most lucrative in the country and recognise some of the most remarkable home-grown literary talents in Ireland.
The two winning authors are:
Novelist and short story writer Christine Dwyer Hickey, who wins the Dalkey Literary Award for Novel of the Year with The Narrow Land, a searing novel of loneliness and regret, depicting the legacy of World War II and the ever-changing concept of the American Dream which the judges described as 'luscious', 'enthralling', and 'emotionally engaging'.
Award-winning essayist, editor and renowned arts critic

Sinéad Gleeson, who wins the Dalkey Literary Award for Emerging Writer with Constellations, a collection of powerful essays that delve into art, illness, ghosts, grief, and our very ways of seeing and which the judges felt was

"

easily one of the standout books in any field over the last 12 months."
The winners were announced via video link on Saturday 20th June 2020. Viewers can watch both Christine and Sinéad receive the news of their award at: zurich.ie/dalkey-literary-awards
Commenting on her win for Novel of the Year, Christine Dwyer Hickey said: "I am so thrilled to have won such a special award at the very first year of the Dalkey Literary Awards. It's wonderful, I can't believe it. This means so much to me and that someone out there appreciates it, validates all of the hard work. I spent five years working on The Narrow Land from beginning to end, so to even be nominated for a prize means the world to me. I will celebrate this for sure!"
Commenting on her win for Emerging Writer of the Year, Sinéad Gleeson said: "It means a huge amount to even be shortlisted for this prize, not just because Dalkey Book Festival is one of my favourite festivals but because it's the first year of the Dalkey Literary Awards. To be recognised for your work is always a wonderful thing and for me, just to get on a shortlist is enough because you already know there has been a lot of people in this crowded field and you got to the final part. I'm thrilled!"
Neil Freshwater, CEO Zurich Insurance plc said: "We are delighted to have supported the Dalkey Literary Awards, a major new step in the development of the Dalkey Book Festival and its overall aim of promoting excellence in literature. Supporting the Dalkey Literary Awards reinforces our commitment to and championing of writers, literature and creativity in Ireland at a time when it's never been more important. We're thrilled the prize means so much to Christine and Sinéad, truly wonderful writers who represent our very best creative talent. I also want to congratulate all shortlisted authors which, in itself, is a fantastic achievement among such strong competition."
David McWilliams, Co-Founder of the Dalkey Book Festival said: "Over the next 10 years we aim to make the Dalkey Literary Awards a central part of Ireland's literary calendar and we will be delighted to continue to reward Irish genius and literary talent as it develops, as I have no doubt it will do."
Sian Smyth, Director of the Dalkey Book Festival said: "The shortlists for the first year of the Dalkey Literary Awards were exceptionally strong, reflecting the breadth of talent out there. Thank you to the judges who had a difficult – although, they say enjoyable - task in choosing the winners. I'd like to commend them on their enthusiasm, professionalism, and thoughtfulness throughout the process.
"I am thrilled to see The Narrow Land win the Novel of the Year award. It is wonderful to bring this great novel to even wider public attention, which it so deserves. The Emerging Writer category was also a strong shortlist of six very different books, and I'm delighted that Sinéad Gleeson's Constellations - a powerful collection of essays, insightful and expressive, personal and political - has won the Emerging Writer Award. Thanks must go to Zurich Insurance who made these awards possible; their commitment to backing the arts in Ireland is exceptional and we hope to continue this partnership supporting the world of books and Irish writing talent."
The two winning authors were selected from a panel of 12 writers' resident in or born in Ireland and published in Ireland or the UK in 2019. The shortlist for each category was nominated by a designated panel made up of 14 well-known critics, writers and public figures within the Irish literary world. Each category had three judges who each reviewed the shortlisted authors and selected one overall winner.
The establishment of the Dalkey Literary Awards marked a major new step for the highly popular Dalkey Book Festival, which has grown exponentially since its 2010 debut with the support of Zurich. It will return in full swing in summer 2021.
Related articles
Filter by category
Follow us on
Sign Up Here
For promotional offers, news, updates and access to exclusive reports from Zurich

Sending Answer, please wait ...
Your answer has been successfully submitted. Thank you for your participation.
An error has occurred attempting to submit your answer. Please try again.