The importance of wellbeing during Covid-19
Farm Insurance Ambassador and youngest ever Grand Prix Farmer of the Year Winner, David Russell shares his tips and insights into looking after your mental health in the farming industry.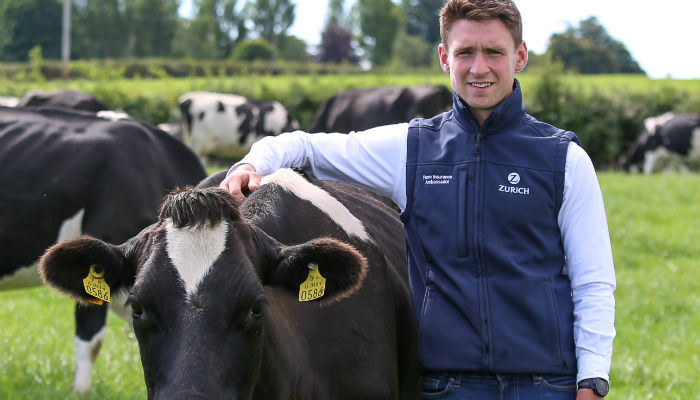 Ag Mental Health Week 2020 runs from 10th – 16th October. The week long online and social media campaign was started by former Zurich Farmer of the Year, Peter Hynes and his wife Paula from Aherla, Co. Cork to highlight the importance of mental health within the agriculture sector. Farm Insurance Ambassador and youngest ever Grand Prix Farmer of the Year Winner, David Russell shares his tips and insights into looking after your mental health in the farming industry.
The Covid pandemic has brought to life unprecedented challenges for people from every industry and farming is no different. Since becoming Farm Insurance Ambassador, David Russell, from Thurles Tipperary, has been an advocate for promoting the benefits of proactively working on your mental and physical wellbeing - especially in a sometimes isolating environment.
"I hope to encourage Irish farmers to look after their own mental wellbeing while doing a job that can be incredibly mentally draining; not least because of the Covid-19 pandemic, but dealing with challenges around animal health, succession planning and a host of unpredictable events that can take a toll on a person's wellbeing. At times like this, it can be difficult to look to the future with optimism, so I hope I can encourage other Irish farmers to proactively look after their own wellbeing and at the same time, reduce stigma around some of these issues."
As the youngest ever Grand Prix Farmer of the year, at just 24, David feels a sense of responsibility to help younger farmers also navigating the challenges that can come with working in the agriculture sector. "While farming has always been a challenging environment in spite of Covid-19, what the pandemic has brought with it is a chance for people to slow down and redefine what is important in life."
Below, David has shared some of his own tips for staying on top of your physical and mental health and wellbeing while being a farmer in Covid-19.
Staying positive
Remember in these difficult times how important it is to stay positive and that things will get better.
No matter what the issue is, the recipe to overcome problems stays the same. Make sure that you are dealing with problems one at a time, not allowing them to overwhelm you. Never underestimate the power of positive thinking and how it can help people overcome challenges that they may face in life.
The power of exercise
Having a good work life balance is an absolute necessity to positive thinking. Every morning before milking I go for a run and this routine puts me in the right frame of mind to get on with the day. I started running as a hobby when I returned from New Zealand, and now as a regular triathlon competitor, I know the value of getting out and doing some exercise for your mental wellbeing. Remember that there are so many ways to exercise, you can find a way that is right for you with something you enjoy. If you don't like a certain exercise, like running for example, then don't run. It's all about finding what works for you.
Be practical
With time being of the essence on most farms, it's important to incorporate activity into your daily work where it makes practical sense. For example, taking time to walk or cycle to the cows instead of driving and also finding time to do a grass walk each day. Remember the importance of staying healthy by eating well, exercising and resting well as the mind and the body are not separate - what effects one will affect the other one.
Get enough rest
Ditch those late nights. As a farmer with long days at my farm in Thurles, Tipperary, I appreciate how sometimes there are not enough hours in the day, and we may find ourselves needlessly up until all hours of the night. However, if this becomes a regular occurrence it can have a big effect on your mental and physical health and not getting enough sleep can lead to long term mood disorders and can also hold host to several other problems. So, make sure you are getting your eight hours.
Stay connected
There's nothing better than being able to catch up with friends face-to-face. Obviously with Covid-19 this has become more difficult, however there is nothing stopping you from giving them a call or having a chat online. Surrounding yourself with positive people is so important for your mental health and is not to be underestimated. Lastly, always remember to take responsibility for your own happiness, never put it in other people's hands.
If you wish to join the conversation from the 10th – 16th October 2020, follow #AgMentalHealthWeek or check out AgMentalHealthWeek social media pages on Twitter, Instagram and Facebook.
Related articles
Filter by category
Follow us on
Sign Up Here
For promotional offers, news, updates and access to exclusive reports from Zurich
Your answer has been successfully submitted. Thank you for your participation.
An error has occurred attempting to submit your answer. Please try again.