Zurich Young Portrait Prize
The inaugural Zurich Young Portrait Prize at the National Gallery of Ireland has been announced and encourages children of all ages to get creative through the medium of portraiture.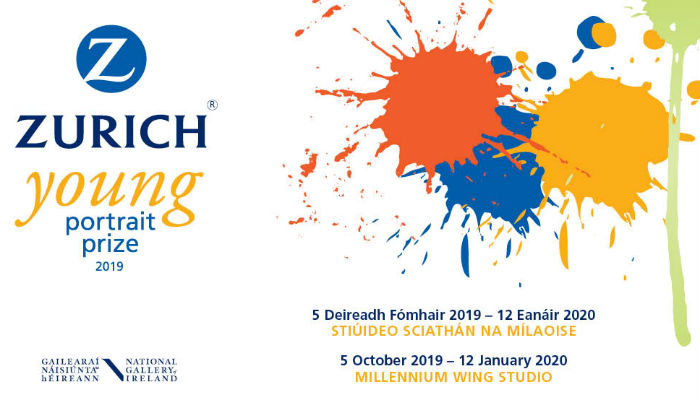 Following on from the outstanding success of the Zurich Portrait Prize at the National Gallery of Ireland, a new nationwide portrait competition has been launched to encourage children to showcase their artistic abilities.
The Zurich Young Portrait Prize aims to foster and support creativity, originality and self-expression in children and young people while providing a new platform to showcase the exciting subject of portraiture.
The Prize is an inclusive art competition open to children and young people of all abilities aged up to 18 from across the island of Ireland. The brief is simple: create a portrait of yourself or someone you know. Entry to the competition is digital and free of charge. Finalists in four categories (ages 6 and under, ages 7-11, ages 12-15 and ages 16-18) will be chosen by a panel of external judges and given the unique opportunity for their work to be professionally displayed at the National Gallery of Ireland, home to thousands of masterpieces. One work from each category selected by the judges as outstanding will additionally receive a bespoke art box containing personalised high quality art materials and a cash prize of €250.
Commenting, Head of Education at the National Gallery of Ireland Sinead Rice said, "We believe children and young people of all abilities have a right to access arts and culture, and that they have a valuable role to play in the changing landscape of museums. The National Gallery recognises their right to be seen and heard, and the Zurich Young Portrait Prize is designed entirely to support this, through showcasing new talent and inspiring new dialogue. This inclusive competition, encourages children and young people from all over the island of Ireland to artistically explore their sense of self, their understanding of others, and their place in the world around them. Portraiture is powerful, and enabling the next generation to shape who we see and how we see them, will advance the role children and young people play in this National Cultural Institution."
Also commenting, Brian Hunt, Head of Regulatory Affairs at Zurich said, "It is wonderful to see The Zurich Young Portrait Prize come to fruition. This presents a unique opportunity for young people of all ages and abilities to display their talents in portraiture. This new competition marks an exciting addition to the already highly regarded Zurich Portrait Prize".
For more information on the competition visit the National Gallery of Ireland website. The competition is open to submissions until 21 June 2019. The team can be contacted at zypp@ngi.ie.
Related articles
Filter by category
Follow us on
Sign Up Here
For promotional offers, news, updates and access to exclusive reports from Zurich
Sending Response, please wait ...
Your response has been successfully submitted.
An error has occurred attempting to submit your response. Please try again.