Photo credit: Deirdre Power
NOVEL OF THE YEAR SHORTLIST
The Narrow Land by Christine Dwyer Hickey, Shortlisted for the Dalkey Novel of the Year Award 2020
Christine Dwyer Hickey is an award-winning novelist and short story writer. Her novel The Cold Eye of Heaven won the Irish Novel of the Year of the Year 2012 and was shortlisted for the Irish Book Awards. Last Train from Liguria was shortlisted for the Irish Book Awards novel of the year 2004. Her bestselling novel Tatty was chosen as one of the 50 Irish Books of the Decade, longlisted for the Orange Prize and shortlisted for the Hughes & Hughes Irish Novel of the Year Award, for which her novel The Dancer was also shortlisted.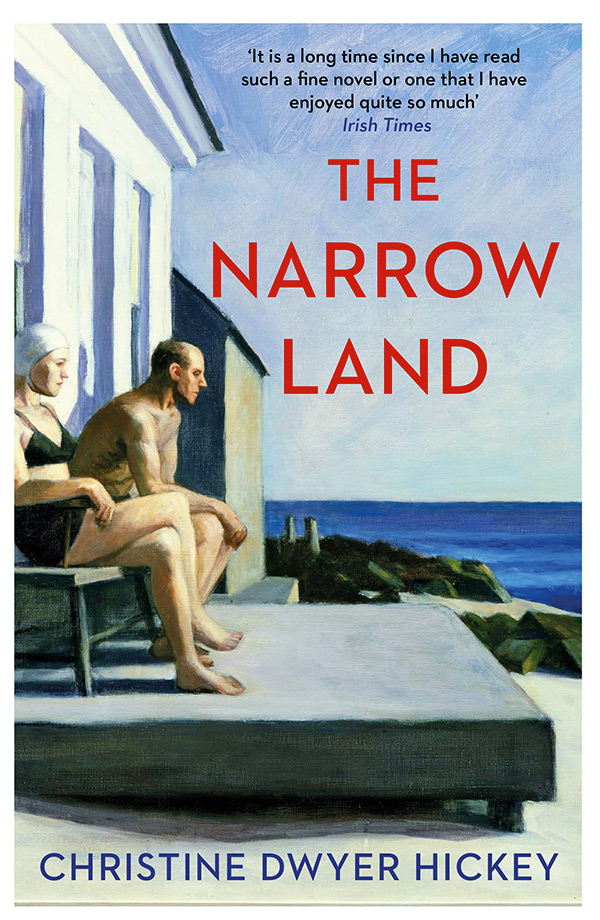 About: The Narrow Land by Christine Dwyer Hickey
1950: late summer season on Cape Cod. Michael, a ten-year-old boy, is spending the summer with Richie and his glamorous but troubled mother. Left to their own devices, the boys meet a couple living nearby - the artists Jo and Edward Hopper - and an unlikely friendship is forged.
She, volatile, passionate and often irrational, suffers bouts of obsessive sexual jealousy. He, withdrawn and unwell, depressed by his inability to work, becomes besotted by Richie's frail and beautiful Aunt Katherine who has not long to live - an infatuation he shares with young Michael. A novel of loneliness and regret, the legacy of World War II and the ever-changing concept of the American Dream.
What our judges said about The Narrow Land by Christine Dwyer Hickey
"Totally absorbing from the first page, The Narrow Lands transported me to 1950s Cape Cod. It's deceptively straightforward writing explores major themes of a relationships, marriage, childhood and trauma and subsumes us in a Cape Cod summer. The characters have stayed with me long after that last page. Like the very best novels it made me stop, think and reassess my own relationships. I feel richer for having read this book, I'm pressing into the hands of friends and family."
– Andrea Catherwood
"This book is luscious. It draws you in. Tackling two essential truths: a long marriage and the struggle of the creative. We recognised truths in it of relationships we know. We understand the selfishness of creative people, a kind of ruthlessness we see in the artist, exploring how he gets the work on canvas. It is a beautiful book. I recommend it . I was engaged emotionally, I was transported, I loved it. "
– Jennifer O'Connell
"Christine Dwyer Hickey creates an extraordinary atmosphere. My tummy was in knots reading it. I came out of it wrecked! I didn't want to finish it. I was totally subsumed and consumed by the loneliness and despair of the older couple and the anguish of both children. Grief, disappointment, darkness, jealousy, rage, and the complexity of relationships. Enthralling."
– Fiach MacConghail
What others say...
"I loved this book. Christine Dwyer Hickey writes such beautifully poised prose. Flawed lives played out in a postcard perfect setting."
– Graham Norton
"It is a long time since I have read such a fine novel or one that I have enjoyed quite so much."
– Irish Times
back to the novel of the year writers