Photo credit: Martina Kenji
NOVEL OF THE YEAR SHORTLIST
Night Boat To Tangier by Kevin Barry, Shortlisted for the Dalkey Novel of the Year Award 2020
Kevin Barry is the author of the novels Beatlebone, City of Bohane, Night Boat to Tangier and the story collections Dark Lies the Island and There Are Little Kingdoms. His awards include the IMPAC Dublin Literary Award, the Goldsmiths Prize, the Sunday Times EFG Short Story Prize and the Lannan Foundation Literary Award. His stories and essays have appeared in the New Yorker, Granta and elsewhere. He also works as a playwright and screenwriter, and he lives in County Sligo, Ireland. Night Boat to Tangier was an Irish number one bestseller, was longlisted for the Booker Prize and shortlisted for Novel of the Year at the Irish Book Awards.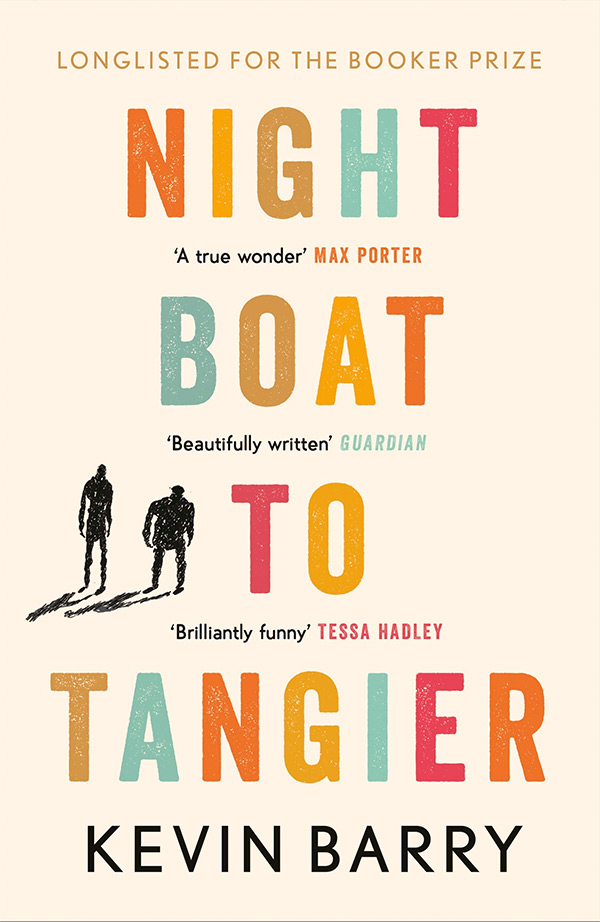 About: Night Boat To Tangier by Kevin Barry
It's late one night at the Spanish port of Algeciras and two fading Irish gangsters are waiting on the boat from Tangier. A lover has been lost, a daughter has gone missing, their world has come asunder – can it be put together again?
Night Boat To Tangier is a novel drenched in sex and death and narcotics, in sudden violence and old magic, but it is obsessed, above all, with the mysteries of love. Both mordant and hilarious, lyrical yet laden with menace, this is a tragicomic masterpiece from a multi award-winning writer widely acclaimed on both sides of the Atlantic as one of the most brilliant stylists now at work in the language.
What our judges said about Night Boat To Tangier by Kevin Barry
"I didn't want this to end. I was plugged into the world of the two main protagonists and the characters of Charlie and Maurice have stayed with me long after putting it down. There is pace in this novel and the dialogue sparkles. I will read this novel again. "
– Andrea Catherwood
"If Tarantino took on Beckett. Fresh, exciting, original with rough raw poetry in the sentences. You care about the characters who, despite their violence, are vulnerable. I would read this book again. It demands savouring."
– Jennifer O'Connell
"A collision of terror, violence and love. I loved this book. I would recommend it and press it on friends. It is short. It is punchy. It leaves us with a lot of questions. The way men behave with each other can be shocking and brutal as shown by the unseemly back story of Maurice and Charlie. Love, terror and violence, should to shoulder. I will read it again. "
– Fiach MacConghail
What others say...
"It's a Kevin Barry novel, so the brilliance is expected; everything else is a brilliant surprise."
– Roddy Doyle
"A bloody mighty novel. It's audacious, but also its Kevin Barry at his most tender. The novel carries a beautiful, mournful undertow to it, which is particularly affecting in a book so heavy with old myth and new poetry. May he keep twisting literature forever."
– Lisa McInerney
"If prose were gold and diamonds there'd be thousands of hell-bent prospectors heading for the Black Hills of Kevin Barry's glistening, sparkling novel."
– Sebastian Barry
"I devoured Night Boat to Tangier. I loved the potent truth of it all, drenched in damage and romance. The Barry turn of phrase is a true wonder of this world."
– Max Porter
back to novel of the year writers