SHORTLIST FOR THE EMERGING WRITER AWARD
Eat Or We Both Starve by Victoria Kennefick, Shortlisted for the Dalkey Emerging Writer Award 2022
Victoria Kennefick is a poet, writer and teacher from Shanagarry, Co. Cork, now based in Co. Kerry. She holds a doctorate in English from University College Cork and studied at Emory University and Georgia College and State University as part of a Fulbright Scholarship. Her pamphlet, White Whale (Southword Editions, 2015), won the Munster Literature Centre Fool for Poetry Chapbook Competition and the Saboteur Award for Best Poetry Pamphlet. Her work has appeared in Poetry, The Poetry Review, PN Review, Poetry Ireland Review, The Stinging Fly, Poetry News, Prelude, Copper Nickel, The Irish Times, Ambit, bath magg, Banshee and elsewhere. She won the 2013 Red Line Book Festival Poetry Prize and many of her poems have also been anthologised and broadcast on national radio stations.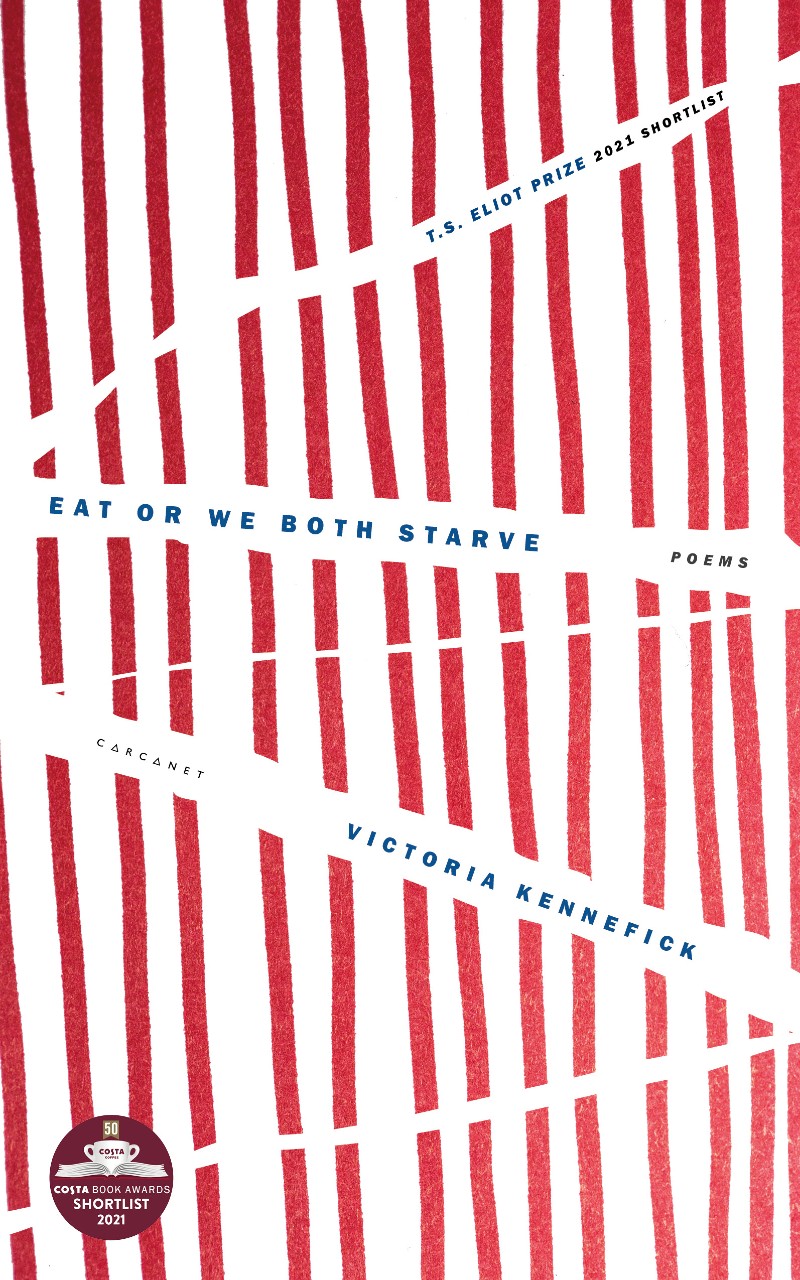 About: Eat Or We Both Starve, by Victoria Kennefick
Eat or We Both Starve is the highly-anticipated debut collection from award-winning Irish poet Victoria Kennefick. The poems in this collection explore the sense of powerlessness a young woman feels growing from childhood to adulthood in a predominantly Irish Catholic society. Restricted, she deems herself simultaneously too small and too big, an Alice in Wonderland. The poems develop an identity cobbled together with scraps from the Bible, snippets of film, favourite poems, the lives of the saints, and a kaleidoscope of memories, and track what emerges when that identity is not sturdy enough to sustain her. Faced with the loss of a loved one and the shock of her own mortality, a weight she has carried subconsciously since childhood, her fragile façade shatters at her feet like porcelain.
Reviews
"Visceral bliss." – Amy Acre, The White Review

"A miracle of a book: brave, political, telling." – Paul Perry, Sunday Independent

"A debut that approaches its theme via the Irish Famine, Catholicism and Freudian fantasies of cannibalism." – Tristram Fane Saunders, The Telegraph

"Sensuous and sometimes shocking." – Seán Hewitt, Irish Times
back to emerging writers