Photo credit: Sean Breithaupt
SHORTLIST FOR THE EMERGING WRITER AWARD
Love Notes From A German Building Site by Adrian Duncan, Shortlisted for the Dalkey Emerging Writer Award 2020
Adrian Duncan, born in County Longford, is a Berlin-based visual artist who originally trained as an engineer. His short fiction has appeared in Frieze, The Times Literary Supplement (UK), Art & the Public Sphere (UK), the Dublin Review, Architecture Ireland, The Stinging Fly, and The Irish Times, among others. He is co-editor of Paper Visual Art Journal (IRL/DE).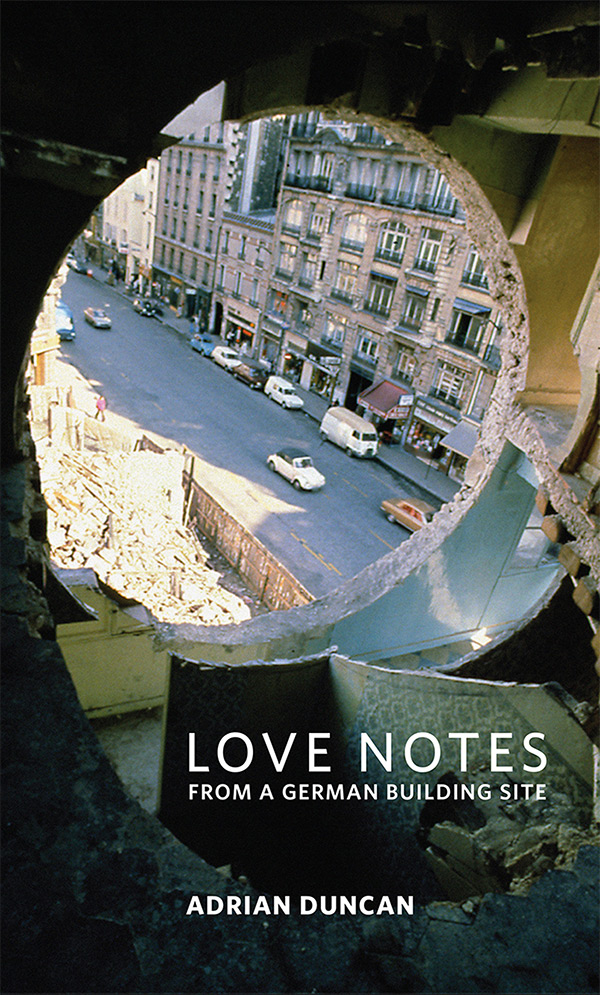 About: Love Notes from a German Building Site by Adrian Duncan
Paul, a young Irish engineer, follows Evelyn to Berlin and begins work on the renovation of a commercial building in Alexanderplatz. Wrestling with a new language, on a site running behind schedule, and with a relationship in flux, he becomes increasingly untethered.
Set against the structural evolution of a sprawling city, this meditation on language, memory and yearning is underpinned by the site's physical reality. As the narrator explores the mind's fragile architecture, he begins to map his own strange geography through a series of notebooks, or 'Love notes'.
Paul's story will speak to anyone who has known what it is to be in love, or exiled, or simply alone.
What our judges said about Love Notes from a German Building Site by Adrian Duncan
"Adrian Duncan worked as a structural engineer and he brings this personal experience into this unique, modernist literary take on building, buildings and building-sites, with reminders of the Myth of Sisyphus. The feeling of alienation is enhanced as the engineering project is in Berlin, and the protagonist is learning how to communicate with engineers, tradespeople and labourers, both in terms of language and customs. Part German dictionary, part glossary of engineering terms, part man in exile and part "normal people" (Normal People five years on?) love story, it's Beckettian at times when describing the drudge and monotony of every day work-life. Reminiscent of The Restraint of Beasts and All Quiet on the Orient Express."
– Gary Jermyn
What others say...
"The best book I have read in years – it contains that magical balance of mastery and uncertainty and recklessness that creates something new in literature ... a perfect depiction of love, and of desire and struggle."
– Greg Baxter
"With elegance and precision, this beautiful book shows the forces that act on the structures of buildings and those that impact on relationships. Duncan's Berlin building site is, perhaps surprisingly, a brilliantly compelling place: the complications of construction converging with the complex experiences of those who work there."
– Wendy Erskine
"A strange, oblique, haunted work of quiet meditative intelligence. Adrian Duncan evokes the building of cities and the dislocated, phantasmal lives that unfold amid their looming geometries. His debut novel contains some of the finest writing on love I've read in recent memory."
– Rob Doyle
"If more men thought and wrote as tenderly and honestly, we'd have stronger, sturdier novels and fewer garish monuments to consumerism."
– Irish Independent
"A reflective, beautifully paced novel."
– Sarah Gilmartin
back to emerging writers