SHORTLIST FOR THE EMERGING WRITER AWARD
Show Them A Good Time by Nicole Flattery, Shortlisted for the Dalkey Emerging Writer Award 2020
Nicole Flattery's stories have been published in The Irish Times, The Dublin Review, The White Review, Winter Papers, The Letters Page and The Stinging Fly. She is a recipient of a Next Generation Artists' Award from the Arts Council, The White Review Short Story Prize and the Kate O'Brien Award. Originally from Mullingar, Nicole now lives in Galway. Show Them A Good Time, her first collection of stories, was originally published by The Stinging Fly Press in February 2019.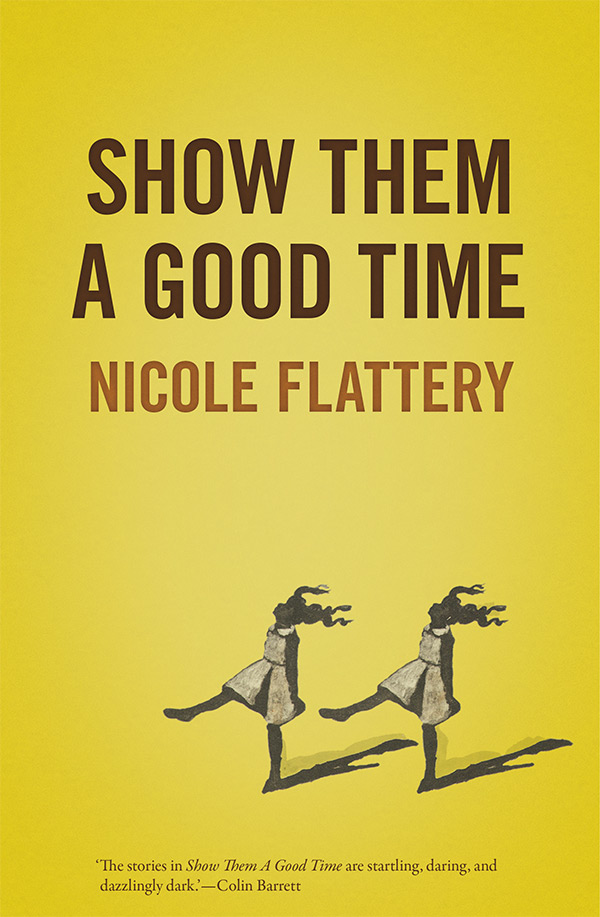 About: Show Them A Good Time by Nicole Flattery
A returned emigrant struggles to get her life back on track in the grim little town she previously couldn't wait to leave; two beleaguered students take to the stage in a desperate bid to assert their autonomy; a school teacher gamely keeps on searching for love or distraction as the world teeters towards ruin. Nicole Flattery's highly acclaimed short stories are loaded with dark humour and chock-full of style. 'Show Them A Good Time' marks the arrival of an exuberant and strikingly original new writer.
What our judges said about Show Them A Good Time by Nicole Flattery
"Despite the quantity and quality of new fiction writers emerging from Ireland of late, Nicole Flattery's prose is one-of-a-kind. Inimitable. Some of her sentences are so good—so funny and irreverent and bang-on devastating—it's as if Miranda July, Lorrie Moore and Claire Louise Bennett are all at work on same page. Who wouldn't want to go there? Flattery's sensibility, her observational skills and wit at work in these stories are refreshing, painfully relatable, utterly magnetic. "
– Caoilinn Hughes
"An impressive first collection full of stories that all have a gorgeous tilt of the viewing frame in all of them to make them stand out even before you read just how sharp, smart and funny they are. She also has a superb turn of phrase in places. I loved it."
– Rick O'Shea
What others say...
"Demands repeated reading. These stories are very funny, and very sad, usually at the same time. Which, as Flattery shows us brilliantly, is the best time."
– Jon McGregor
"I truly love and admire Nicole Flattery's writing. Show Them a Good Time is a masterclass in the short story – bold, irreverent and agonisingly funny – and it does full justice to its author's immense talent."
– Sally Rooney
"Whatever else these stories are – and they have much to tell us about how we live now – they are wildly entertaining reads. Flattery can do almost anything with the sentence. She captures characters and relationships in one-liners that crackle with unerring timing and verve and terrible lucidity."
– Colin Barrett
"Throughout the collection Flattery executes a beguiling sleight of hand: her shift from glibness to heart-wrenching sadness, sometimes within the same sentence, can leave you devastated… Sizzling with nerve and flashes of true brilliance, this is the work of a writer ready to push herself into uncomfortable spaces with dexterity."
– Sunday Business Post
Back to emerging writers