SHORTLIST FOR THE EMERGING WRITER AWARd
Leonard and Hungry Paul by Rónán Hession, Shortlisted for the Dalkey Emerging Writer Award 2020
Rónán Hession was born in Dublin where he lives with his wife and two children. His third album was nominated for The Choice Music Prize and Leonard and Hungry Paul is his debut novel. It is being published in North America in May 2020.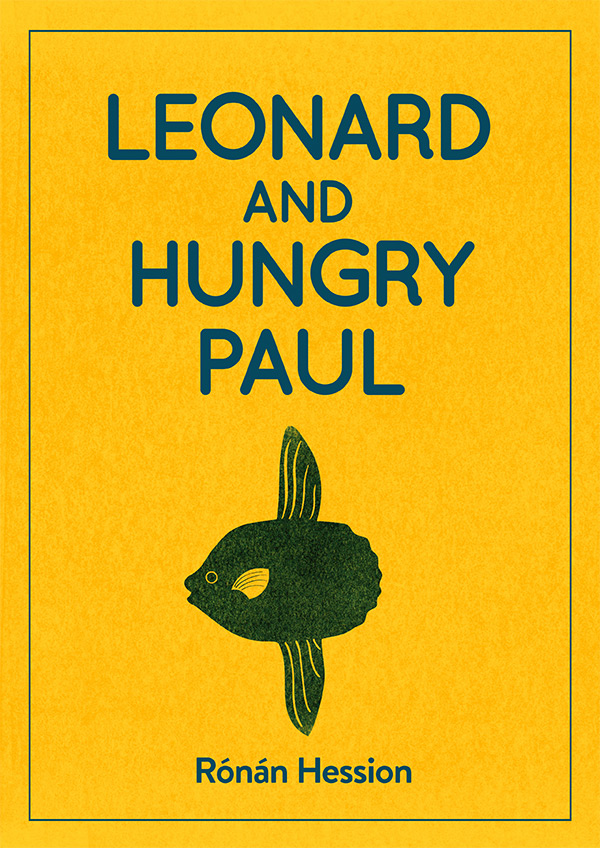 About: Leonard and Hungry Paul by Rónán Hession
Leonard and Hungry Paul is the story of two friends who ordinarily would remain uncelebrated. It finds a value and specialness in them that is not immediately apparent and prompts the idea that maybe we could learn from the people that we overlook in life. Leonard and Hungry Paul change the world differently to the rest of us: we try and change it by effort and force; they change it by discovering the small things they can do well and offering them to others.
It was chosen by BBC Radio 2 as their Book Club Choice for Spring 2019 and The Irish Times selected it as one of their books of the year. Rick O'Shea chose it for RTE as one of his books of the year and for The Rick O'Shea Book Club.
It was shortlisted by The Booksellers' Association (UK &Ireland) as one of their books of the year 2019 Books Are MY Bag. It was also shortlisted in the new writer category for the An Post Irish Book Awards 2019.
What our judges said about Leonard and Hungry Paul by Rónán Hession
"A charming, gentle tale about two low-key friends and how they live their lives in suburban Dublin. The characters of Leonard and Hungry Paul, and their families and friends, are extremely well developed. The story starts with a death and ends with a wedding and a new job. There is a suggestion, and it is only a suggestion, that both the two likeable likely lads may have social challenges or disabilities, but it is to the book's credit that this is not fully explained. It can be read either way. If it's adventure, thrills and spills, and serial killers – this is not the book. The Da Vinci Code it ain't. But if you would like an off-beat heart-warming relationship story, this is the book for you!"
– Gary Jermyn
"A rare and unique beast of a book that takes in gentle friendship between two nice, if slightly strange guys who ghost-write encyclopaedias and deliver the post. It lets us spend immensely enjoyable time with them without bangs, whistles, explosions, murders. A gem."
– Rick O'Shea
What others say...
"God, what a voice Rónán has. It is spectacular and already feels like a cult classic. I was absolutely hooked."
– Donal Ryan, Booker Prize nominee.
"For a book that defies convention I would heartily recommend Leonard and Hungry Paul. It's as simple as it is unique … a celebration of kindness and having enough and being content - and living a life devoid of high drama and conflict. It's very funny, and well-written, poetic in places. But above all it's kind, a celebration of often overlooked people."
– Kit de Waal.
back to the emerging writers