SHORTLIST FOR THE EMERGING WRITER AWARD
Constellations by Sinead Gleeson, Shortlisted for the Dalkey Emerging Writer Award 2020
Sinéad Gleeson is a writer of essays, criticism and fiction. Her writing has appeared in Granta, Winter Papers and Gorse, she is a contributor to Being Various: New Irish Short Stories (Faber, May 2019), an editor of three short anthologies, including The Long Gaze Back: an Anthology of Irish Women Writers and The Glass Shore: Short Stories by Women Writers from the North of Ireland, both of which won Best Irish Published Book at the Irish Book Awards. Sinéad has also worked as an arts critic and broadcaster and presented The Book Show on RTÉ Radio 1. She lives in Dublin.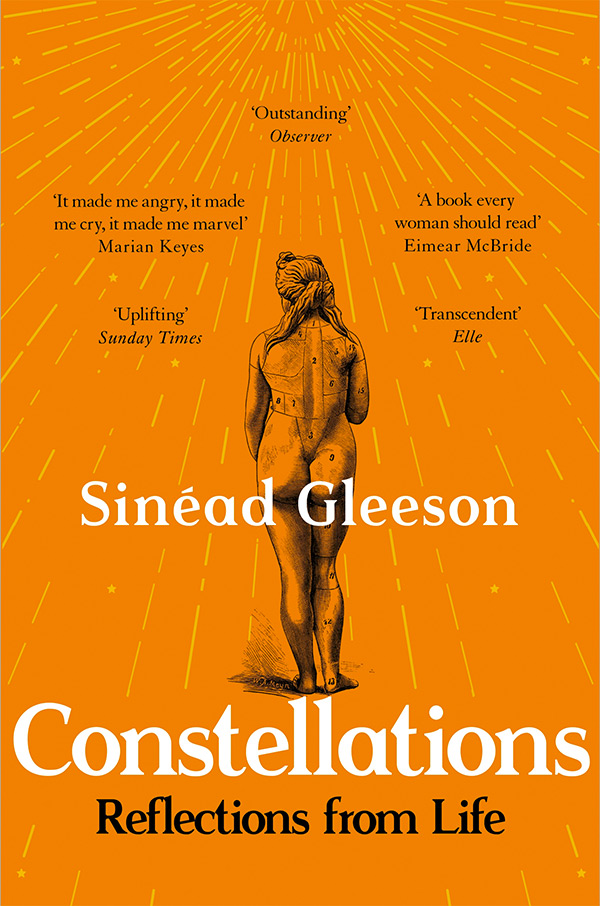 About: Constellations by Sinéad Gleeson
How do you tell the story of a life in a body, as it goes through sickness, health, motherhood? And how do you tell that story when you are not just a woman but a woman in Ireland?
In these powerful and daring essays Sinéad Gleeson delves into art, illness, ghosts, grief and our very ways of seeing. In her spirited, warm voice, Sinéad takes us on a journey that is both extraordinarily intimate and universal in its resonance.
What our judges said about Constellations by Sinéad Gleeson
"Constellations is a highly distinctive, beautifully-executed essay collection that exposes the body as a site of infinite conflict; the extent to which that conflict is external might surprise half of the population, but to every reader, there will be copious revelations here. Through generosity of detail and contemplation, Gleeson darkens the page with hard-earned experience and insight. In that darkness, she makes so much glimmer—from the life-saving scalpel to thousands of strangers' eyes in a night-time field, moving to the same music. "
– Caoilinn Hughes
"A personal story extremely well told. An intriguing memoir, issues of ill-health, education, relationships, suicide, repeal the eighth referendum, parenting are dealt with sensitively, and with a healthy dollop of good humour. There are rambling detours down highways and byways – Blood Groups, Hair Loss, Frida Kahlo, Derbhla Murphy to name a few – all diverting, all interesting and with a positive outlook. When she is diagnosed with leukaemia in her teens Sinead Gleeson tells her parents "I'm not going to die, I'm going to write a book" . And we are the better for that. "
– Gary Jermyn
What others say...
Utterly magnificent. Raw, thought-provoking and galvanising; this is a book every woman should read."
– Eimear McBride
"A masterpiece."
– Kit De Waal
"Remarkable."
– Robert Macfarlane
"A powerful, inspiring gift to readers everywhere."
– Jami Attenberg
"If you want to know where passion and tenacity are born, read this book."
– Anne Enright
"Startlingly good and fiercely intelligent."
– Liz Nugent
"Absolutely extraordinary and life-enhancing."
– Daisy Buchanan
Back to emerging writers