SHORTLIST FOR THE EMERGING WRITER AWARD
The Life and Loves of E. Nesbit By Eleanor Fitzsimons, Shortlisted for the Dalkey Emerging Writer Award 2020
Eleanor Fitzsimons is a researcher, writer, journalist and broadcaster specialising in historical and current feminist issues. Her work has been published in a range of newspapers and journals including the Sunday Times, the Guardian and the Irish Times and she is a regular radio and television contributor. Her first book Wilde's Women (Duckworth 2015) was widely and positively reviewed and won several prizes for excellence. Her latest biography The Life and Loves of E. Nesbit (Duckworth 2018) was also published to critical acclaim.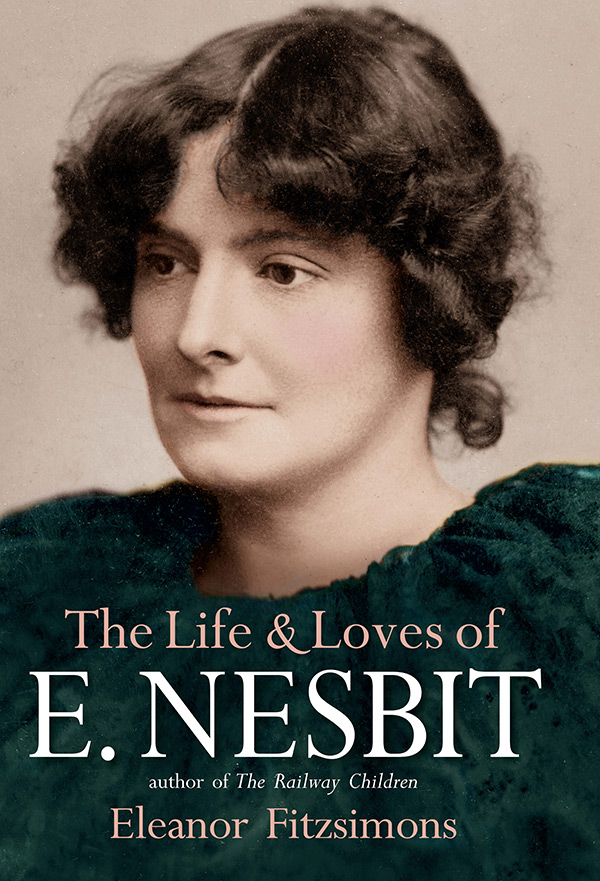 The Lives and Loves of E. Nesbitt, Eleanor Fitzsimons
Edith Nesbit is considered the inventor of the children's adventure story and her brilliant children's books influenced bestselling authors including C.S. Lewis, P. L. Travers, J.K. Rowling, and Jacqueline Wilson, to name but a few. But who was the person behind the best loved classics The Railway Children and Five Children and It? Her once-happy childhood was eclipsed by the chronic illness and early death of her sister. In adulthood, she found herself at the centre of a love triangle between her husband and her close friend. She raised their children as her own.
Yet despite these troubling circumstances Nesbit was playful, contradictory and creative. She hosted legendary parties at her idiosyncratic Well Hall home and was described by George Bernard Shaw – one of several lovers – as 'audaciously unconventional'. She was also an outspoken Marxist and founding member of the Fabian Society. Through Nesbit's letters and deep archival research, Eleanor Fitzsimons reveals her as a prolific activist and writer on socialism. Nesbit railed against inequity, social injustice and state-sponsored oppression and incorporated her avant-garde ideas into her writing, influencing a generation of children – an aspect of her legacy examined here for the first time.
Eleanor Fitzsimons, acclaimed biographer and prize-winning author of Wilde's Women, has written the most authoritative biography in more than three decades. Here, she brings to light the extraordinary life story of an icon, creating a portrait of a woman in whom pragmatism and idealism worked side-by-side to produce a singular mind and literary talent.
What our judges said about The Life and Loves of E. Nesbit By Eleanor Fitzsimons
"The poet, children's author and socialist activist Edith Nesbit is a fine subject for a biography not only because her life was fascinating and various, but because her life's work was influential to so many, from George Bernard Shaw to Noël Coward. I've been lucky to teach Nesbit's children's stories to university students, but I didn't know of her political activism or the context in which she had had to be so prolific—how she survived as a person, a neighbour and as an artist. Eleanor Fitzsimons delivers a nuanced, meticulously researched, riveting biography. "
– Caoilinn Hughes
"I knew nothing about E. Nesbit before I opened this book, apart from the fact that she had written The Railway Children. An utterly fascinating read, we learn that in addition to being a successful children's author, Edith Nesbit was a founding member of the Fabian Society in 1884. She came into contact with many colourful characters of the late Victorian and Edwardian eras in London, including George Bernard Shaw and HG Wells. Eleanor Fitzsimons' comprehensive research links many of the characters in Nesbit's novels to the people that she met. She also skilfully outlines the morals, ethics and class divisions in the society of the times, and the independent course that she took. "
– Gary Jermyn
"A genuinely hugely entertaining and authoritative biography on a subject that I knew almost nothing about. Her fascinating childhood, through becoming a founder member of the Fabian Society and through her huge fame as author of Five Children and It and The Railway Children. Drew me in completely."
– Rick O'Shea
What others say...
"A terrific book."
– Neil Gaiman
"A very well-researched biography."
– Kate Atkinson
"Excellent."
– The Irish Times
"Readable and thorough."
– Guardian
"Eleanor Fitzsimons' painstaking research gives us a new insight into the bizarre Bohemian life of the groundbreaking children's author E. Nesbit. It's a fantastic read."
– Jacqueline Wilson
Back to the Emerging writers