Celebrating 30 years of multi-asset expertise
Last month, Zurich's range of managed funds – the Balanced, Performance and Dynamic Funds – reached their 30 year milestone, making them some of Ireland's longest running investment funds, writes Richard Temperley.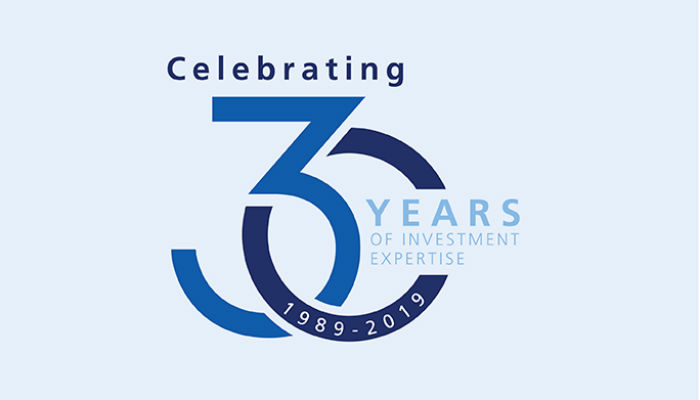 Last month, Zurich's range of managed funds – the Balanced, Performance and Dynamic Funds – reached their 30 year milestone, making them some of Ireland's longest running investment funds. With almost €5 billion invested across the range of three funds*, they are also among Ireland's most popular funds – a mainstay of Financial Brokers recommendations for decades.
While in recent years, the risk-targeted Zurich Prisma Funds have joined them in the popularity stakes, the Managed Range still ably demonstrate Zurich Investments performance track record and pedigree. For example, the Balanced Fund has delivered in excess of 10% per annum since launch*, despite all the highs and lows of the last 30 years. And a lot has happened in the past three decades.
From the fall of the Berlin Wall, up to the current Brexit impasse, financial markets are continually changing and evolving alongside global developments. Macro and micro-economic trends can and do have direct financial market impacts. But it's this rapid change that provides opportunities to investment managers who take a 'hands-on' active approach to making the right decisions at the right time.
Over the past 30 years Zurich Investments have been managing diversified multi-asset funds for investors throughout Ireland. They have successfully navigated the markets; making active investment decisions that yield long-term value for your clients.
What makes Zurich Investments different?
Zurich Life has been meeting your clients' needs in Ireland for over 40 years. We are proud of our track record in managing customers' investments. We believe that good active investment managers are best placed to deliver consistent long term performance.
The team adopt an active approach to all levels of the investment process – asset allocation, geographical bias, sector preference and stock selection. They are prepared to take meaningful and even contrarian positions if required, making investment decisions every day that they think will lead to a better outcome for your clients.
Zurich Investments' fund managers come from a wide variety of academic backgrounds and combine decades of experience in investment management.
Team members have clear individual responsibilities either in specific asset classes, regions or investment portfolios and are accountable to the CIO for their own investment performance and mandate-adherence.
The key to successful multi-asset investing is making timely asset allocation decisions and Zurich Investments have excelled in this area. An integrated team-based investment process ensures the investment strategy is implemented quickly and effectively.
The Top-Down investment process is driven by continuous analysis of the economic and market cycles and they aim to align wider market views and regional, sector and individual stock positions.
Zurich Investments employs a strong system of internal governance and a culture of risk awareness. In respect of policyholder funds a key objective of the Investment Strategy and Investment Risk Policy is to ensure that funds are managed in accordance to the expectations of policyholders while allowing the Zurich Investments the necessary latitude to generate outperformance. All investment activities are subject to additional oversight from risk and internal audit functions.
Zurich Investments: the power behind the performance
Today Zurich manage approximately €25.1 billion in investment assets and have a reputation for delivering consistent outperformance.* Zurich Investments are an award winning team. Once again, in November 2019, Zurich Investments won the Investment Excellence award at the Brokers Ireland Financial Excellence Awards.**
The multi-asset fund range is available across the Zurich suite of Individual and Corporate Pensions, Approved Retirement Fundsand Savings and Investment products.
For more information on the full range of Zurich multi-asset funds speak to your Zurich Broker Consultant or visit zurichbroker.ie.
*Source: Zurich, 13 November 2019
**Source: Brokers Ireland, November 2019
About: Zurich Investments
Richard Temperley is Head of Investment Development at Zurich. The team at Zurich Investments is a long established and highly experienced team of investment managers who manage approximately €25.1bn in investments of which pension assets amount to €11.8bn. Find out more about Zurich's funds and investments here.
Warning: These figures are estimates only. They are not a reliable guide to the future performance of your investment.
Warning: The value of your investment may go down as well as up.
Warning: Benefits may be affected by changes in currency exchange rates.
Warning: If you invest in these funds you may lose some or all of the money you invest.