Record €5.6 million funding by Rethink Ireland for Innovate Together Fund
In the second round of funding, €1.3 million was awarded to 20 projects nationwide in the community and social enterprise sector, for their innovative response to COVID-19.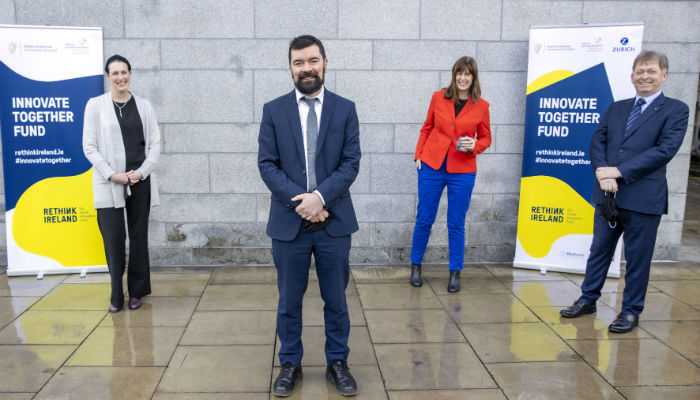 This is the second round of awards in the Innovate Together Fund as a response to COVID-19 by Rethink Ireland and corporate partners which include the Z Zurich Foundation, Oakfield Trust, Medtronic and Twitter; bringing the total fund to a record €5.6 million in 2020.
The 20 projects cover areas of social innovation including sustainable Ireland, economic recovery, and community outreach.
Minister of State for Community Development and Charities Joe O'Brien TD said, ''I am delighted to announce the Innovate Together Round 2 Awards today. This fund is part of a suite of measures supported by my Department in response to COVID-19. The fund focuses on supporting community and voluntary organisations, charities and social enterprises as they adapt and innovate to provide their services to the most vulnerable in our communities. I would like to extend my congratulations and appreciation to all the awardees for their commitment and innovation in these challenging times."
Deirdre Mortell, CEO of Rethink Ireland said, "This is a record funding announcement by Rethink Ireland; as a nation we have reacted extraordinarily to the crisis of COVID-19. The 20 charities, community groups and social enterprises awarded today have pivoted incredibly to adapt and not only to maintain their services but to enhance them. Thousands could have slipped through the cracks were it not for the incredible, agile response by organisations like Barnardos, Down Syndrome Ireland, Migrant Rights Centre Ireland and Inishowen River Guardians. Sustainable movements like Crann Trees for Ireland and Cool Planet Experience are leading the way with their initiatives in the face of this year's adversity. 2020 is ending, and we can now look optimistically toward a new year, and certainly an incredible future ahead for these innovative organisations.''
Anthony Brennan, CEO of Zurich Ireland said, "The innovation displayed by the projects awarded funding today, shows once again the positive attitude and incredible resilience that community and social enterprises in Ireland have demonstrated throughout the COVID-19 crisis.
With thanks to the Z Zurich Foundation, we are delighted to support the Innovate Together Fund and to promote a more equitable and sustainable society as part of our global community investment strategy. This investment helps to empower Irish communities to better protect themselves from risk, and to adapt and thrive in a rapidly changing world, and in particular deal with the changes driven by the COVID-19 pandemic."
As part of this round of funding, 20 projects from all over Ireland are receiving cash grants from €20,000 to €200,000. The areas of innovation include Sustainable Ireland, Economic Recovery, and Community Outreach. The children's charity Barnardos are delighted to be one of those 20 awardees, with an €80,804 cash grant. Barnardos delivers services and works with families, communities, and other partners to transform the lives of vulnerable children who are affected by adverse childhood experiences.
Suzanne Connolly, CEO of Barnardos said, ''The impact of COVID-19 has caused enormous anxiety among children in Ireland. The enhanced use of the virtual space in delivering services has become an essential tool in connecting with children and young people. Through the support of Rethink Ireland and the Innovate Together Fund, Barnardos will develop best practice guidance and a digital service delivery framework for its suite of children's services.''
The COVID-19 crisis is unlike anything Irish society has had to deal with before. It has seen the emergence of new social, economic, and environmental problems, which threaten the stability, sustainability, equality, and inclusivity of Ireland in which we all want to live and work. Innovation is the key to unlocking solutions to these challenges.
Hundreds of organisations in the community social and charity sector were adversely affected in the provision of their services. They were then forced to pivot and be innovative; all this costs money and that is why Rethink Ireland collaborated with the Irish Government to create the Innovate Together Fund in May 2020.
To see the full list of fund awardees, visit the Rethink Ireland website.
Related articles
Filter by category
Follow us on