Investors restrained after mixed corporate earnings
Last week saw US equities down slightly, returning -1.0% in euro terms on the back of mixed corporate earnings reports, writes Ian Slattery.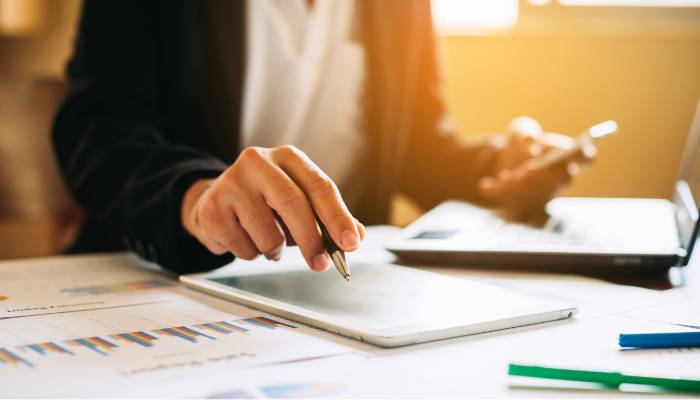 Q1 earnings, which are viewed by many as an indication of economic health in the US, showed that some companies are beginning to strain under tighter financial conditions. Perhaps most notably, shares in the electronic car maker Tesla dropped by 10% after the release of reports displaying lower profit margins and a dimmer forecast for profitability.
Last week also saw the release of the US Initial Jobless Claims report which displayed that the long-standing tight US labour market has started to weaken. The report showed that weekly jobless claims increased by 5,000 to 245,000. Investor sentiment following the report was varied, as on the one hand a weaker labour market indicates that the Federal Reserve may enact softer monetary policy in the coming weeks, on the other hand however a weaker labour market is also a signal of increased recession risk.
Across the Atlantic European stocks had a subdued week finishing up slightly returning 0.5% in euro terms. In the UK, consumer price inflation came in higher-than-expected last Wednesday, worrying investors that the Bank of England will continue to raise rates after its next meeting in May.
The report showed a March figure of 10.1%, down from 10.4% in February. Consensus expectation had been a figure of 9.8% and below the psychologically significant figure of 10%. Core inflation which excludes volatile food and energy sectors remained unchanged at 6.2%.
In Asia Pacific, quarterly Chinese GDP figures, released last week revealed that China's economy is on course to meet its growth target for 2023. GDP increased by 4.5% last quarter, the biggest increase in a year for the world's largest manufacturing economy.
The increase in Chinese economic activity may provide stimulus to other slowing regions internationally. Despite the positive news on Tuesday, Asian stocks suffered throughout the week as some uncertainty about economic recovery lingered. Hong Kong equities finished the week down -2.8% in euro terms.
Equities
Global stocks were down slightly last week by -0.7% in euro terms and down -0.1% In local terms. Year-to-date global markets were up 6.1% in euro terms and 9.0% in local terms. The US market, the largest in the world, finished at -1.0% in euro terms and -0.4% in local terms.
Fixed Income & FX
The US 10-year yield finished at 3.54% last week. The German equivalent finished at 2.49%. The Irish 10-year bond yield finished at 2.90%. The Euro/US Dollar exchange rate finished at 1.10, whilst Euro/GBP finished at 0.89.
Commodities
Oil finished the week at $78 per barrel and is up 1.1% year-to-date in euro terms. Gold finished the week at $1,985 per troy ounce and is down -0.8% year-to-date in euro terms. Copper finished the week at $8,779 per tonne.
The week ahead
Tuesday 25th April
US Consumer Confidence report is released.
Thursday 27th April
US Q1 GDP figures go to print.
Friday 28th April
German Consumer Price Index is released.
Warning: Past performance is not a reliable guide to future performance.
Warning: Benefits may be affected by changes in currency exchange rates.
Warning: The value of your investment may go down as well as up.
Warning: If you invest in these funds you may lose some or all of the money you invest.
Related articles
Filter by category
Follow us on

Sending Answer, please wait ...
Your answer has been successfully submitted. Thank you for your participation.
An error has occurred attempting to submit your answer. Please try again.