April 2023 monthly investment review
March saw the first quarter of 2023 close out positively for equities despite turmoil in the banking sector, writes Richard Temperley.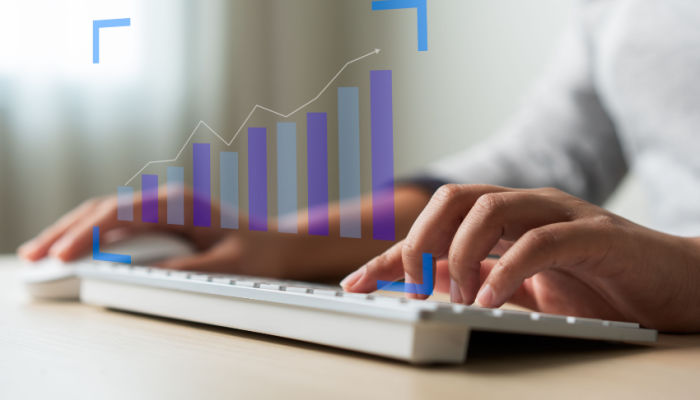 The collapse of California based Silicon Valley Bank in early March caused banks from both the US and Europe to face restless depositors worried about the outlook of financial institutions in a higher interest rate environment.
In Europe, the investment bank Credit Suisse endured a last-minute rescue from bankruptcy when an acquisition deal was brokered with Swiss rival UBS. Despite jittery trading, equities saw most losses contained within the financials sector, outperformed for the month.March also saw the release of sticky inflation data, complicating monetary policy for the world's major central banks. The heavily watched Core prints indicated inflation both sides of the Atlantic remained above target. Interest rate expectations lowered as investors priced in the potential for higher rates crippling the banking sector.
Bond yields were volatile as a result and dropped significantly in line with lower interest rate expectations. Both the ECB and Federal Reserve however refused to pause hikes although guidance from the Fed suggests softer policy in the near future.
Activity
Our current positioning is positive towards equities and neutral towards bonds. Despite the turmoil observed in the banking sector over the last number of weeks, equities remain in positive territory. We believe the risk/reward ratio has improved and that increasing our allocation has benefitted from lower valuations.
The equity risk premium is currently near its lowest levels in the last 15 years. US interest rate expectations have declined over the last number of weeks and throughout March we have increased our equity allocation further. We maintain our Euro Dollar hedge which has been beneficial throughout March.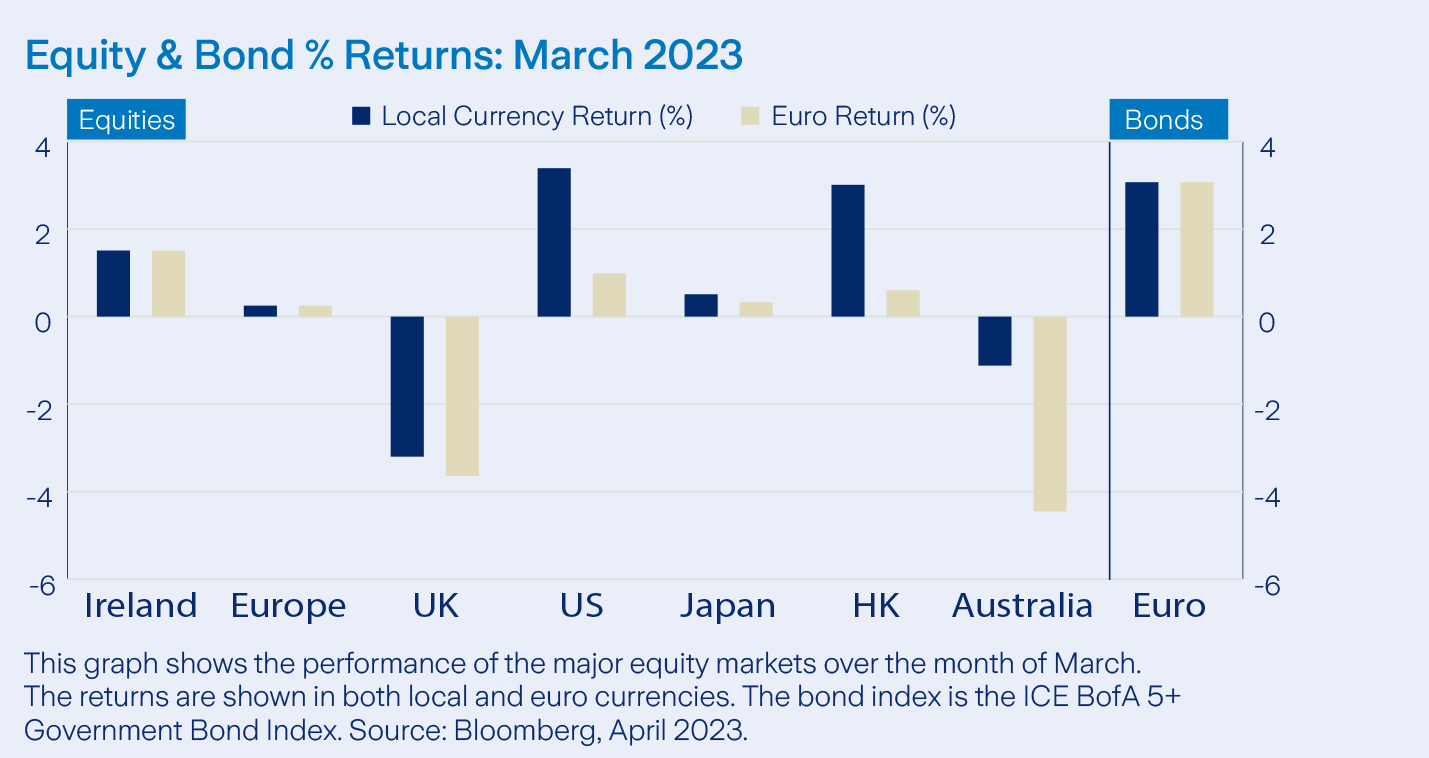 Equities
March's best performing market was US equities, up 3.4% in local terms. US equities benefitted from strong performance in growth sectors. The worst performing major market was the UK, down -3.2% in local terms.
The UK witnessed a surprise inflation report last month which saw annual CPI increase from 9.9% to 10.4%. On a Global sector by sector basis, information technology performed best, up 8.25% in Euro term. This comes as interest rate expectations have decreased over the past number of months, making growth stocks more attractive to investors.
March's worst performer was expectedly Financials, down -11.74% in euro terms due to the fallout from the recent banking sector turmoil.
Bonds
The month of March saw several global Central Banks raise interest rates. The US Federal Reserve raised the fed funds rate by 25bps to 4.75% - 5% in March, this came despite speculation that monetary policy would soften in the US in order to aid struggling banks.
Bond Markets were volatile as a result of the uncertainty. The yield on the benchmark US 10 Year government bond ended the month at 3.47% as yields lowered in line with interest rate expectations.
The ECB also raised rates in March, hiking by 50bps as inflation remains stubbornly high in the eurozone. Bonds however performed positively in Europe with the 5+ Year Euro Government Bond index returning investors 3.07%.
Commodities and currencies
In Commodities gold performed best relative to a basket of commodities returning 5.9% in euro terms, however losing some of its year-to-date momentum due to bond market volatility in March. As recession risk remains prominent in the minds of many investors, the safe haven asset has performed well so far in 2023.
Copper, which is often seen as a barometer of Global economic health, was down in March as fears of economic slowdown permeated markets globally.
Meanwhile West Texas Intermediate Crude Oil also underperformed in March, returning -3.85% in euro terms. This comes as energy prices continue to fall in 2023 regardless of sticky core inflation. In Currencies the US Dollar weakened in March ending the month with 1 euro purchasing 1.084 dollars.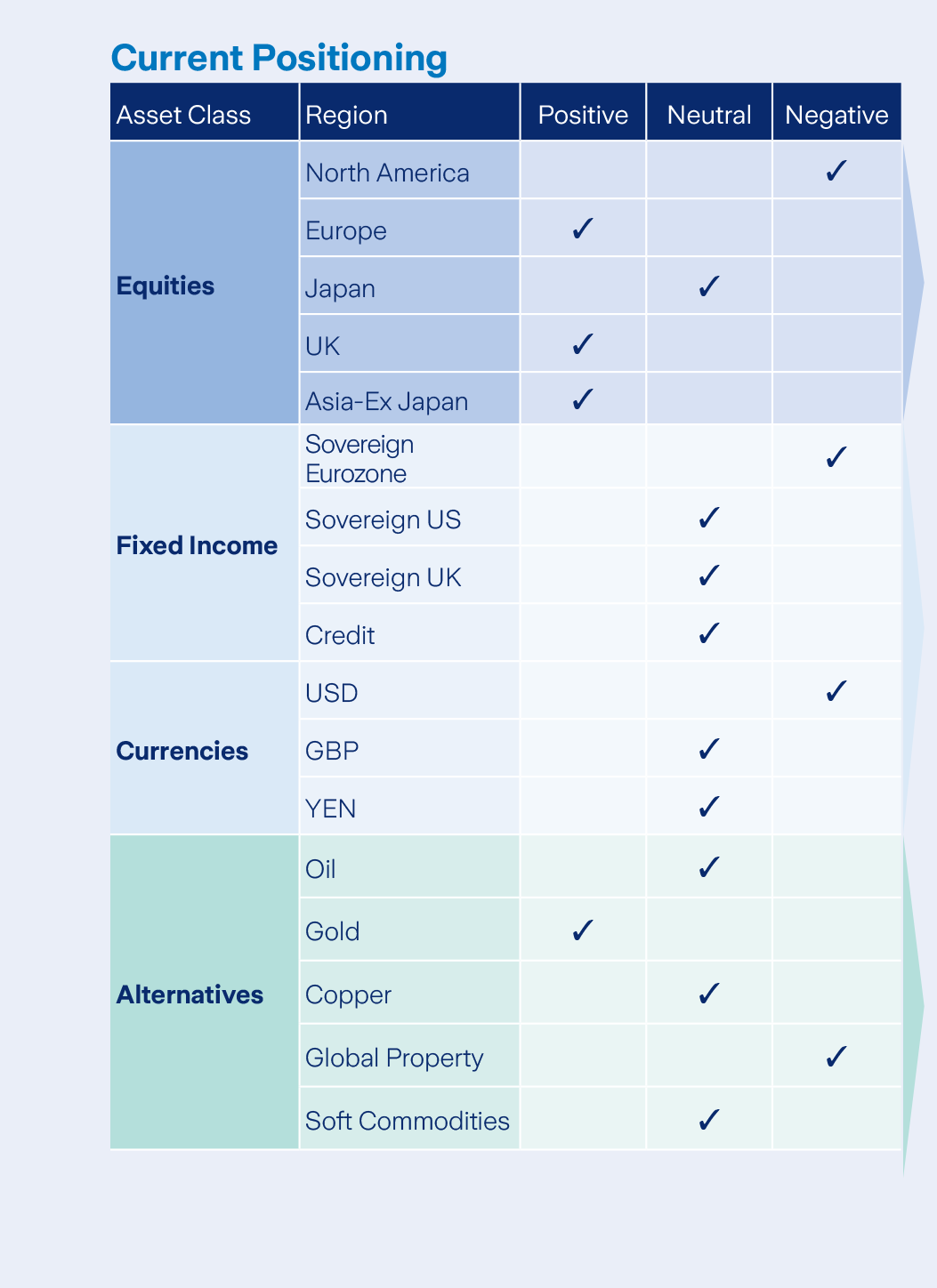 Read the full April 2023 Monthly Investment Review here.
Warning: Past performance is not a reliable guide to future performance.
Warning: Benefits may be affected by changes in currency exchange rates.
Warning: The value of your investment may go down as well as up.
Warning: If you invest in these funds you may lose some or all of the money you invest.
Related articles
Filter by category
Follow us on

Sending Answer, please wait ...
Your answer has been successfully submitted. Thank you for your participation.
An error has occurred attempting to submit your answer. Please try again.