Supporting children and parents
Barnardos is a leading provider of frontline services to children and their families. Being awarded funding from the Innovate Together Fund by Rethink Ireland and corporate partners including Z Zurich Foundation, enables the organisation to continue to support children and parents during the pandemic.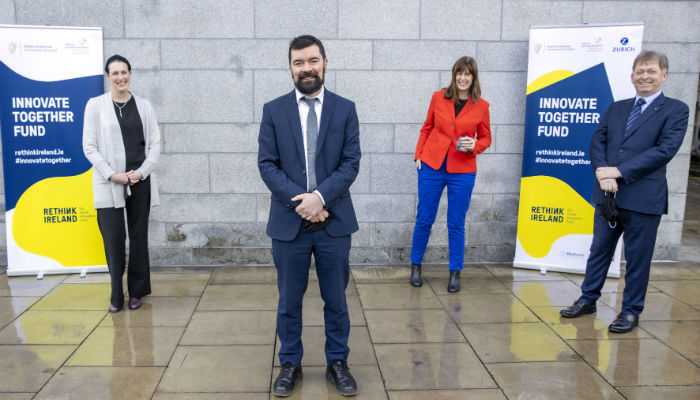 The onset of the COVID-19 pandemic last year posed new challenges for many charities, and in response, the Department of Rural and Community Development (via the Dormant Accounts Fund), committed €5m to the Innovate Together Fund by Rethink Ireland as part of a €40m support package to the community and voluntary sector. Rethink Ireland received additional donations from corporate partners including Z Zurich Foundation, which committed €500,000 to the fund.
The fund supports charities' innovative responses to the COVID-19 crisis that will also provide lasting change. Barnardos is one such organisation that saw its services impacted by the pandemic and after being awarded funding from the Innovate Together Fund, has created the opportunity to evaluate Barnardos digital response during the pandemic and develop a digital offering which compliments its face to face delivery.
Barnardos work with children and families who have been affected by a range of complex issues inclusive of traumatic life events. They offer a range of early intervention and targeted services in 44 project locations, in family homes, schools and communities. Since the pandemic, Barnardos focus has been to ensure a continuum of service delivery by developing best practice in digital service delivery.
Objectives
The shift to a blended service delivery model means that up to 3,000 to 4,000 children and parents will be offered either a digital service to compliment the face to face work. After evaluating the effectiveness of the use of digital services during the COVID-19 crisis, Barnardos will develop a digital service delivery framework.
This digital service delivery framework will be designed with best practice guidance for the use of digital technology by Barnardos Children's Services staff. The digital training needs of their frontline service staff will be identified, and a training programme will be designed and developed to address these.
Benefits
Through the development of a robust framework, the aim is to ensure that vulnerable children and families continue to get the help and support they need from Barnardos. The impact of the pandemic has been particularly challenging for these families and digital tools have enabled the charity to remain connected through a time of great uncertainty, particularly when other supports such as the school environment were no longer available.
Funding challenges
The Covid-19 pandemic has had a direct impact on charities and community organisations ability to run fundraising events. For Barnardos, Rethink Ireland's funding provides them with a strategic investment in the future development of the services they deliver.
Given the need for a quick transition from face to face to digital services in the context of the pandemic, Barnardos were unable to take the time to develop a framework for service delivery. Through this financial and in-kind support from Rethink Ireland they will have dedicated resources to develop best practice guidance in this area.
Future plans
Barnardos has appointed a Digital Best Practice Officer to build on its progress to date and develop a robust service delivery framework. The funding will also allow for the development of training and resource materials to be utilised by staff in the rollout of services using virtual and digital tools. These resource materials are the cornerstone of the project for the next 12 months. Future plans will be the implementation and building on the foundation that this evaluation and framework has provided. Through the development of this service, Barnardos will continue to engage with and support vulnerable children and their families in order to achieve positive outcomes.
Related articles
Filter by category
Follow us on
Sign Up Here
For promotional offers, news, updates and access to exclusive reports from Zurich

Sending Answer, please wait ...
Your answer has been successfully submitted. Thank you for your participation.
An error has occurred attempting to submit your answer. Please try again.