Winners announced of Zurich Portrait Prize and Young Portrait Prize
David Booth wins Zurich Portrait Prize - with portrait of last year's winner, Salvatore of Lucan. Meilin Ava Song wins Zurich Young Portrait Prize.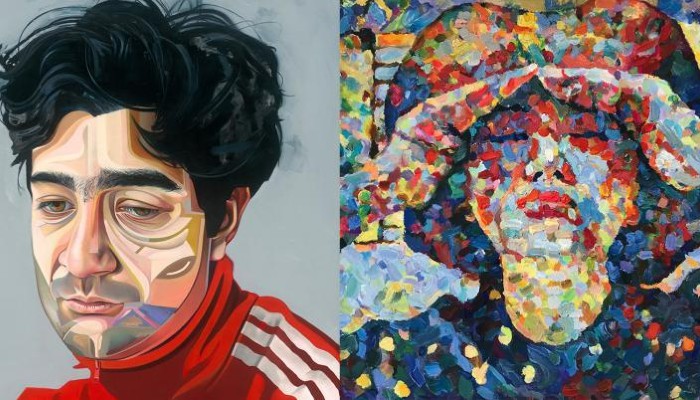 David Booth, from Dublin, has won the National Gallery of Ireland's Zurich Portrait Prize 2022. His work Salvatore, 2021, was revealed as the winning portrait at a prize-giving ceremony in the Gallery. As well as a prize of €15,000, David will receive a commission worth €5,000 to produce a new work for the National Portrait Collection.
Cara Rose and Gavin Leane, both from Dublin, received highly commended prizes to the sum of €1,500 for their respective portraits, Double Self Portrait, 2021, in coloured pencil on paper; and Several Days Hence, 2022, a photograph. Cara was shortlisted for the Zurich Portrait Prize in 2018.
"The portrait is of fellow artist and friend Salvatore. I spotted Sal one morning while in the studio. He was suited in a brilliant red Adidas one-piece tracksuit, his hair jet-black, and his pointed features solemn and reflective. I sat Sal down and took his picture. The life of an artist is characterised by intense ambitions and doubts. With this portrait I wanted to convey this, and the way in which Sal is resting into contemplation," Booth said.
Judges for the Zurich Portrait Prize were Diana Copperwhite, artist; Nick Miller, artist and winner of the inaugural Portrait Prize in 2014; and Anna O'Sullivan, Director and Chief Curator of the Butler Gallery, Kilkenny. Commenting on their selection, Anna O'Sullivan said, "While we all loved viewing the diversity of applications, we also found that it was an extremely tough job to settle on final decisions. One of the best aspects of the Zurich Portrait Prize is its openness to all, balanced by the absolute rigour necessary to reduce many hundreds of submissions down to the 26 works on display. It is a very small number, and the exhibition is exceptionally strong for it. With the level of engagement and ambition and range in portraiture presented, it is not a platitude to say that there are many who could have been named winners. Our congratulations go to all the shortlisted exhibitors, to the highly commended works by Cara Rose and Gavin Leane and to this year's winner David Booth for his subtle and beautifully painted portrait of Salvatore."
The winners were also announced for the Zurich Young Portrait Prize 2022. Judges for the Zurich Young Portrait Prize were Janet McLean, Curator of Modern Art, National Gallery of Ireland; Nick Roche, comic illustrator; and Una Sealy RHA, artist. Upon selecting a winner from each age category (ages 6 and under, ages 7-11, ages 12-15, ages 16-18), in addition to an overall winner, commenting on their selection, Una Sealy said, "the judging panel were amazed at the imagination, skill and the sheer variety of the entries, resulting in a selection of astonishingly impressive portraits".
New Beginning, 2022, a painting on canvas by Meilin Ava Song, age 13 and from Dublin, was selected as the overall winner of the Zurich Young Portrait Prize. As well as a wooden box of high quality art materials, the prize includes a €500 cash prize. In her artist's statement, Meilin said, "In this piece my mother is enjoying the sunshine. It was taken in my back garden during summer time. The bold blocks of colour reminded me of my mother's confident and bright personality."
Pierre Gaultier Swords, age 5 and from Cavan, won the youngest category with Self-Portrait of Pierre, 2022, a drawing in oil pastel and marker on paper. In the second category, Haochen Gao, age 11 and from Dublin, won with I Like Balls, 2022, a drawing in oil pastel on canvas. Day Out, 2022, by Viktoria Kroejeva, age 15 and from Clare - a painting in oil and acrylic on canvas - was the winner of the category for ages 12-15. Ross McHale, age 17 and from Kildare, won the final category with his oil painting on canvas, A Portrait of the Artist as a Young Man, 2022. Each category winner is awarded a personalised box of art materials alongside a prize of €250.
Neil Freshwater, CEO of Zurich, said, "Zurich Insurance plc are proud to support the Zurich Portrait Prize and Zurich Young Portrait Prize. We congratulate this year's winners David Booth and Meilin Ava Song on their wonderful achievements. We also recognise all the shortlisted artists for their immense talent and unique perspectives. We look forward to seeing the exhibitions open in the Regional Cultural Centre, Letterkenny in June 2023."
Brendan Rooney, Head Curator, National Gallery of Ireland, said, "Now in its ninth consecutive year, the Portrait Prize continues to celebrate the talent that flourishes among artists working in Ireland and Irish artists abroad. This year, the National Gallery of Ireland is delighted to showcase portraits by twenty-six remarkable artists. These works were shortlisted from hundreds of submissions, as high in quality as they were disparate in character. As we emerge from two years of pandemic, portraiture helps to remind us of the fundamental importance of human interaction and engagement."
The Zurich Portrait Prize exhibition, featuring the winning portrait alongside 25 other shortlisted works, is now open at the National Gallery of Ireland. It will run until 2 April 2023 alongside the Zurich Young Portrait Prize exhibition of 20 shortlisted portraits. Both exhibitions will travel to the Regional Cultural Centre, Letterkenny, in 2023.
About: Exhibition listings
The Zurich Portrait Prize and Zurich Young Portrait Prize will be exhibited at:
Room 23, National Gallery of Ireland: 26 November 2022 - 2 April 2023
Regional Cultural Centre, Letterkenny, Co. Donegal: 3 June - 2 September 2023
Related articles
Filter by category
Follow us on
Sign Up Here
For promotional offers, news, updates and access to exclusive reports from Zurich

Sending Answer, please wait ...
Your answer has been successfully submitted. Thank you for your participation.
An error has occurred attempting to submit your answer. Please try again.