Small actions can have a great impact
Whether you are considering topping up your pension fund or switching your pension provider, with a Zurich pension, you can:

Invest with an award-winning team*
Keep track of your pension 24/7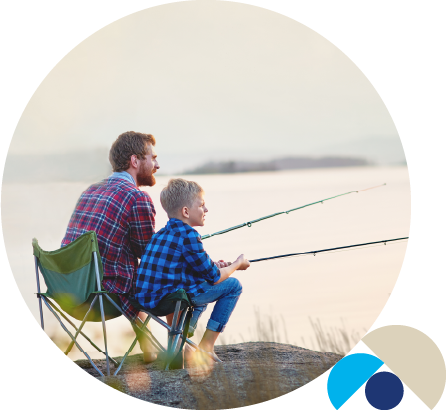 Set yourself up for success

Invest more in your future
You can make extra contributions to your existing pension if you want a better income when you retire, if you would like to catch up on contributions due to a pause or reduction in payments during your working life, and/or you are getting close to retiring and want to maximise your pension fund available at retirement.

Maximise tax relief
Pension contributions attract significant tax relief. Other forms of saving, like bank accounts or savings plans, do not attract such generous incentives. If you are saving regularly but don't need to access those savings until you retire, you should consider taking advantage of this tax relief on pension savings.

Regularly review
Keeping an eye on your pension is integral to ensuring the lifestyle you've planned for. Simply register for and log on to our online dashboard if you want to check the value of your pension, review your investment choices, get a snapshot of your current funds and find out how your funds are performing.
How can I enhance my pension?
Making financial decisions about retirement planning is important. But you don't have to do it alone, we're here to help. A simple way to plan is to use our Pension Calculator.
Important information
This calculator is designed to give an indication of the monthly pension contribution you may need to make in order to achieve your target monthly income in retirement. It is important to note that the calculator takes into account that your target monthly income includes the Social Welfare pension, which Zurich Life assumes you will be entitled to when you retire. The calculations are in line with Zurich Life's Understanding of Guidelines issued by the Society of Actuaries in Ireland (Actuarial Standard of Practice Pen-12 Version 1.6) and may change in the future. These figures are for illustrative purposes only and are not an offer of contract. These figures are estimates only. They are not a reliable guide to the future performance of your investment. Actual investment growth will depend on the performance of the underlying investments and may be more or less than illustrated.
Why Zurich?
Award winning investment performance*
One of the main funds we invest pensions in is our flagship Balanced Fund.
This fund has delivered an average return of 10.1% since its launch in 1989, and in 2021 alone, it delivered an 18.4% return.
If your pension was invested in the Balanced Fund since it launched in 1989, you would have seen more growth than the sector average.
Source:
Zurich and
MoneyMate
, July 2022. Cumulative Performance figures quoted are from fund inception date of 1/11/1989 until 01/07/2022. Annual management fees apply; the fund growth shown is gross of any annual management charge. Returns are based on offer to offer performance and do not represent the return achieved by individual policies linked to the fund.

Trust in our expertise
Zurich has been meeting the financial needs of people in Ireland for over 40 years. Pensions form a huge part of what we do, with thousands of Irish people trusting us to manage their retirement funds. In fact, our investment team, based in Blackrock, Co. Dublin, is responsible for funds under management of approximately €27.5 billion, of which pension assets amount to €16.9 billion (as at 30th September 2022).

Online access 24/7

Investing responsibly
We're conscious of the need to ensure that we invest your funds responsibly. We want to do good, naturally, but we also want to do well in investment terms. Zurich Insurance Group is a signatory to the UN Principles of Responsible Investment since 2012 and Zurich Life in Ireland maintain a key focus in this area.
Find out more about our Responsible Investment approach
You might want to know
Here for you at every step of life's journey
We have a range of pre- and post-retirement solutions at Zurich to help you plan for and enjoy your retirement. We recommend that you reach out to your financial broker/advisor or our own financial planning team for more information. Find out more about our post-retirement options here.

Don't put off what you can do today
Sound advice is invaluable, so it's a good idea to regularly check in with your financial broker/advisor for guidance.

So, if you'd like to take the next step:
Contact our Financial Planning team directly
Arrange for us to contact you
Find an advisor in your locality
*Investment Provider Excellence Award, Brokers Ireland, 2022; Pension Provider Excellence Award, Brokers Ireland, 2022; Overall Excellence in Financial Service Providers Award, Brokers Ireland, 2021
The information contained herein is based on Zurich's understanding of current Revenue practice as at 01 January 2023 and may change in the future.

Warning: Past performance is not a reliable guide to future performance.
Warning: This product may be affected by changes in currency exchange rates.
Warning: The value of your investment may go down as well as up.
Warning: If you invest in these products you may lose some or all of the money you invest.
Warning: The income you get from this investment may go down as well as up.