Digital Award Lands at Zurich
Zurich Ireland was recognised with its second digital award of 2017, at the prestigious Search Engine Land Awards, which were held in New York on 25 October.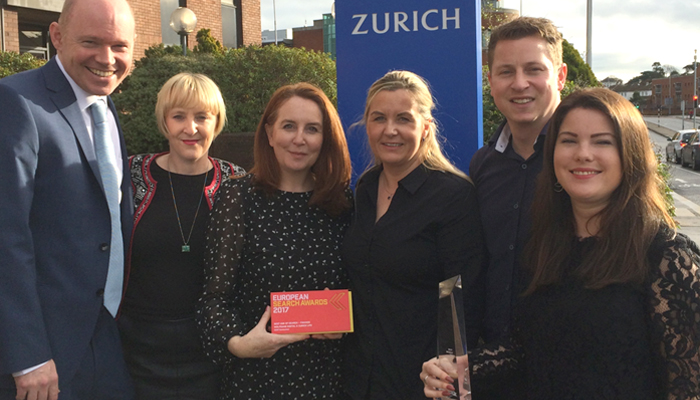 Zurich's Digital Team picked up an award at the internationally renowned Search Engine Land Awards which were held in New York on 25 October. Beating global competition, Zurich scooped the 'Best Mobile SEO Initiative' Award in recognition of its 'Cost of Education' campaign.
Sponsored by Google, the 'Landys', as they are often referred to, recognise the world's best search campaigns and reward excellence and innovation in search marketing initiatives.
Sean Carty, Head of Digital at Zurich Ireland said he was delighted with the latest win. "Zurich faced strong competition and this win is testament to the innovation and hard work of the digital team here in Ireland. It is an outstanding accomplishment for Zurich and we are honoured to have won such a prestigious award, especially given the high calibre of international entries."
According to Carty, "The Cost of Education campaign has played a major part in increasing our overall online visibility in the sales and investments market. We've seen a 283% year-on-year increase in organic search engine traffic to the relevant section of www.zurichlife.ie which has in turn played a significant role in driving sales of Zurich's savings tailored plans."
A key factor in winning the award was the innovative use of voice search in the campaign. Due to gaining high authority rankings, Google is now featuring Zurich's content very prominently within the search engine results page. 'Feature snippets' are read out to users of the voice search facility on mobiles, and Home Assistant such as Google Home or Amazon Echo.
Carty explains, "Voice search is growing rapidly and now represents approximately 20% of searches made on Google. In addition, feature snippets take up a significant amount of screen space, a key driver of click through rates."
This is the second award the Digital Team have picked up so far this year after winning 'Best Use of Search - Finance at the European Search Awards' in May.
Warning: Past performance is not a reliable guide to future performance.
Warning: Benefits may be affected by changes in currency exchange rates.
Warning: The value of your investment may go down as well as up.
Warning: If you invest in these funds you may lose some or all of the money you invest.
Related articles
Filter by category
Follow us on
Sign Up Here
For promotional offers, news, updates and access to exclusive reports from Zurich
Sending Response, please wait ...
Your response has been successfully submitted.
An error has occurred attempting to submit your response. Please try again.