A complete BER rating guide
This guide will provide you with information about the BER rating scale, what is it, why it's important to have one, and where to find or request it. We'll also see what grants are available for home energy upgrades and how a high BER rating can bring down the cost of your home insurance.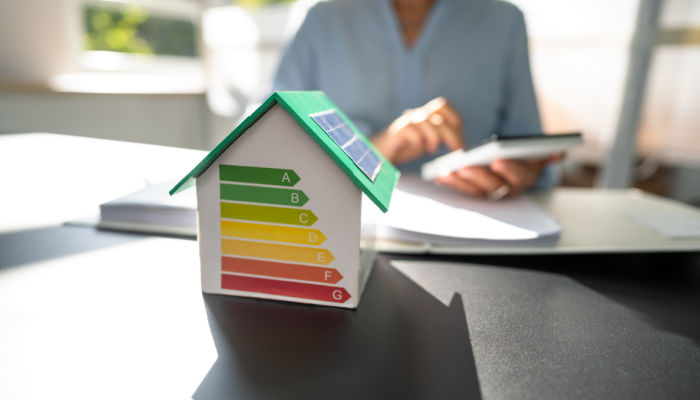 In this article we are going to cover:
What is a BER rating?
Why it's important to know the BER rating of a property
How is the BER rating calculated
Understanding the BER rating scale
How to obtain a BER certificate
How to improve the BER rating
Sustainable Energy Authority of Ireland (SEAI) home energy upgrade grants available
BER rating impact on home insurance cost
Commonly asked questions
What is a BER rating?
A Building Energy Rating (BER) is a rating used to rate the energy efficiency of homes. The rating measures a home's overall performance in terms of its energy usage and carbon dioxide (CO2) output. Homes with higher ratings are able to maintain a comfortable temperature while using less energy than homes with lower ratings.
The BER is determined by examining the construction materials, insulation levels, renewable energy sources and other factors related to energy use such as heating systems, windows and door seals. The BER scale ranges from A-G, where A-rated homes are most efficient and emit little CO2 when the heating is on. G-rated properties on the other hand are the least efficient and tend to have higher bills because they require more energy to reach or maintain optimum temperatures.
Improving your home's BER could potentially reduce your carbon footprint as well as benefit you financially by reducing your energy bills in the long run. In the following paragraphs, you'll learn what determinates your BER rating, but first you'll find out why the rating is important and how it is calculated.
Why it is important to know the BER rating of a property
A BER rating is an important metric for homeowners as it provides valuable insight into the energy efficiency of the property. Here are some important reasons to know the BER rating or a property:
Since 2007, a BER certificate is mandatory for all the buildings being constructed, sold, or rented in Ireland. This is part of a government initiative to improve energy efficiency and reduce carbon emissions in the country.
A good BER rating saves money on energy bills. A higher BER rating means your home is more energy efficient and can help you save money on heating, cooling, and other energy costs.
It can also help with home improvements because knowing your home's BER rating can help you identify areas where energy efficiency improvements can be made. This can include upgrading insulation, improving heating controls, or switching to renewable energy sources. These upgrades not only improve your home's energy efficiency but can also increase its value.
In summary, a good BER rating will improve the energy efficiency of a property and save money on energy bills.
How is a BER calculated?
The BER rating takes into account various factors of a property such as the type of construction, insulation, heating and ventilation systems, and renewable energy sources used in the building.
The BER rating is calculated using a scale from A-G, with A being the most energy-efficient and G being the least energy-efficient. The calculation is based on the building's energy consumption per square metre of floor area, per year and the associated CO2 emissions.
To calculate the BER rating, a qualified BER assessor visits the property and conducts a thorough inspection. The assessment takes into account the age, size, and type of the building, as well as the heating and hot water systems, ventilation, lighting, and insulation.
Using a standardised methodology called Dwelling Energy Assessment Procedure (DEAP), the assessor calculates how much energy the building consumes, and compares it to a benchmark for a similar building. The resulting BER rating is then provided in the form of a BER certificate, which is valid for 10 years.
Understanding the BER rating scale
As previously mentioned, the BER scale goes from A to G, with A being the most efficient and G being the least efficient.
In general, buildings with a higher BER rating have lower energy bills and lower carbon dioxide emissions, while those with a lower rating have higher energy bills and a higher carbon footprint. Understanding the BER rating scale is essential for homeowners, prospective buyers, and businesses to make informed decisions regarding energy efficiency and sustainability.
C-rated homes have medium energy bills and are a standard level of energy efficiency for Irish homes. According to the Central Statistics Office (CSO), these homes typically have adequate insulation and heating systems that are relatively efficient with C being the average rating of houses in Ireland.
Understanding the BER rating scale is crucial for homeowners and prospective buyers to make informed decisions about energy efficiency and sustainability.
How to obtain a BER certificate
To obtain a BER certificate, you will need to hire a registered BER assessor. The assessor will conduct an assessment of the property and its major components, including the external walls, roof, windows, doors, heating and hot water system, and any renewable energy sources. The assessment will also take into account the dimensions of the property, the construction type, and the heating controls.
The SEAI provide a register of all the registered BER assessors which you can use to find an assessor in your area. It's important to note that only registered BER assessors are authorised to issue BER certificates in Ireland.
After the assessment is complete, the assessor will calculate the energy performance of the property using the Dwelling Energy Assessment Procedure (DEAP). This calculation takes into account the annual energy consumption for heating, hot water, and ventilation and the carbon dioxide emissions associated with this energy use.
Once the calculation is complete, the assessor will provide you with a BER certificate and an advisory report. The advisory report will outline recommended energy efficiency upgrades that could improve the energy rating of the property.
By following the steps above, you can obtain a BER certificate for your property and provide prospective buyers or renters with valuable information on its energy efficiency.
How to improve your BER rating
Improving your BER rating can greatly reduce your energy bills and carbon footprint. The best recommendation to improve your BER rating comes from a BER assessment. A BER assessor will identify areas where your property can be more energy efficient. Some common areas to improve include insulation, heating controls, and hot water systems. Upgrading to energy efficient appliances and installing renewable energy sources such as solar panels can also improve your BER rating.
It's important to note that every property is unique and the best ways to improve your BER rating will depend on factors such as the age and construction of the building. By making necessary changes, you can not only improve your BER rating but also make your home more comfortable and sustainable.
We have written an article on ways to improve your property BER rating, with lots of useful tips to guide you.
SEAI home energy upgrade grant
If you're looking to make your home more energy efficient, you might be interested in the SEAI home energy upgrade grant. This grant provides financial assistance to eligible homeowners who want to upgrade their property's energy performance.
So, who can avail of this grant? Homeowners who own a house that was constructed and occupied prior to 2006 are eligible to apply for this grant. Also, the property's existing BER rating must be lower than a B2 rating in order to qualify for the grant.
If you meet these criteria, you could receive funding of up to 35% off the cost of your home energy upgrade project, with a maximum grant amount of €6,000. This could be a significant help in making your home more energy efficient and reducing your energy bills.
To learn more about the SEAI home energy upgrade grants and its eligibility criteria, visit the SEAI home energy grants page. From there, you can also find information about the grant application process, eligible upgrades, and the benefits of making your home more energy efficient.
BER rating impact on home insurance cost
The BER rating is an important factor to consider when purchasing a property as it can have an impact on the cost of your home insurance policy.
Zurich Insurance offers a 5% discount to homeowners with a BER rating of A or B.
Homeowners who invest in energy-efficient measures such as insulation, heating controls or renewable energy systems can significantly improve their BER rating. This can in turn result in lower home insurance premiums, providing a further incentive to make improvements that will reduce energy consumption and lower carbon emissions.
If you are considering making energy efficient upgrades to your home, or if your property already has a BER rating of A or B, you could avail of the Zurich BER discount on home insurance.
Common FAQs around BER rating
What is a good BER rating?
Generally, a rating of B or higher is considered good. This means that the building is highly energy-efficient and has lower energy bills compared to properties with lower ratings. A high BER rating is also a selling point for prospective buyers or tenants as it signifies lower energy costs and a more comfortable living or working environment.
However, it's important to note that the actual definition of a good rating may vary depending on the property type, location, and other factors. For example, an older building may struggle to achieve an A rating due to limitations in terms of insulation and heating systems. In such cases, a rating of C or above may be considered good.
Overall, it's important to aim for the highest BER rating possible as it not only has a positive impact on the environment by reducing carbon dioxide emissions but also contributes to cost savings in energy bills. According to the CSO, since 2005 the majority of a newly built properties in Ireland have a minimum BER rating of C, and the majority of properties built from 2015-2019, have a BER rating of A.
Where do I find my house BER rating?
If you are a homeowner or a prospective buyer and want to know your home's BER, you can access this information on the national BER register. The register is maintained by SEAI and provides detailed information about the BER rating of all residential and commercial buildings in Ireland.
To find your house's BER rating, you can visit the SEAI's BER register. Once you have entered your property BER number or MPRN number, the BER register will display the BER rating of the property.
What does BER exempt mean?
Certain buildings can be exempt from having a BER certificate. According to the SEAI, if a building falls into either of the two categories below, it is considered BER exempt:
National monuments
Protected structures or proposed protected structures
Places of worship or buildings used for the religious activities of any religion
Certain temporary buildings
Industrial buildings not intended for extended human occupancy with a low installed heating capacity
Non-residential agricultural buildings with a low installed heating capacity
Stand-alone buildings with a small useful floor area
About: How do you better protect your world?
Having your property and possessions protected by Zurich's home insurance comes with the peace of mind that should the worst happen, we'll be there to help when you need us.
Related articles
Filter by category
Follow us on

Sending Answer, please wait ...
Your answer has been successfully submitted. Thank you for your participation.
An error has occurred attempting to submit your answer. Please try again.