Farmer of the Year, David Russell announced as Zurich Ambassador
Zurich Insurance has announced David Russell, recent Grand Prix Farmer of the Year, as its Farm Insurance Ambassador. The youngest ever winner of the Farmer of the Year accolade, he will work with the team at Zurich Farm Insurance to highlight risk management, farm safety and mental wellbeing.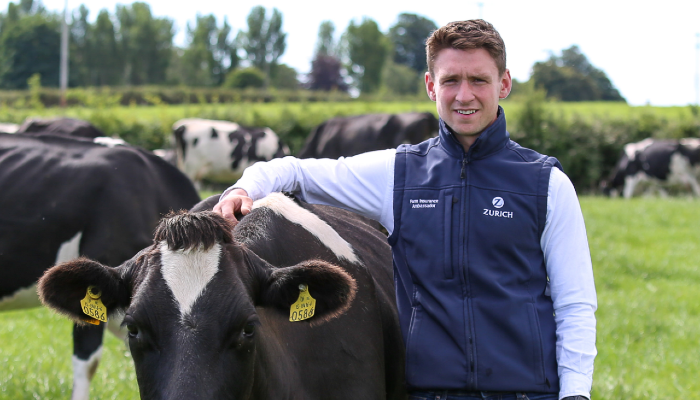 An advocate for positive thinking and physical health, David Russell will work with the Zurich Farm Insurance team to address issues facing Irish farmers across the country around mental and physical wellbeing.

The partnership is a natural fit for Zurich and the Farmer of the Year winner with both keen advocates of maintaining positive mental and physical wellbeing. Zurich has worked closely in partnership with Rugby Players Ireland since 2015 to launch and support the hugely successful Tackle Your Feelings campaign, an all-island mental wellbeing programme that aims to change the way people think and behave around mental health by supporting individuals to proactively look after their mental wellbeing.

Now in partnership with David, who is a regular triathlon competitor, Zurich will work to promote the benefits of positive mental and physical wellbeing amongst the Irish farming community, a sector that is going through a period of great change and transformation. As part of his ambassador role, David will promote the benefits of proactively working on mental and physical health, the keys to work-life balance, and his experience of being a young farmer in a rapidly changing, sometimes-isolating environment, that has been impacted by the Covid-19 pandemic.

David Russell, Zurich Farm Insurance Ambassador, said: "I am thrilled to be working with Zurich Insurance on this exciting new venture and I'm delighted that they want to make a meaningful difference to the lives of Irish farmers. I'm confident that together we can help to make a positive impact on farmers' wellbeing around the country.

"I hope to encourage Irish farmers to look after their own mental wellbeing while doing a job that can be incredibly mentally draining; not least because of the Covid-19 pandemic, but also dealing with challenges around animal health, succession planning and a host of unpredictable events that can take a toll on a person's wellbeing. At times like this, it can be difficult to look to the future with optimism so I hope to inspire Irish farmers to proactively look after their own wellbeing and at the same time, reduce stigma around these issues."

Graham Minogue, Head of Agri Sales at Zurich Ireland said: "A key focus for Zurich over the last couple of years, both amongst employees and in local communities, has been to continuously drive a wellbeing agenda and this is something that has had great resonance with David as a Zurich customer. We are delighted to be working together, and his approach taking care of his own wellbeing, is to be commended. Together we can make a genuine difference among the farming community in Ireland and help to shed light on how wellbeing can be positively managed with support and understanding."

Zurich is also a keen advocate of farm safety and has been a supporter of AgriKids for the last three years, a national campaign aimed at promoting farm safety amongst children, and ultimately reducing the number of accidents suffered on Irish farms.
Related articles
Filter by category
Follow us on
Sign Up Here
For promotional offers, news, updates and access to exclusive reports from Zurich

Sending Answer, please wait ...
Your answer has been successfully submitted. Thank you for your participation.
An error has occurred attempting to submit your answer. Please try again.