Lisa Sills: 'Go for it. It's really nice to have the security of a pension'
At 30, this financially savvy marketer and new home owner is happy she's started her pension early, so that her future is in good hands. This article is an Irish Times Content Studio production.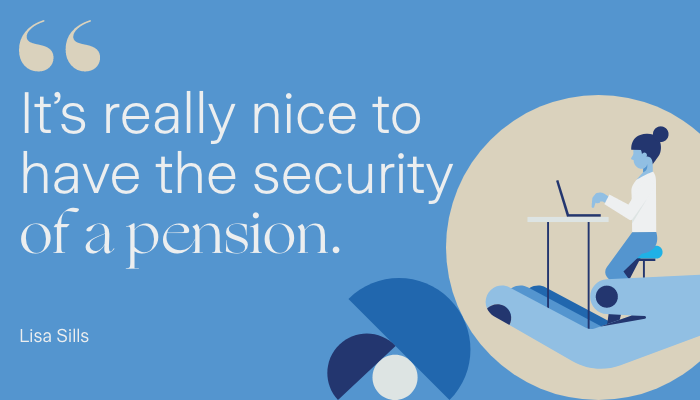 Thirty-year-old Wexford woman Lisa Sills grew up as the only girl in a set of quadruplets, born in 1991.
Despite - or perhaps because of - being born into such a tight knit bunch of brothers, which also includes another younger brother, she has always known her own mind.
"I was a very bossy child, very sure of my own importance," she laughs.
Indeed, one of her teachers likened her to former British Prime Minister, Margaret Thatcher, something she still balks at. "I was bold but not in a bold way. I'd go into school just to write stories, so that's what I did," she explains. It sounds reasonable – except that the rest of the class might have been doing maths.
Sills has been very much her own person ever since, making the right decisions for her regardless of what everyone else is up to.
That goes for pension planning too. She recently started contributing to a pension plan, to safeguard her financial independence in the years ahead.
Sills works for a large tech company. 'You get to work with incredible people – and the money's good,' she says
A good decision maker, it turns out she was right to concentrate on stories too. Her creativity and way with words have underpinned her increasingly successful career in marketing.
"I wanted to write full time but there was no money in it, so then I thought I'd make films but that was even harder," Sills explains.
Having graduated in TV and Media Production from Carlow IT, with first class honours, she moved to Dublin in her early 20s, renting a house with six flatmates.
"I had no job and no money," she recalls.
Through the now defunct JobBridge scheme she landed an internship with a digital marketing start-up.
Though that business didn't last, her interest in marketing did. She began a blog on the subject which caught the attention of one of the country's most successful content creation agencies, 256.
"The founder used to read my blog and followed me on Twitter. She got in touch and asked would I like a job," she explains.
At 23, and in her first 'proper' job, Sills became a managing editor.
"The first person I managed was in their late 30s so I definitely had imposter syndrome, but I learned so much while I was there and I was really lucky to be surrounded by so many really interesting women," she adds.
Four years later she was appointed senior content strategist at Pointy, an innovative retail technology start-up which was acquired by a large tech company a year and a half ago.
She has worked there ever since, and loves it. "Everything takes a little longer in a large organisation because there are more processes involved but you get to work with incredible people – and the money's good," she points out.
Forward planning
She got the keys to her first home in 2021, a three-bed terraced house in Dublin's Clondalkin
During the first lockdown last year she started thinking about buying a house, doing virtual tours and making online bids. "Because everything was closed I found I had excess income. When I did the maths, it just made sense to buy a house," she says.
Earlier this year Sills became the proud owner of a three-bedroom terraced house in Clondalkin.
"The couple selling it were really lovely and had put a cap on the price which, once they reached, had decided they would sell it at. They didn't want to see it going into a bidding war. They left me a lovely letter when I moved in too," she says.
As soon as her new home was sorted, she turned her attention to her pension. "My employer was offering one when I joined and, because they were offering to match my pension contributions, it made sense to do it," she explains.
While she was saving for her mortgage deposit and to furnish her new home, Sills kept her contributions as low as possible. Once she was settled in, and things became easier financially, she increased her contributions to the maximum amount, 4 per cent of salary, which her employer will match.
The plan now is to rent out one of her bedrooms, money which she could use to increase her pension contributions, or to make additional voluntary contributions, known as AVCs.
'I'd say to people 'go for it'. It's really nice to have the security of a pension.'
"Right now the mortgage repayments are more than I was paying in rent but when I rent out the room the mortgage will be less than I was paying in rent. What's great about the pension contributions is that I can adjust the amount I put in to balance it with my life," she says.
Sills may not have been interested in maths class but she is financially savvy. "In 256 we had a lot of financial clients so I've written a lot about financial matters," she explains.
"I've also always been quite careful with money. Being broke as an intern gives you a great awareness of the importance of being good with money."
Having sorted her pension makes her happy too.
"It would be nice to think that I'd live to 90 and, if I did, that I'd actually be able to have a life and do things like travel if I wanted to," she says.
"It is hard to think about things like pensions when you're starting out and doing internships but once things get a bit more comfortable, I'd say to people 'go for it'. It's really nice to have the security of a pension."
The information contained herein is based on Zurich Life's understanding of current Revenue practice as at 1st August 2022 and may change in the future.
Find an advisor Contact Zurich Call 0818 804 164
Warning: Past performance is not a reliable guide to future performance.
Warning: This product may be affected by changes in currency exchange rates.
Warning: The value of your investment may go down as well as up.
Warning: If you invest in these products you may lose some or all of the money you invest.
Related articles
Filter by category
Follow us on
Sign Up Here
For promotional offers, news, updates and access to exclusive reports from Zurich

Sending Answer, please wait ...
Your answer has been successfully submitted. Thank you for your participation.
An error has occurred attempting to submit your answer. Please try again.