Travel Safe: Road Trip Ideas in Ireland
You may be worried about travelling during a pandemic and you're right. Borders have opened up, hotels and AirBnB are receiving guests again, but you can never be too careful.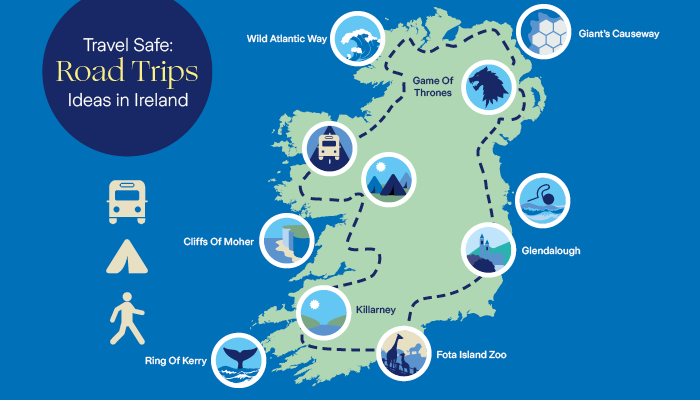 So, what does your road trip during a pandemic look like? How can you travel safer but still have fun? In this post, we'll share some tips on how you can continue to discover your world the safest way possible. Are you ready to go back on the road?
Can you do a road trip during the pandemic?
So, the question on everyone's minds: Can I go on a road trip in Ireland this summer? The answer is yes. County borders in Ireland have opened once again and more restrictions are being lifted in July and August. However, to err on the side of caution, do watch or listen to the news, especially in the days leading up to your trip.
Can you go on a road trip with your dog or cat?
Many people got a pandemic puppy or kitten, but now that you want to travel and sightsee in Ireland, but can you take a road trip with a cat or dog? Here are some recommendations and tips for travelling with pets:
Prepare plenty of room for your pet. Some pet experts even suggest putting them in carriers so that they are comfortable during the ride.

Don't travel at the hottest time of the day. Bring a small water dish which you can set on the floor of the car. You could also bring ice cubes or frozen treats.
Bring cleaning supplies in case of little 'accidents'.
Take breaks if you're going for a long drive.
Learn the pet regulations for the accommodation you're staying in. Not all hotels are pet-friendly, or others may insist that dogs and cats are only allowed in if you bring their carrier with you.
Pack their toys and some treats for a long drive.
Make sure their tags, micro chips, and other documents are up-to-date.
Can you go on a road trip with a newborn?
It can be daunting if you take a road trip with a newborn but it can be a wonderful experience if you plan well and are organised. Here are some tips on how to road trip with a baby:
Seat them securely and comfortably in a baby carrier.

Plan your route to have pit stops where you can feed and change your baby. Research in advance places on route that have baby-friendly facilities.
Bring their favourite toys.

Shield them from the sun with a blind for the car window and bring extra blankets when it gets cold. Irish weather can be unpredictable so it's best to be prepared for the extremes.

Don't plan too many activities. Give yourselves plenty of time and breaks in between activities.
Road trip ideas for the family
Need some inspiration for a road trip for toddlers? Or maybe ideas for a road trip with teenagers? When you're planning your family road trip, the first step is to ask everyone what their expectations are and agree on the activities you all want to do.
Road trip with young children
Here are some road trip ideas if you have a young family:
Cork: Cork has a variety of fun things for all the family especially attractions with wide open spaces, such as zoos and parks. Fota Island Park is a firm favourite attraction for families, and Leahy's Open Farm is another attraction families can enjoy together. Another is the West Cork Model Railway Village and the Zipit Forest Adventures will really suit active children.

Wicklow and Glendalough: Wicklow has trails even young children can take, such as the Wicklow Way. One place that's popular is the Glendalough Valley, located in the Wicklow Mountains National Park. With the Monastic Site with Round Tower, its beautiful lakes and valleys, as well as a selection of walks and trails, there is something to suit everyone.

Dublin: Dublin has a large amount of attractions, but Dublin Zoo will be an experience young children will never forget. As well as this, a trip to Howth to see the Howth Harbour, and see what the numerous numbers of restaurants have to offer across the city!

Donegal: If it's a beach holiday you are after, look no further than Donegal. With 12 blue flag beaches to its name, there is definitely no shortage of choice!
Road trip with teenagers
Ring of Kerry: It's a road that takes you through 10,000 years of important history - from deep forest to the waters of the wild Atlantic. Though rough and rugged, this route is something special!
Cycling one of the greenways: There are eight greenway cycle trails across Ireland – from Waterford and Mayo to the midlands and the north, wherever you are holidaying in Ireland there is likely a cycling route nearby for a leisurely or energetic day out.
Belfast and Game of Thrones-themed tour: If you and your family are big fans of Game of Thrones then a trip up north is ideal. Though there are companies specialising on this type of tour, you may also organise it among yourselves. Simply research the places where scenes were shot and create your own route. It's not difficult to find the exact location of scenes as the tourism council has put markers on these places.
Scenic heritage tour: There are several historic sites in the north of the country worth visiting. The Giant's Causeway, one of the natural wonders of the world is one such location. You could also check out the Cuilcagh Boardwalk Trail (also known as the Stairway to Heaven) in County Fermanagh.
Wild Atlantic Way: If you want the proper road trip experience Ireland's Wild Atlantic Way is for you! With the route stretching from Donegal to Cork you can really experience all the West of Ireland has to offer. You could try surfing at the stunning beaches along the route and experience the ring of Kerry where you will see the Skellig Michael island as well as other interesting features.
Road trip ideas with friends
Here are routes and activities that a group of friends can organise by themselves:
Connemara: With so many sights to see in Connemara, its ideal for a small or large group of friends. Popular attractions include the Connemara National Park, Kylemore Abbey and the nearby Victorian Walled Gardens. You can also go see off-the-beaten-paths such as the Glengowla Mines and Spiddal.
Dingle: Dingle is famous for its beaches and seaside attractions. A good road trip idea is the Dingle Peninsula Drive that runs for 30 miles. Must-see places in Dingle include Inch beach, Coumeenoole beach, the Conor Pass, and Minard Castle. You can also take a boat trip out to the Blasket Islands and either stay for the day or overnight in one of the restored cottages.
Clare and Cliffs of Moher: One of the most popular tourist attractions in the country, the Cliffs of Moher is always a real crowd pleaser. Though there are tour companies that organise these trips, you can also save money by simply planning it by yourselves. You can also visit the Burren while there with plenty of nice walks along the way.
Road trip ideas with couples
Here are some routes and activities perfect for couples:
Camping and glamping trips:

Glamping

is a trend that's taking off and there are several options to choose from. For example, Rock Farm in County Meath is a glamping site that also promotes eco-tourism. Another option are the glamping pods in East Coast Adventure in County Down. If you want something fancier, check out Portsalon Luxury Camping in County Donegal.
Wellness staycations: You could consider doing a themed holiday, such as a wellness staycation. Wicklow Wilderness and the Creacon Wellness Retreat in Wexford have week-long escapes to help you relax and recharge.
Bray Activities: If you want a nice trip with your significant other, you can head to Bray for the Cliff or try Bray Adventures, where you can try canyoning!
Waterford's Greenway: why not try Waterford's Greenway where you can cycle from Waterford City to Dungarvan, with plenty of stops along the way such as Kilmacthomas where you can stop to reenergise in one of the restaurants.
What are the top safety tips when planning a road trip?
These are things you should consider and some items you shouldn't forget to pack when planning your road trip in Ireland:
Plan your route using Google Maps.

Research the place your visiting beforehand, know opening times, necessary fees, what is and isn't allowed due to COVID restrictions in these areas.
Prepare what you'll bring according to how many days you plan to stay in one place. Don't under or overpack.
Make sure the car you use is well-maintained.
Check weather conditions, plan accordingly. Going on a trip anywhere in Ireland means you should prepare for all weather conditions.
Make sure your car is insured and is taxed and has an NCT.
Bring all necessary safety equipment such as first aid kit, medicines etc.
Bring all COVID protective equipment such as masks, visors, hand sanitizer etc.
About: How can we better discover our world?
No matter who you travel with on your road trip, your car and protecting those in it will be the most important element of the journey. Car insurance is a legal requirement in Ireland and having your car insured with Zurich Insurance gives you peace of mind that should the worst happen such as a breakdown when you are on your road trip, you are protected. Our car insurance also has many great benefits depending on the cover you choose.
Related articles
Filter by category
Follow us on
Sign Up Here
For promotional offers, news, updates and access to exclusive reports from Zurich

Sending Answer, please wait ...
Your answer has been successfully submitted. Thank you for your participation.
An error has occurred attempting to submit your answer. Please try again.