Finalists for Zurich Young Portrait Prize
Children ranging in age from three to seventeen have become finalists in the Zurich Young Portrait Prize. The overall category winners will be announced today at the National Gallery Ireland and an exhibit of all the shortlisted artists will run until 12 January 2020.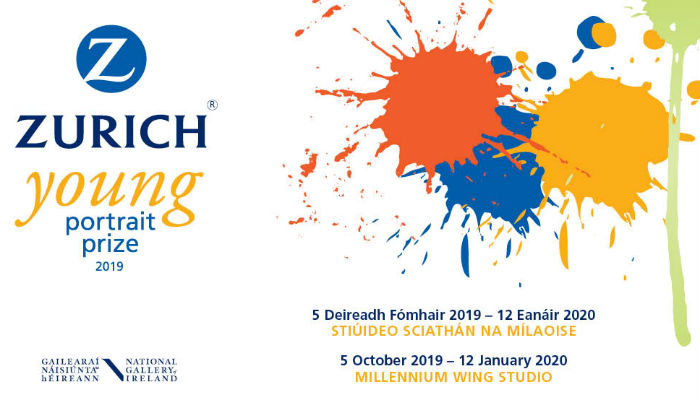 Following the outstanding success of the National Gallery of Ireland's nationwide portrait competition, the Zurich Portrait Prize, the first ever Zurich Young Portrait Prize. This inclusive art competition aims to foster and supporting creativity, originality and self-expression in children and young people. The Prize accepted entries from young people, up to the age of 18, of all abilities, from across the island of Ireland.
Below, you'll see the 20 finalists in four categories (ages 6 and under, ages 7-11, ages 12-15 and ages 16-18), chosen by judges Brendan Rooney, Hetty Lawlor and Perry Ogden. The finalists portraits will be displayed in the Millennium Wing Studio from 5 October until 17 January 2020. The overall winner will be awarded a personalised wooden box of high-quality art materials, specific to their choice of material in their portrait, and a cash prize of €500.
Category shortlisted artists
Ages 6 and under:
Oisín Byrne (aged 3)
Callie LePage (aged 6)
Azalea Rahman (aged 4)
Rita Ruitong Chen (aged 6)
Christina Troup (aged 6)
Ages 7-11
Alice Ertmane (aged 7)
Faye Hession Jordan (aged 9)
Zhen Xing (David) Ke (aged 10)
Mischa May Pattwell (aged 10)
Jiaming Zheng (aged 8)
Ages 12-15
Amy Brown (aged 15)
Mabel Forsyth and Mary O'Carroll (aged 12)
Ava Henson (aged 14)
Erin Welch (aged 15)
Rachel Yuxuan Chen (aged 15)
Ages 16-18
Martyna Glowicka (aged 17)
Síobhra O'Reardon Farrell (aged 17)
Mathews Pascoal De Leon (aged 17)
Cara Pilbeam (aged 17)
Related articles
Filter by category
Follow us on
Sign Up Here
For promotional offers, news, updates and access to exclusive reports from Zurich

Sending Answer, please wait ...
Your answer has been successfully submitted. Thank you for your participation.
An error has occurred attempting to submit your answer. Please try again.