Our new environment focuses on sustainability
We were delighted to welcome the Taoiseach Micheál Martin who officially opened Zurich House, our new Gold LEED Certified office building in the heart of Blackrock, County Dublin.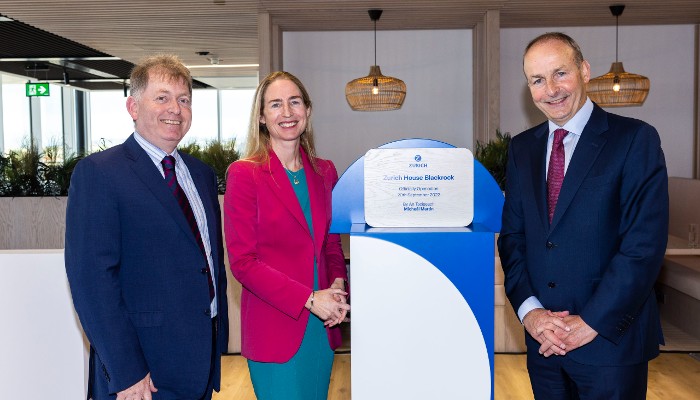 Taoiseach Micheál Martin officially opened Zurich House yesterday, our new Gold LEED Certified office building in Blackrock, County Dublin.
Speaking at the official opening, Anthony Brennan, CEO Zurich Ireland said: "I was delighted yesterday afternoon to be joined by Alison Martin CEO EMEA & Bank Distribution, Zurich Insurance Group to welcome our special guest Taoiseach, Micheál Martin. The Taoiseach did the honours for us as by officially opening our new Zurich office in Blackrock, County Dublin. It was a fantastic way to formally open the new Zurich House, a Gold LEED Certified building, which is a sustainable, modern environment housing over 900 Zurich employees who serve our customers and distributors across Ireland."
At Zurich, how we operate and manage our work environment is an important part of delivering on our promise for the planet and our community. Zurich House in Blackrock has achieved LEED Gold Certification for Building & Environmental Design and has won 'Fit Out Project of the Year 2021' and recently was commended at the 2022 ICAD awards in the Environmental Design category. You can find out more about our sustainable office environment here.
Strong environmental credentials
Some of the building's strong credentials on environmental performance are more visible, such as sensor-controlled lighting, while many features are working hard in the background to reduce our environmental footprint:
LED lighting: Movement sensors operate throughout the building controlling lamps. Assisted by 'light harvesting', the control system senses high levels of natural light, dimming or turning off lamps in these areas; while external lights are timer and sensor controlled.
Lifts: Energy efficient motors are in use reducing energy usage.
Water: Water sensors operate throughout the building on all services and plastic water cups are not in use.
Water stations: Each time a 'keep cup' water bottle is topped up, the water dispenser records the number of 0.5 litre bottles saved. From Jan 2021– May 2022 we saved the equivalent of 29,686 plastic bottles.
Indoor climate: The temperature in the building is centrally controlled, with sensors throughout the building optimising energy use.
Waste: We are continuing to monitor and streamline how we manage waste in the building. There are three waste streams in operation - organic, recyclable and general waste. No waste goes to land fill and general waste is sent for incineration. On-site paper waste is securely destroyed and recycled into pulp for reuse in producing new paper products. From January 2021 - to May 2022 we saved 1,457 trees.
Staff restaurant: Our catering provider KSG Catering is a verified member of Bord Bia's national sustainability programme, Origin Green, with a comprehensive sustainability plan covering sourcing and procurement protocols, waste management, health nutrition and wellness, and corporate social responsibility. Examples on-site include managing organic waste and the use of compostable cutlery and coffee cups.
Office furniture: We made every effort to recycle spare office furniture and equipment arising from our office moves. Items such as chairs, desks and cabinets were donated or put to good use by charities such as Haven Horizons, non-profits like Revamp, Killinarden Community School – one of the schools in the Power2Progress programme; and our new charity partner, Down Syndrome Ireland, in line with our promise to make a difference in our communities.
Supporting greener commuting: To support employees cycling to work, we have expanded capacity to accommodate 60 bikes in our bicycle cage.
About: Sustainability at Zurich
At Zurich we recognise the importance of building a brighter future for our customers, our people and our planet. Our sustainable actions over the years have helped to do just that. You can find out more about our sustainable priorities here.
Related articles
Filter by category
Follow us on
Sign Up Here
For promotional offers, news, updates and access to exclusive reports from Zurich

Sending Answer, please wait ...
Your answer has been successfully submitted. Thank you for your participation.
An error has occurred attempting to submit your answer. Please try again.