Shortlist announced for Zurich Portrait Prize
The National Gallery of Ireland has announced the shortlisted artists for the 2018 Zurich Portrait Prize. Now in its fifth year, the competition is a celebration of contemporary portraiture and showcases the talent and flair of artists working across a number of disciplines.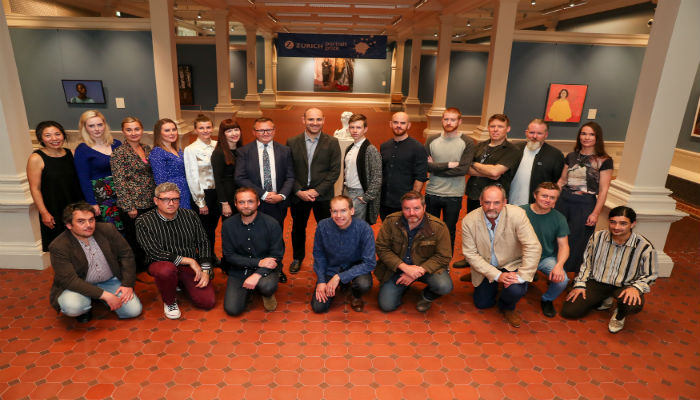 The Zurich Portrait Prize shortlist was announced this morning and now the 25 artists' works will go on display at the National Gallery of Ireland.
Identity, privacy, place, family and social change are among the themes addressed by the artists who have been shortlisted for this year's National Gallery of Ireland's Zurich Portrait Prize. A total of 25 artists from a variety of backgrounds, working across a multitude of creative disciplines, have made it through to the final stage of the competition, from an initial pool of nearly 300 entrants.
The aim of the Zurich Portrait Prize is to foster an interest in contemporary portraiture amongst artists and art lovers alike, while adding to the National Portrait Collection at the National Gallery of Ireland. This year's panel of judges comprises Geraldine O'Neill, Sue Rainsford and Tanya Kiang. This is the first year the prize has been sponsored by Zurich.
CEO of Zurich Insurance plc, Patrick Manley added: "Portraiture is a rich and exciting art form, which often reflects the realities of everyday life. The National Gallery of Ireland's portrait prize is a wonderful showcase of the abundant talent around us, and gives many gifted artists the opportunity to have their work hang in the prestigious location that is the National Gallery of Ireland. Zurich is very proud to be associated with this competition."
The winning artist will receive a prize of €15,000 and a commission worth €5,000 to produce a new work for inclusion in the National Portrait Collection. Two additional prizes of €1,500 will be awarded to highly-commended works.
The shortlisted artists for the Zurich Portrait Prize 2018 are:
Kyle Barnes (Southampton), Company Sergeant Gary Madden, oil on canvas
David Booth (Wexford), Unit, oil, acrylic and spray paint
Sarah Bracken Soper (Dublin), Quiet Revolution, embroidery on canvas
Peter Bradley (Galway), Sonder, oil on canvas
Gillian Cullen (Meath), Healing, pencil on paper (Bristol board)
Stephen Doyle (Cork), Dylan is ainm dom…, mixed media (oil and neon glass)
Cara Dunne (Dublin), Molly and Ruby, acrylic paint and coloured pencil on canvas
Robert Ellis (Clare), Herbert, photograph (archival pigment print)
Salvatore Fullam (Dublin), Me and my Dad in McDonalds, oil on cotton canvas
Debbie Godsell (Cork), Prism, photo screen print
Kim Haughton (Dublin), J.P. Donleavy, photograph
Thomas Jenner (Dublin), Henry Peter Jenner with Bow and Arrows, photograph
Miseon Lee (Dublin), Me in the Mirror, oil on linen
Connor Maguire (Belfast), Portrait of a Modern Family, oil on canvas
Jonathan Mayhew (Dublin), Autoportrait, USB flash drive containing MP3, MP4, jpeg and PDF files
Fionn McCann (Dublin), Cézanne's Apple, photograph
David Molloy (Kerry), A portrait of the Artist Pieter Koning

, photograph

Yvette Monahan (Dublin), The thousand-year-old Boy, photograph
Gill Morrow (Belfast), YES, porcelain
Darragh O'Connell (Wexford), Buddy, oil on canvas
Will O'Kane (Clare), A.L. oil on canvas
Mandy O'Neill (Dublin), Diane, Larkin Community College, photograph
Martin Redmond (Wexford), Karl, oil on linen
Nicholas Benedict Robinson (Wicklow), Mary-Kate Lanigan, oil on birchwood
Blaise Smith (Kilkenny), My Parents, Allen and Elizabeth Smith, oil on canvas
Announcing the shortlist, Director of the National Gallery of Ireland Sean Rainbird said: "The Zurich Portrait Prize is a very important date in the Gallery's diary as it allows us to not only encourage interest in contemporary portraiture, but also to bring our National Portrait Collection front and centre. Acknowledging the contributions they have made to Irish life, modern additions to this collection include portraits of icons such as social justice campaigner, Sr Stanislaus Kennedy, designer John Rocha, hurler Henry Shefflin and, most recently, film director Lenny Abrahamson.
"This is the first year that Zurich has sponsored the competition, and I would like to thank them for their support, which allows us to showcase contemporary art practice and to encourage interest in this art form."
Exhibition curator Brendan Rooney added: "We were delighted not just with the positive response to the portrait competition, now in its fifth year, but with the high quality of the submissions. The judges were faced with the onerous task of whittling down a hugely impressive variety of works in different media to just 25. They have presented us with a rich and exciting shortlist, and we await their final decision with great anticipation."
The shortlisted artists' work will be exhibited in Room 23 of the National Gallery of Ireland from Saturday, 6th October 2018 until Sunday, 13th January 2019. Admission is free. The winner will be announced on Monday, 22nd October 2018.
See the National Gallery of Ireland for details of the shortlisted artists and their work.
About: The Zurich Portrait Prize
The Zurich Portrait Prize is open to artists in all disciplines who are either resident in Ireland or Irish citizens living abroad. The aim of the competition is to showcase and encourage interest in contemporary portraiture, and to raise the profile of the long-standing and constantly evolving National Portrait Collection at the National Gallery of Ireland. The competition is in its fifth year.
Related articles
Filter by category
Follow us on
Sign Up Here
For promotional offers, news, updates and access to exclusive reports from Zurich
Sending Response, please wait ...
Your response has been successfully submitted.
An error has occurred attempting to submit your response. Please try again.