Dalkey Literary Awards launched
Zurich Insurance and

Dalkey Book Festival announce the launch of the Dalkey Literary Awards that will showcase the talents of established and emerging writers and reward them with an overall prize fund of €30,000.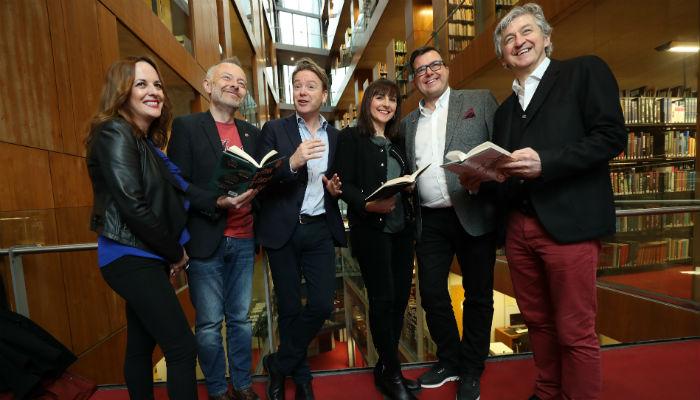 The establishment of the Dalkey Literary Awards marks a major new step for the highly popular Dalkey Book Festival, which has quadrupled in size since its 2010 debut with the support of Zurich.
Neil Freshwater, CEO Zurich Insurance plc said: "The introduction of the Dalkey Literary Awards is a major new step in the development of the Dalkey Book Festival and its overall aim of promoting excellence in literature. In Zurich, we have proudly supported this important cultural event for the last six years and are delighted to play a key role in the inception of these new awards, reinforcing our commitment and support to writers, literature and creativity in Ireland."
The new awards, to be held annually, will recognise writers in two categories: 'Novel of the Year' and 'Emerging Writer'. Writers resident or born in Ireland and published in Ireland or the UK in 2019 will be recognised by the awards. The winner of the Novel of the Year award will walk away with €20,000 whilst the writer crowned Emerging Writer award will receive €10,000. The Emerging Writer winner will also earn a spot at the Dalkey Book Festival on Sunday 21st June, appearing on stage alongside the three judges of that award with the chance to talk about their work and what winning the award means to them.
The shortlist for each category will be proposed by a designated Nominating Panel made up of 14 well-known critics, writers and public figures within the Irish literary scene. Publishers can also submit books (published in Ireland or the UK in 2019) for consideration. Each category will have three judges to review the shortlisted nominees and select one overall winner.
"In light of arts funding being under strain, this is a generous act to encourage writing and reward brilliance," David McWilliams, Co-Founder of Dalkey Book Festival said.
Sian Smyth, Director of Dalkey Book Festival added: "We understand how difficult it is financially for writers and we hope that this award will serve to provide some financial stability to our most creative minds. These awards are something the festival has always wanted to do and we are delighted now we are in this position."
Set in the beautiful seaside town of Dalkey in County Dublin, the Dalkey Book Festival has been playing host to some of the greatest authors and thinkers from across the globe since 2010. The festival celebrates literature, theatre, film and comedy as well as ideas, exploring the worlds of science, technology, current affairs, new politics and global trends.
Related articles
Filter by category
Follow us on
Sign Up Here
For promotional offers, news, updates and access to exclusive reports from Zurich
Your answer has been successfully submitted. Thank you for your participation.
An error has occurred attempting to submit your answer. Please try again.