Zurich celebrates 150 year anniversary
Zurich marks 150 year journey from startup to leading global insurer. By reacting constructively to challenges as the modern world emerged, Zurich has evolved into a global business covering more than 210 countries and territories.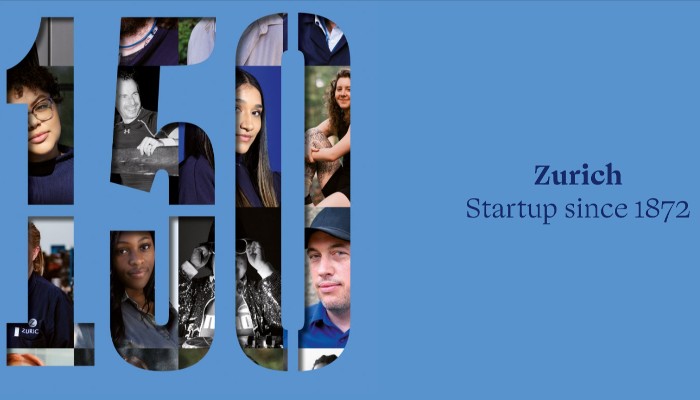 Zurich was founded on October 22, 1872, as a marine insurer in the city that gave us our name. Since then, history has thrown a lot our way, but we've always continued to push forward, adjust and adapt.
From our humble beginnings, we've grown into a successful global insurer with tens of millions of customers who rely on us in their most vulnerable times, and more than 56,000 employees who support them. By reacting constructively to challenges as the modern world emerged, Zurich has evolved into a global business covering more than 210 countries and territories.
It is difficult to capture one and a half centuries, but one thing is clear - the credit goes to our people and their commitment to Zurich.
Looking at our rich history, one important way in which we are unlike a startup is that we are a beacon of stability. Over the decades, we've shaped our industry and have earned the trust of our customers, shareholders, investors and communities worldwide. Our legacy is built on a strong foundation.
But we cannot simply rely on our past achievements. As we look forward, the world is changing much more rapidly now than it has over the last 150 years. Yet we seem to be experiencing - and overcoming - the same difficult challenges: wars, pandemics, inflation and natural catastrophes. So, we must stay focused and continue working together on what matters to our customers – solutions that help prevent risks related to health, climate change or unexpected threats. We must continue to innovate for the generations to come.
Through hard work, in recent years we've delivered record combined ratios, incredibly strong business operating profit performances and continued solid, top-line growth. Our strong financial positioning, balanced portfolio and firm reputation enables us to celebrate this anniversary with confidence in our future. And because of this, we can be there for our customers and communities when they need us most. This is what matters.
So, what have these last 150 years taught us? They've demonstrated our ability to respond not just to continuously evolving customer needs, but also to quickly changing circumstances – both within our industry and those outside of our control. They've reminded us that doing the right thing and acting with integrity isn't just good for our bottom line, but it's simply the right thing to do.
Our commitment to sustainability and doing what we can to safeguard our planet remains steadfast. We will continue taking tangible steps towards being one of the most responsible and impactful businesses in the world. This is a responsibility we must all uphold.
To mark our 150 year anniversary, we have created a book which illustrate how we care for our customers – and for one another. Our Zurich Forest, for instance, has become a symbol of how much we care for the planet.
We're proud of what Zurich stands for, and we're looking forward to our next 150 years with the same confidence that we had when we started all the way back in 1872.
Related articles
Filter by category
Follow us on
Sign Up Here
For promotional offers, news, updates and access to exclusive reports from Zurich
Sending Response, please wait ...
Your response has been successfully submitted.
An error has occurred attempting to submit your response. Please try again.