Guide to buying a house in Ireland
This house buying guide and checklist covers steps to keep in mind when purchasing your house in Ireland.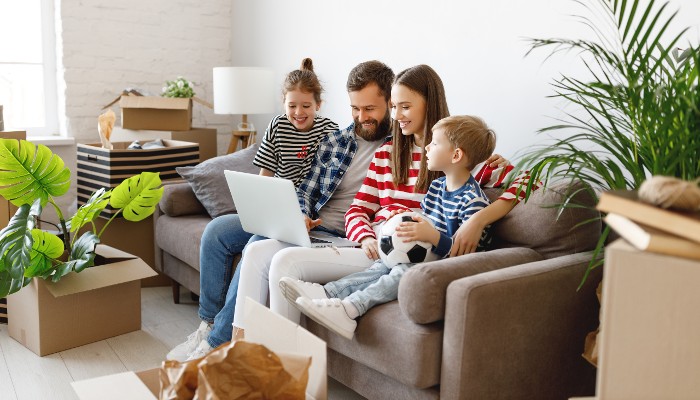 Buying a house can be an exciting time, but it also requires planning. Being prepared and taking a step-by-step approach can help alleviate the stresses and make the process more manageable.
Below is a guide to help when you are planning to buy a house:
Your budget
Buying a home requires planning. So, whether you're saving for your own home or looking to put some money aside to help your children get on the property ladder, receiving the best advice is important.
When it comes to budgeting for buying a home, the first thing to consider is the cost of the house, the deposit you will need and how much you need to borrow from a lender for the mortgage. We have lots of tips, tools and advice to help you budget and save for a house.
Buying a house in Ireland doesn't just involve making a final offer on a house. There are additional hidden costs like solicitor and conveyancing fees and stamp duty. Read our article on some of the costs you may incur when purchasing a house and how to budget for these.
House hunting and research
If you are planning on buying a house, it's important to do your research and get the most out of any house viewings you have lined up. Research before viewing a house could see you decide that the home is not for you, and so save you valuable time when house hunting.
If you are viewing a house be prepared and ask the right questions to the owner or agent selling the house so that you have all the information needed to either, make an offer or walk away.
Here is a list of good questions to ask:
How long has the house been on the market?
Has there been much interest in the property?
What is the area like?
How long have the owners lived here and why are they moving?
How old is the house and have there been any renovations or building work done?
Has the correct planning permission been given for any extensions to the house?
What is the BER rating on the house?
How much will your utility bills be?
What is or isn't included in the sale?
When are the sellers planning to move?
How old is the roof and is there any area of the roof that is flat?
What is the age of the property and is any part of the property protected?
When viewing a house to buy, these questions will help you make an informed decision before making an offer. You can read our article to find out the best questions to ask when viewing a house to buy to get the most out of house viewings.
How much deposit is needed to buy a house?
Although getting on the property ladder might be challenging given the current conditions, it is still achievable. A well-thought-out financial plan based around sound saving can get you closer to turning your dream into a reality.
Firstly, you need to decide what your mortgage savings goal is and figure out how much you need to put away each month. Use our budget calculator to find out how much you can afford to set aside each month, or if you're aiming to save a 10% house deposit amount, the budget calculator will help you work out how much you need to save each month to achieve that goal.
Once you have figured out what your mortgage savings goal is, get in touch with a Zurich advisor or find an advisor near your to enquire about Zurich Regular Savings. Check out our savings and long-term investment plans to find out more.
Arranging a structural survey
It is advisable to hire a surveyor to give your new home the once over, especially as buying a home is a huge investment. The surveyor will check for any structural damage and other things like damp, subsidence, and dry rot. The surveyor's report will give you a good idea of the cost involved in fixing any potential problems and could also help when negotiating a price with the seller. The cost of a surveyor can be in the region of €300 to €500.
What is the BER rating on the house?
When deciding on a house to buy it's a good idea to check what the BER rating of the home is. A BER cert is compulsory when selling a house so make sure you ask what the BER rating is. The BER rating is graded from A-G, with A being the most energy efficient and G being the least energy efficient. If the BER rating is between E1 and G on the scale, it could mean you will have to invest in things like insulation, windows, and doors etc to get the energy rating up. A warmer and more energy efficient home can greatly reduce your energy costs so it's an important factor to consider because you don't want to be burdened with high energy bills. You can also read our article on how to improve your BER rating.
If your home has a BER rating of A or B, you can save 5% on your home insurance. Find out more here.
Loan acceptance
In order for the mortgage loan to be accepted, your lender will look for a valuation report on the property to ensure that the price you are buying the house for matches the value of the home. It's likely that your lender will have their own value, but the cost of the report falls to you. You can expect to pay between €200 and €300 for this; check also if VAT is included.
Solicitor Fees
When it comes to buying a house, you will need a solicitor who will look after all the legal elements of transferring ownership of the house over to you. The fees a solicitor can charge vary so it pays to shop around. Some solicitors will change a flat fee while others will charge a percentage of the house price. If a flat fee is charged, you can expect to pay anything from €1,500 to €3,000. Always check if the fee includes VAT.
Stamp duty
Stamp duty is a tax you pay to Revenue when transferring the ownership of property in Ireland. Stamp duty rates for residential properties are 1% on the first €1 million, and 2% on the excess over €1 million. So, if you purchase a house for €300,000, then your stamp duty will amount to €3,000.
If the house is a new build, the stamp duty is the value of the home minus VAT, which is currently 13.5%. That means that if your purchase a new home costing €300,000, the stamp duty you will need to pay is €2,595.
Your solicitor will make the required arrangements for payment to Revenue, so you don't need to do anything other than have the money to pay the stamp duty.
Property tax
Your property is liable for Local Property Tax (LPT) if it is a residential property. LPT is a self-assessed tax which means you need to self-assess the value of your property and this determines the amount of LPT you pay each year. Revenue provides information on their website to help you determine the value of your property.
Mortgage requirements
Anyone taking out a mortgage is required by their lender to have mortgage protection in place. Many people take up a policy with their mortgage provider, but it's worth considering Zurich for your mortgage protection cover. We provide competitive cover so that you can save money at a time when you're likely to already be financially stretched.
Find out more about Zurich mortgage protection.
Insuring your property
The cost of your home insurance premium will differ depending on the value of your property and your contents. You can use the house rebuild calculator from the Society of Chartered Surveyors to calculate the rebuild cost of your home. This will give you a good idea of how much you should be insuring your house for. You can also get a home insurance quote with Zurich.
Collecting your keys and moving in
When the time comes to move into your new home, you will want the moving part to be as stress-free as possible. You might decide to hire a van yourself to move all your furniture to your new home, or you may prefer to hire a removal company to do it for you. Either way, more than likely there will be some cost involved, so it's a good idea to budget for moving. We have complied a useful list of tips to help you moving house.
The information contained herein is based on Zurich Life's understanding of current Revenue practice as of 1st October 2023 and may change in the future.
Get a mortgage protection quote Get a home insurance quote
Related articles
Filter by category
Follow us on
Sign Up Here
For promotional offers, news, updates and access to exclusive reports from Zurich
Sending Response, please wait ...
Your response has been successfully submitted.
An error has occurred attempting to submit your response. Please try again.