Connecting for growth
Zurich was delighted to welcome Financial Brokers and Advisors to its 'Connecting for Growth' conference which took place in Cork, Dublin, Galway and Limerick.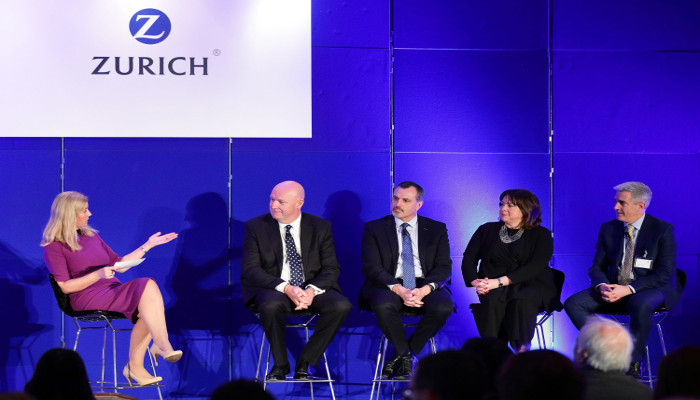 Opening Zurich's 'Connecting for Growth' conferences, Jonathan Daly, Head of Retail Distribution & Propositions at Zurich congratulated brokers for what he said was a great year in 2017 for the financial services industry. "For Zurich it was also a very good year with strong growth across every product line, particularly in the pension and post retirement area."
Daly said he was also pleased to see Zurich bring new innovations to the market such as the RetireRight investment strategies and tools which have been performing strongly. "In November last year we were delighted to win four of the five Brokers Ireland Excellence Awards, including the overall award," he added.
Looking ahead to 2018, Daly said there will be new challenges this year but that he was confident that brokers and the industry would continue to thrive, and that any potential obstacles could be overcome.
Also speaking at the conferences, Ian Slattery, an Investment Consultant with Zurich spoke about Ireland's changing economy and the implications for financial advisors. He examined topics such as the unemployment rate, household debt, savings rates, and residential property prices, and the impact of these issues on consumer sentiment and Ireland's economic performance.
Industry leaders
The Zurich Panel, moderated by Zurich's Ronan O'Neill, was a lively discussion that covered a number of topics. Martin Goggin, Head of Broker Sales explained that he thought it would be a good year for the industry given the number of innovations that had been introduced recently.
Zurich's Head of Retail Pension Sales, Niall Fitzgerald highlighted various options available to people at retirement and spoke about Zurich's RetireRight product and its strong performance since its launch last year. He also talked about auto enrolment. "If we do see a roadmap for auto enrolment introduced this year, there will be an even greater need for advice from pension providers to advise on the changes and impact on pensions," he said.
Looking at the protection landscape, Niall Concannon, Business Development Director spoke about life insurance and product enhancements that Zurich has been to the fore in driving.
Expertise
Guest speaker and panel moderator at the conference was Journalist and Personal Finance Expert, Sinead Ryan. Her talk, entitled 'Fees, fear and fake news' looked at opportunities and changes from a consumer perspective.
"There will be lots of changes in the financial services industry in 2018, but I don't think any of these are to be feared", she said "but it does mean that those of us in the industry will be relied upon as the go-to experts."
Ryan argued that in the world where every one considers themselves an "expert" consumers need real professionals more than ever before and that this expertise is of significant value and should not be underestimated.
The advisor
Given that the focus of the conference was on the value of expert advice, it was apt that there was an advisor panel with industry experts covering topics from pensions to regulation and customer engagement to the impact of automation.
Dermot Murray, CEO, Insurance Institute of Ireland talked about the challenges coming down the line. "One of the biggest sources of change is technology and the impact automation will have on the industry."
Speaking about regulation, Paul Earley, Managing Director of Earley Consulting explained why the onus was on the profession to explain to customers and inform on any regulatory changes being introduced this year, and Frances O'Hanlon, Owner of FOH Financial added that it's important for brokers and product providers to listen to their customer in order to build solid relationships.
One of the final discussions as part of the advisor panel centred on auto enrolment and what this will mean for the consumer and the industry in general. Having witnessed auto enrolment and how it worked in Australia, Duncan Duke, Director of Inverdea Financial Services said that just because it's unchartered territory here in Ireland, does not mean it's something to fear, because it could provide lots of opportunities.
Warning: Past performance is not a reliable guide to future performance.
Warning: Benefits may be affected by changes in currency exchange rates.
Warning: The value of your investment may go down as well as up.
Warning: If you invest in these funds you may lose some or all of the money you invest.
Related articles
Filter by category
Follow us on
Sign Up Here
For promotional offers, news, updates and access to exclusive reports from Zurich

Sending Answer, please wait ...
Your answer has been successfully submitted. Thank you for your participation.
An error has occurred attempting to submit your answer. Please try again.