New US tariffs on Chinese imports
Equities were stable and the global index was down slightly last week, in euro terms, as a weaker US dollar affected returns. Ian Slattery reports.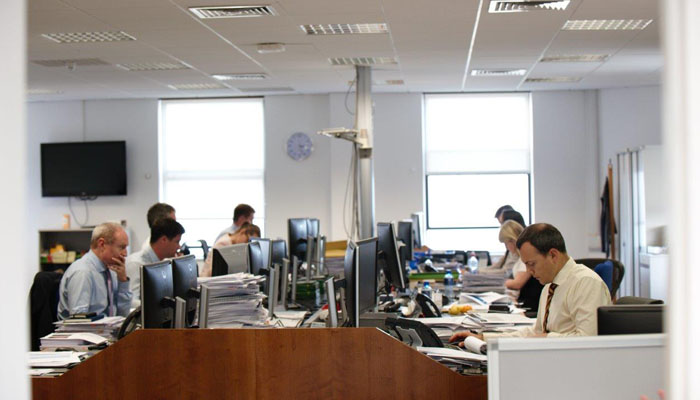 Trading room at Zurich Life Investments Ireland
Equities were relatively stable in local terms during the week, with the stronger Euro reducing returns for Irish investors. US Economic data was mixed, with solid retail sales and labour data somewhat offset by weaker home sales figures.
The Jackson Hole Economic Symposium saw keynote speeches from a number of prominent central bankers, with Fed Chair Powell commentating that the US economy has 'strengthened substantially' and that further interest rate increases would remain appropriate.
The announcement of a wave of new US tariffs on Chinese imports failed to upset markets, as press reports of a breakthrough in NAFTA negotiations between Mexico and the US also hit news bulletins.
The global index was down slightly last week, in euro terms, as a weaker US dollar affected returns. Europe and Ireland both saw strong positive moves.
Oil reversed its recent weak run, and closed at just short of $69/barrel as Iran sanctions started to impact global supply. Gold also moved higher and closed at $1,205 per troy ounce. Copper was up nearly 3% over the course of the week, helped by the weaker US dollar.
The 10 year US bond yield finished at 2.81%, amid some market uncertainty. The German equivalent closed at 0.34%, having started the week at 0.30%. And the EUR/USD rate finished the week at 1.16.
The week ahead
Wednesday 29 August: The second estimate of Q2 GDP growth in the US is released, and looks set to be confirmed at 4.1% (QoQ).
Friday 31 August: Eurozone inflation goes to print, where the consensus forecast the core figure to remain unchanged at 1.1% (YoY). The latest Chinese manufacturing PMI is expected to come in at 51.0 from a previous figure of 51.2.
About: Zurich Investments
The team at Zurich Investments is a long established and highly experienced team of investment managers who manage approximately €22.9bn in investments of which pension assets amount to €10.4bn. Find out more about Zurich Life's funds and investments here.
Warning: Past performance is not a reliable guide to future performance.
Warning: Benefits may be affected by changes in currency exchange rates.
Warning: The value of your investment may go down as well as up.
Warning: If you invest in these funds you may lose some or all of the money you invest.
Related articles
Filter by category
Follow us on
Sign Up Here
For promotional offers, news, updates and access to exclusive reports from Zurich

Sending Answer, please wait ...
Your answer has been successfully submitted. Thank you for your participation.
An error has occurred attempting to submit your answer. Please try again.