Markets Update: Highs and lows
Equities were a mixed bag and oil paused for a breath, as politics dominated European markets. Ian Slattery reports.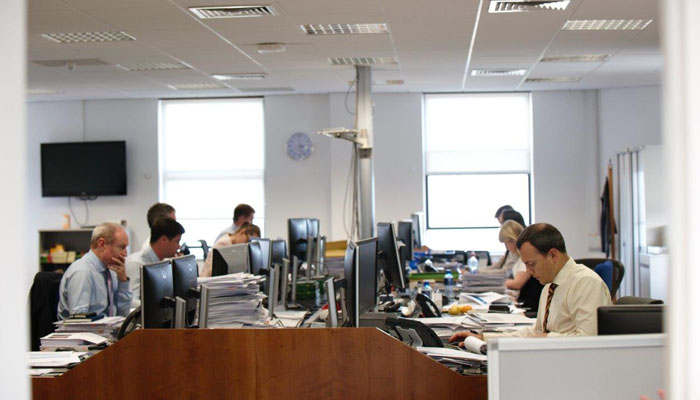 PMI data in the eurozone disappointed slightly, although the metrics remained above 50, indicating continuing economic expansionary. Political tensions in Italy increased over the weekend, as the President refused to ratify the new government's nomination for finance minister.
Oil paused for breath last week, and closed under $70 per barrel as OPEC stated that it expected to increase supply towards the end of the year, a sentiment that was echoed by Russia.
US treasuries gained some ground following recent losses, as the FOMC minutes where interpreted as dovish in tone whilst economic data was slightly subdued. Negotiations between the US and North Korea are ongoing and reports over the weekend suggest the Singapore Summit may still take place.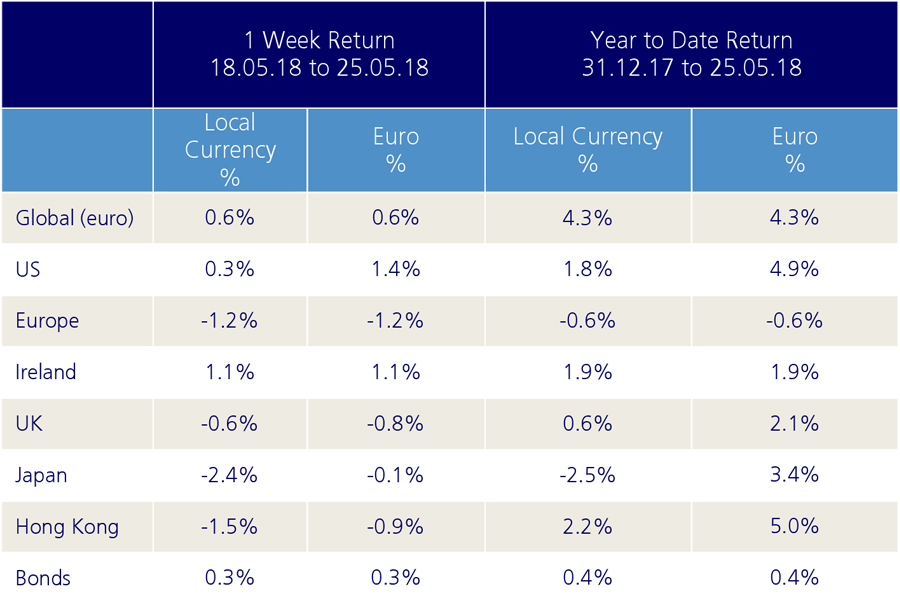 The global index moved higher last week, with returns for Irish investors once again helped by a strengthening US dollar. Commodities had a mixed bag of returns with gold and copper both rising, whilst oil stumbled slightly and was down nearly 5% over the course of the week. However, it remains up over 12% year-to-date.
The 10 year US bond yield finished the week at 2.93% from 3.06% as prices (which move inversely to yields) rose. The German equivalent was at 0.40%, from 0.58% as there was some 'flight to safety' given the political developments in Italy. The EUR/USD rate finished at 1.17, whilst EUR/GBP was at 0.88.
The week ahead
Wednesday 30 May: The second estimate of US GDP growth for Q118 goes to print, where quarter on quarter growth is expected to come in at 2.4%.
Thursday 31 May: Eurozone unemployment figures for April are released, and are forecast to remain at 8.5%.
Friday 1 June: US non-farm payrolls for May are due where the consensus forecast is for a figure of 185,000 jobs added to the economy.
About: Zurich Investments
The team at Zurich Investments is a long established and highly experienced team of investment managers who manage approximately €22.1bn in investments of which pension assets amount to €10.1bn. Find out more about Zurich Life's funds and investments here.
Warning: Past performance is not a reliable guide to future performance.
Warning: Benefits may be affected by changes in currency exchange rates.
Warning: The value of your investment may go down as well as up.
Warning: If you invest in these funds you may lose some or all of the money you invest.
Related articles
Filter by category
Follow us on
Sign Up Here
For promotional offers, news, updates and access to exclusive reports from Zurich
Sending Response, please wait ...
Your response has been successfully submitted.
An error has occurred attempting to submit your response. Please try again.