How to change a flat tyre
This 10-step guide on how to change a flat tyre covers instructions and tools needed to replace a punctured tyre. Learn to use a jack with a spare tyre in no time.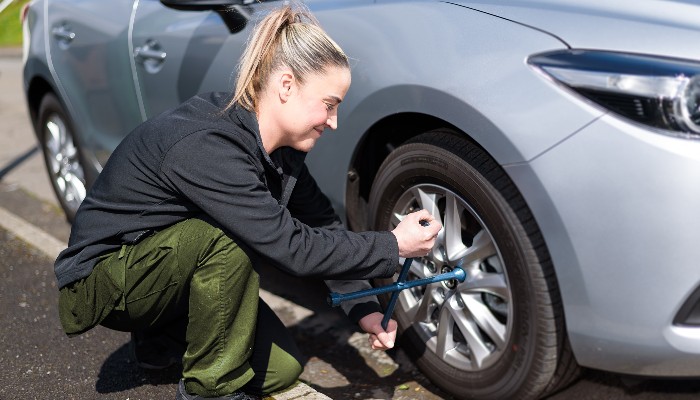 Getting a flat tyre can be annoying. No matter where you are, there is no good time to get a flat car tyre. But if you know how to change a flat tyre then it might make the situation easier, especially if you need to change the tyre by yourself.
Equipment you'll need to change a punctured type
The obvious one is that you will need a spare wheel to change the punctured one, but there are other essential items you will need:
A jack to enable you to lift the car.
A wrench which will be used to remove the nuts.
A wheel chock which prevents the car from rolling back when jacked off the ground.
If your wheel has locking nuts fitted, you will need a wheel nut key.
A warning high visibility triangle is useful as it will alert other drivers to your car that might be causing an obstruction.
Likewise, wearing a high visibility or reflective jacket is best practice to make you visible especially if it's dark and if you have a torch in the glove compartment of your car you can use this if changing the tyre at night-time.
Your car handbook is also useful to have as you can check things like the points with which to jack up the car.
If you have gloves handy, these will protect your hands from dirt and oil.
Step-by-step guide to change a tyre
Below is a step-by-step guide to changing a flat tyre, which sound make things easier for you if you have to change your car wheel.
Step 1 – Stop the car in a safe location
Although it's not good to drive your car if you have a puncture, it's also important to pull over and stop in a safe location so that you aren't causing an obstruction to other drivers and so that you can change the tyre in a safe place. Once stopped apply the handbrake, turn on your hazard lights and remove all passengers from the vehicle. Put on your high visibility jacket and place the warning triangle and few feet back from the car.
Step 2 – Position the wheel chocks
A wheel chock is used to prevent your car from rolling when jacked up. You need to position the chock on the opposite wheel to the one you are changing. For example, if you are changing the front tyre on the left-hand side you need to chock behind the right back wheel, and visa versa. If your car is facing uphill, the choc should be positioned behind the wheel to stop it from rolling.
Step 3 – Loosen the wheel nuts
Firstly, remove the hub caps. The wheel nuts will be tightly screwed on so its easier and safer to loosen the nuts when the car is on the ground. Use the wrench and turn in an anti-clockwise direction to loosen the nuts but don't remove them completely.
Step 4 – How to a jack correctly
Check your car handbook/manual to see where the jack points are on your car model. Place the jack at the side of the car and close to the wheel you are replacing. If you are on uneven ground, a small plank of wood or something flat will make it easier to keep the jack in position. Once the jack is securely in position, slowly raise the car until the flat wheel is about 15cm off the ground.
Step 5 – Remove the flat tyre
Now you can begin to fully loosen and remove the wheel nuts. When this is done, remove the tyre from the wheel hub.
Step 6 – Mount the spare wheel
Once you have removed the punctured tyre it's time to replace it with the spare tyre. You can do this by placing the spare wheel back onto the hub bolts. Replace the wheel nuts and tighten them first by hand.
Step 7 – Lower the car and tighten the bolts
Use the jack to slowly lower the car back to towards the ground. The spare tyre should be in contact with the ground but not fully lowered. Use the wrench again to fully tighten the wheel nuts.
Step 8 – Fully lower the car
Now you can lower the car fully down to the ground and remove the jack. Check the wheel nuts again to make sure they are fully secure. You can put the flat tyre back in the boot and all the other equipment that you used, leaving only the hazard triangle up until you are ready to depart.
Step 9 – Check the spare tyre pressure
If you have a tyre pressure gauge, check the new tyre is fully inflated. You can check what your tyre should be inflated to in your car handbook/manual.
Step 10 – Take your punctured tyre for repair
It's advisable to bring your flat tyre to a garage or tyre fitters as soon as possible so it can be either repaired or replaced.
Steps to avoid a flat tyre in the future
In order to avoid getting a flat tyre, you should check your tyre pressure every 2-4 weeks or before a long journey. For tips on avoiding a flat tyre in the future check out our car maintenance tips page. We also have good advice on general car maintenance to keep your car in good working order and running smoothly. And if you are concerned about driving in wintery conditions, we have complied some winter car checks and driving safety tips for you here.
About: How can we better discover our world?
No matter where you are travelling to in your car, your car and protecting those in it will be the most important element of the journey. Car insurance is a legal requirement in Ireland and having your car insured with Zurich Insurance gives you peace of mind that should the worst happen such as a breakdown, you are protected. Our car insurance also has many great benefits depending on the cover you choose.
Related articles
Filter by category
Follow us on
Sign Up Here
For promotional offers, news, updates and access to exclusive reports from Zurich
Sending Response, please wait ...
Your response has been successfully submitted.
An error has occurred attempting to submit your response. Please try again.