How to take care of your car
From car maintenance to how to keep your car engine healthy… we have provided some handy routine car upkeep tips to get your car in good working order and running smoothly.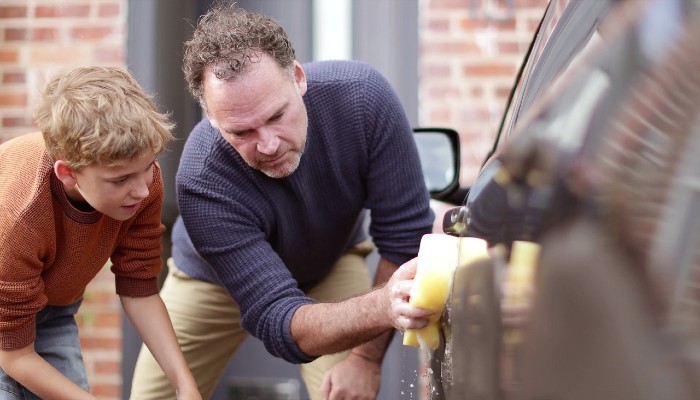 Car maintenance
General car maintenance throughout the year can keep your car in good working order, making it more reliable and less prone to breakdowns. Taking care of your car will also keep you and your passengers safe and can help with the resale value of your car, so it makes sense to do the following on a regular basis:
Oil check
Locate the oil dipstick, remove it, wipe it clean then reinsert it all the way in. When you remove it again you will be able to see the oil level on the dipstick. If it is below the minimum level it may need to be topped up. Check your car manual for the correct oil for your car, year and model. You can purchase engine oil from most service stations. If you're unsure on how to refill the oil consult a mechanic.
If you notice you are frequently topping-up the engine oil, it could mean there is a leak or an issue with your engine. If that's the case, let your mechanic know so that they can look into it for you.
Tyres
Car tyres should be checked every month, and more frequently if you drive a lot. They should also be checked before you embark on a long journey.
It's important to get the air pressure right for your car as higher or lower inflation can lead to uneven wearing of the tyres, which in turn will mean you have to replace them more often. Check your car manual for the correct air pressure for your car.
You should also check the tyre tread depth. Most tyres display a wear bar that runs across the tyre from side to side. These are 2mm high and help to indicate when the tread is low and when the tyre should be replaced. Replace your tyre as soon as you see this bar and preferably before it becomes visible. If you are unsure bring your car to a mechanic or tyre specialist and they can check for you.
Windscreen Wipers
Your car windscreen wipers will need to be replaced from time-to-time, more often if you drive a lot in wet weather. Check for the correct size wipers for your car. They are relatively easy to replace, but if unsure ask the repair shop where you purchase them to replace the old with the new ones.
You should also check the water for your wipers regularly. Ensure you have enough water for your wipers at all times.
Lights
Do spot checks to make sure all your lights are working as should be. Replacing the bulb is fairly easy and most bulbs can we bought at general car repair shops. Knowing that all your lights are working will give you peace of mind that you are driving safely.
Clean
Keeping your car clean – both inside and out – can help maintain the condition of the car and the resale value also.
How do you keep your car engine healthy
There are some car engine checks and maintenance you can do to keep your car functioning well and running like new. If you are unsure how to do the following always ask a qualified mechanic to do:
Replace filters
The fuel, oil, engine air and cabin air filter all work to keep your car running smoothly and so should be changed at regular intervals. Your owner manual should advise how regularly your filters should be changed. Once your filters are changed you might notice an improvement in your car's performance and efficiency.
Fuel
Don't let your supply of petrol or diesel run low as this can damage your car over its lifespan. Keep an eye on your fuel gauge. Its best to keep it topped up rather than running into the reserve fuel.
Warning lights
If warning lights come on, investigate the issue as soon as possible. It could be a simple fix such as the air pressure in your tyres, but if it's something more serious bring the car to a mechanic to have it checked out.
Oil change
Change your engine oil regularly to ensure your car is running at its optimum. You can follow the steps listed above for how to change your oil, and you can check your car manual to see how often your oil needs to be changed.
Cooling system
It's very important that your car's cooling system is in good working order. The cooling system includes the radiator, thermostat, water pump and coolant. If you think your car is overheating, there could be an issue with the cooling system so its advisable to get a mechanic to check it out. Prevention is better than cure when it comes to the cooling system in your car as fixing the damage if your engine overheats can be costly.
Timing belt
If your car is Petrol or Diesel, it almost certainly has a Timing Belt or Timing Chain, which is a vital part of the engine of a car. If your car has a timing belt, it needs to be replaced after a certain amount of mileage. Generally, timing belts don't need to be replaced too often but check what milage you have to cover before it needs to be replaced. If your timing belt goes while you are driving the damage can be expensive so knowing in advance when it needs to be replaced is important.
If your car has a timing chain, it likely doesn't need to be changed (at least not regularly) but should be checked at service time by your mechanic for any rattles, noises, or signs of wear or tear.
Leaks
Check for engine oil, water or antifreeze leaks. An easy way to spot a leak is to check under the car when it's parked to see if anything is leaking onto the ground. A leak could be a simple seal break but its best to get it checked out as soon as possible to avoid a bigger problem further down the road.
About: How can we better discover our world?
No matter where you are travelling to in your car, your car and protecting those in it will be the most important element of the journey. Car insurance is a legal requirement in Ireland and having your car insured with Zurich Insurance gives you peace of mind that should the worst happen such as a breakdown, you are protected. Our car insurance also has many great benefits depending on the cover you choose.
Related articles
Filter by category
Follow us on

Sending Answer, please wait ...
Your answer has been successfully submitted. Thank you for your participation.
An error has occurred attempting to submit your answer. Please try again.