Motorway driving tips for nervous drivers
Driving on the motorway can seem daunting, especially if you are a newly qualified driver. A fear of motorway driving can make a driver nervous, but Zurich's motorway driving guide has all the rules and tips needed to help new and experienced drivers stay in control.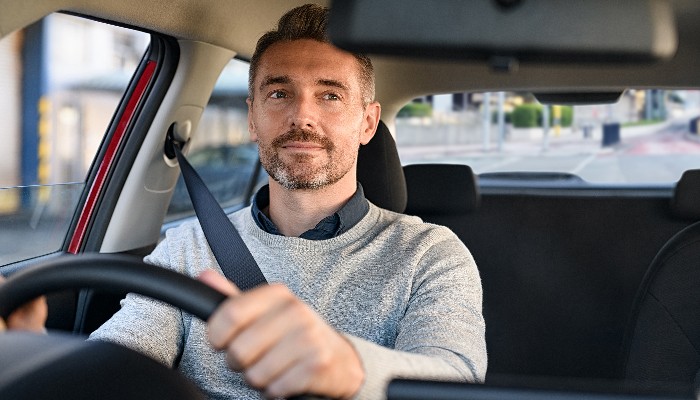 Motorway driving can be daunting, especially if you have only just recently passed your driving test. If you are a newly qualified driver and feel anxious, nervous, or inexperienced when it comes to motorway driving, we have some handy tips to help you feel more in control and make motorway driving less stressful.
Before you leave you should plan your journey, check traffic reports, plan your route in advance, allow extra time and avoid areas where there might be obstacles or hazards. Whether you're planning to drive on the motorway or in wintery conditions, we have some road safety tips you should follow to take the stress out of your journey.
Follow motorway driving rules
Its important to be aware of the driving rules when on the motorway so that you and other drivers travel safely. Traffic on motorways usually travels faster than on other roads, and although your reaction time might be less compared to other roads, it's important not to panic, take your time and stay in control. Below are our top 14 tips to help you stay in control when driving on a motorway:
Tip 1: Get some lessons
Just like you got lessons to pass your driving test, consider getting some lessons with an instructor to help you to become more confident with motorway driving. You can ask them questions and get tips on how to safely drive on the motorway, and they can advise you on what you should and shouldn't be doing.
Tip 2: Bring someone with you
If its your first time driving on a motorway, could you ask a friend or family member, who is an experienced driver, to come with you? They might make you feel more comfortable and allay any concerns you have.
Tip 3: Plan your journey
As mentioned above, planning your journey in advance is a good idea. Listen to traffic reports, avoid travelling at peak times, check the weather and road conditions before you set off and map your journey so that you know the junctions of the motorway you will be getting on and off at.
Tip 4: Check your car is road worthy
Before you set off on your journey, ensure your car is safe to drive. Checking your oil, brakes, tyre pressure and windscreen fluid and wipers isn't too complicated, and we have some car upkeep tips to help you to take care of your car and ensure its safe to drive.
Tip 5: Joining a motorway
Before you join a motorway, build up speed on the slip road. Don't panic that you will run out of slip road as you should have plenty of time to join. Ensure that there is nothing directly behind you, and don't forget your blind spot. When you know it's safe, join the motorway and continue driving in the left-hand lane.
Tip 6: Stick with one lane
There are three lanes on a motorway – the left-hand lane, the middle lane and the right-hand lane. When you join the motorway, you come onto the left-hand lane. Stay in this lane and only move into the middle lane if you are overtaking a vehicle that is travelling at a slower speed than you. When you have overtaken safely, return to the left-hand lane again. Stay in this lane unless you need to overtake again.
Tip 7: Overtaking safely
You should only overtake if it's safe to do so. It's vital that you check that the lane you are moving into is clear both in front and behind you before you indicate and move into the lane to overtake. Be aware of your blind spot and double check its clear before you move to overtake. Give plenty of time to signal to other drivers your intention to overtake and indicate again in plenty of time when you are moving back into the left-hand lane after you have overtaken.
Tip 8: Be observant
Cars are usually driving at a fast speed when on the motorway and situations can change quickly. So, it's important to be observant and aware of other cars as you drive. Observe the maximum speed limit of 120km/h and check your mirrors regularly so you are fully aware of your situation on the motorway. Although the maximum speed limit on the motorway is 120km/h, sometimes this is reduced if there are road works taking place or if there is bad weather, so keep an eye on road and warning signs. It's also worth noting that other motorway users such as bus and truck drivers, and those towing a trailer, are restricted to a lower speed limit.
Tip 9: Slow down
Just because the maximum speed limit for motorways in Ireland is 120km/h, doesn't mean you have to drive at that speed. If you are nervous or panicked by the speed of motorway driving, stay in the left land and drive at a slower speed. It's also worth pointing out that if you drive too slow on the motorway, you could be an annoyance for other drivers and it could lead to an accident so its important to drive at the speed you are comfortable with, without causing any issues for other drivers.
Tip 10: Stay calm
If you go over the speed limit don't panic. Slow down and take it easy. If you are travelling longer distances its important to take regular breaks, so leave the motorway safely for your rest breaks and only use the hard shoulder for emergencies.
Tip 11: What not to do
You cannot drive on the motorway if:
You are a learner driver
Your vehicle can't reach and maintain a minimum speed of 50km/h
Your vehicle has an engine capacity under 50cc
Your vehicle doesn't have inflated tyres
Tip 12: Stay focused
It's important to stay focused when driving on a motorway. Keep your car free from distractions such as mobile phones and snacks, or indeed anything that could distract you from driving. Do not rubberneck or slow down to stare at accidents as this causes congestion and can lead to accidents.
Tip 13: Adjust your speed
Depending on the driving conditions, adjust your speed accordingly. Slow down if you are driving in wet or wintry conditions and take your time if visibility is poor. Our road safety tips will provide you with lots of advice for driving depending on the weather and conditions so it's worth checking out.
Tip 13: Keep your distance
It's vital that you keep your distance from the car in front. The rule of thumb is to leave a two second gap between you and the car in front of you. This goes up to a four second gap in rainy weather, and a 20 second gap in icy conditions.
Tip 14: Leaving the motorway
When you are ready to leave the motorway, observe the junction signs and make sure you're in the correct lane well in advance. You will be exiting at the left so indicate and move into the left-hand if you are not already in that lane. You will see countdown markers leading to the exit. These are designed so you know how far away from the exit you are. The first one you see has three bars, then two, then one until you are at the exit. Use the bars as a guide as you prepare to cross over onto the slip road to exit the motorway.
About: How can we better discover our world?
No matter where you are travelling to in your car, your car and protecting those in it will be the most important element of the journey. Car insurance is a legal requirement in Ireland and having your car insured with Zurich Insurance gives you peace of mind that should the worst happen such as a breakdown, you are protected. Our car insurance also has many great benefits depending on the cover you choose.
Related articles
Filter by category
Follow us on

Sending Answer, please wait ...
Your answer has been successfully submitted. Thank you for your participation.
An error has occurred attempting to submit your answer. Please try again.