Eddie Hamilton on pension planning
A smart approach to money, investments and careful planning has ensured that Belfast native Eddie Hamilton is on track to retire by his goal age of 50. This article is an Irish Times Content Studio production.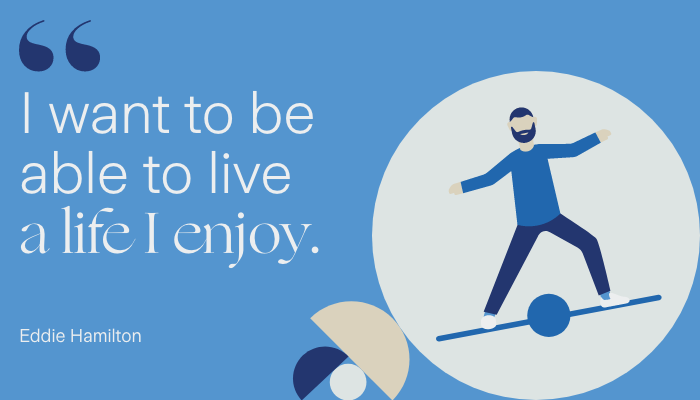 Variety is the spice of life for 35-year-old Belfast native Eddie Hamilton. He has enjoyed a varied career, has a huge variety of interests and loves nothing more than travelling to new places.
It's no wonder he is taking a varied approach to retirement planning too.
Hamilton works for a major US tech firm, and is based in Dublin, but spends weekends and holidays touring in a 1975 VW campervan which he bought six years ago and restored.
As investment decisions go, it has been one of his best. Not alone does it enable him to indulge his love of travel "but prices for them have gone through the roof", he says.
It sleeps two comfortably, with luggage. "Or seven on a rainy night at a festival," he laughs.
He named his van in honour of his late best friend, Fintan, who passed away at the age of 28. Raising funds for the charity set up in his honour, Fintan's Fund, is important to him, as it provides grants for other young adults coping with cancer.
Rugby was a huge part of both friends' lives. Hamilton played for Trinity, Belvedere and Harlequins in the AIL, having moved to Dublin to study BESS (business, economics and social studies) at Trinity College. He followed it up with a master's degree from UCD's Smurfit Business School, graduating in 2009.
His plan had been to join one of the big consultancy firms but the financial crisis saw those opportunities evaporate. Instead he secured a job in a German discount chain.
"It was an amazing experience. Within six or seven months I was managing four stores and 90 staff, at 23," he recalls.
Part of the appeal of working there was access to its occupational pension scheme. His father, a doctor in Northern Ireland, had always stressed to him the importance of making retirement provision, ideally through a mix of pension, investments and property.
"To me it was a no brainer to go for the pension. It's essentially free money. For every 2 per cent I put in, they put in 8 per cent. And that's tax free when you come to draw it down," he explains.
He stayed in the role for three years before heading off to travel in South America, India and Australia. Once he'd done that for a while he came back to a job in the food technology sector, followed by his current position. In each case he also joined occupational pension schemes immediately.
In between those two jobs, Hamilton had set up his own business, providing technology tuition to older people.
It grew to a point where he was taking on staff but when he applied for a mortgage, the lender wanted four years' accounts before it would consider him. Keen to get on the property ladder, he went back into full time employment, and secured a mortgage for a house in Belfast.
Earlier this year he bought a second property, in Inchicore, which is closer to his workplace.
"The plan is to look at consolidating my three pensions, but with so much going on, I just haven't had the time," he explains.
For him, downtime means picking up tools and working on the van or his new home. He enjoys it. "It's not like sitting at a computer. With practical projects you see progress every day," he says.
He plans to rent one property out and to be "an ethical landlord" he explains. "I'm a hippy at heart and I've had to deal with enough landlords myself, so I know how important it is to be fair."
Outside of work, he has also managed to turn a love of photography and videography from a hobby into an income stream, producing sports media, predominantly rugby, for UK companies.
His broadcast skills will also support his plans to, at some stage, take to the road fulltime, charting a grittier, down to earth version of today's more romanticised #vanlife craze.
"Mine will focus on the realities of living in a van, good and bad," he points out.
His campervan will also be "a podcast studio on wheels", which he plans to use to interview green business owners. He also wants to develop a series on mental health, the result of having to work so hard on his own after the loss of his friend.
All the experiences he has had have changed his values from what they were when he was starting out. "I don't need to be a millionaire. I don't need to make as much money as possible. The simple things in life will keep me happy," he explains.
To him, a pension represents peace of mind, knowing he'll have as many options in later life as he has today. "I want to be able to live a life I enjoy," he says.
Hamilton also wants to retire at 50, so he's getting his skates on to ensure he's well enough funded to do that.
That's why he is currently looking at a range of options, including additional voluntary contributions. Having a pension in the background is, for him, a "safety net" that enables him to take more risk in other areas, including building up a portfolio of shares and investment products.
"It's because I have the pensions that I can afford to take a couple of risks, knowing they'll be there for me," says Hamilton.
"What's amazing to me is that the vast majority of my friends don't even have a pension yet. I'm like, come on guys, you're going to have to sort this out at some stage, do it now."
The information contained herein is based on Zurich Life's understanding of current Revenue practice as at 31st August 2022 and may change in the future.
About: Pensions
Taking a small action today
and speaking to Zurich or a financial broker could have a great impact on your future. With a wide range of options, control and flexibility, you can
choose a pension plan
that's right for you. If you're wondering where to start, you can find a local financial advisor near you with the Zurich
Advisor Finder
.
Warning: Past performance is not a reliable guide to future performance.
Warning: This product may be affected by changes in currency exchange rates.
Warning: The value of your investment may go down as well as up.
Warning: If you invest in these products you may lose some or all of the money you invest.
Related articles
Filter by category
Follow us on
Sign Up Here
For promotional offers, news, updates and access to exclusive reports from Zurich
Sending Answer, please wait ...
Your answer has been successfully submitted. Thank you for your participation.
An error has occurred attempting to submit your answer. Please try again.