The Cost of Education in Ireland
Whether your children are in primary, secondary or third level education, chances are you are underestimating the cost of sending them to school and college.
Counting the cost
Education in Ireland is supposed to be free, but each year back-to-school costs are rising for families. The cost of putting just one child through school can easily run into tens of thousands of euro. If you have two or more children then you're going to have to dig even deeper to sustain the cost of their educational needs over the long-term. Research carried out by Zurich on the Cost of Education in Ireland reveals what parents estimate the cost of education to be and what the actual cost is.
The Cost of Primary School Education
What parents estimate the cost of education to be and what the actual cost is, differs significantly. Parents think the annual cost of education for primary school is €425, but the actual figure is €766 per year*. The highest spend during the school year is extra-curricular activities (€165) and then lunches (€110). The research findings also reveal that 58% of parents feel Irish primary schools don't do enough to help parents keep the costs of going back to school down.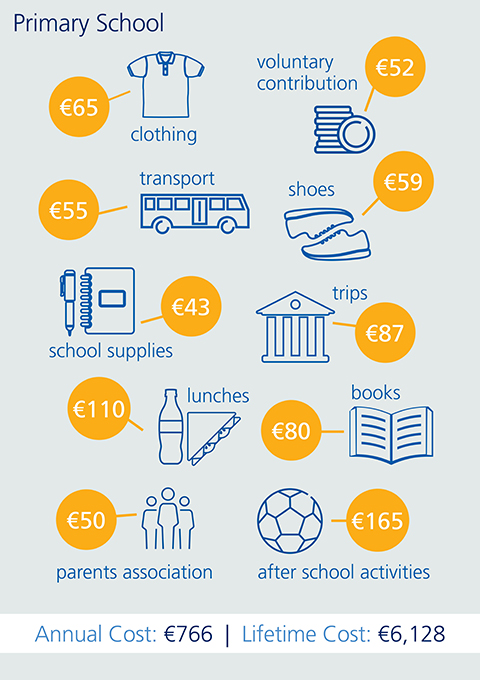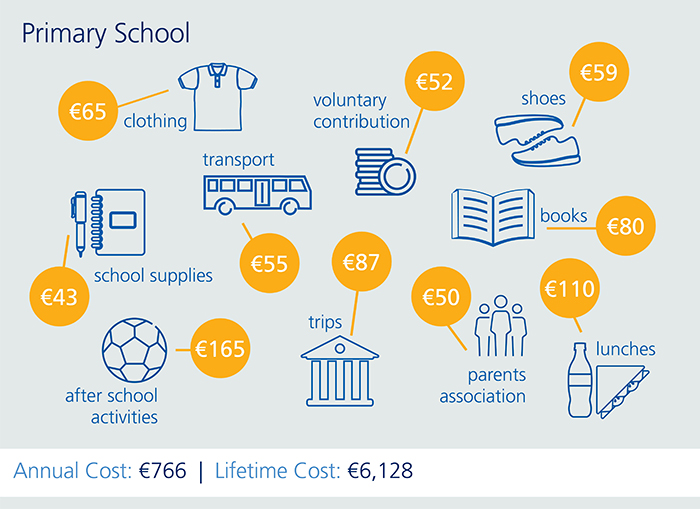 Source: Zurich Cost of Education Survey 2017
The Cost of Secondary School Education
When it comes to secondary school, costs increase greatly. Parents sending their children to secondary school believe it costs them €1,273 each year, per child. However, the actual cost is €1,629 per year. The highest spend items for parents with children in secondary school are grinds (€310) and school trips (€201). After that, the largest costs are books €200 and lunch €183. Zurich's Cost of Education report also finds that in order to fund their children's education, they are sacrificing spending on holidays, summer camps and clothing to cover the cost of education.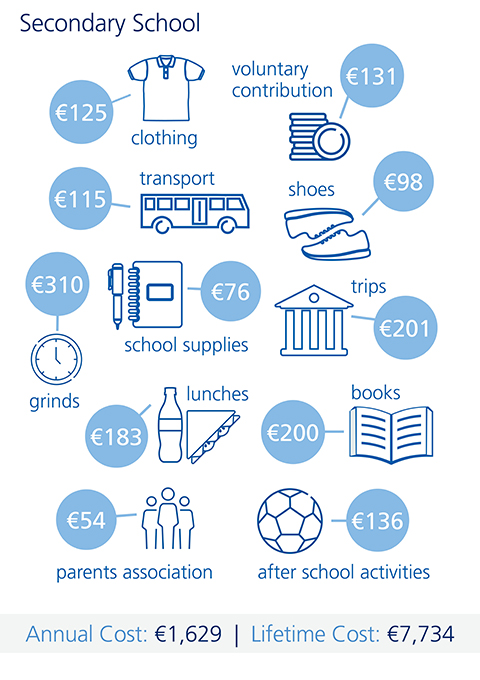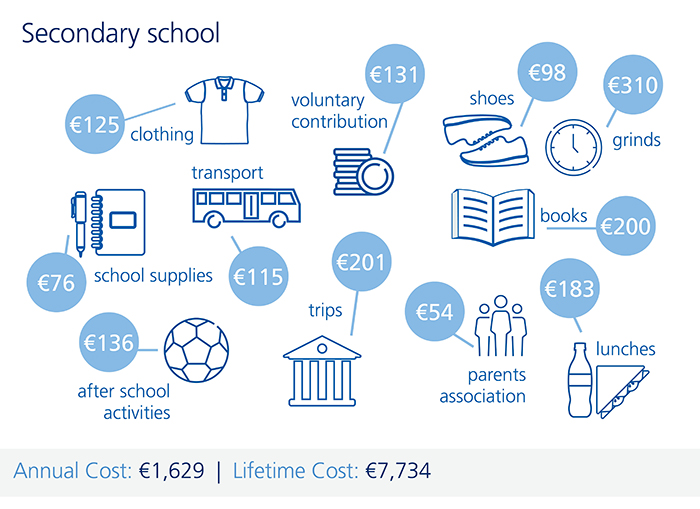 Source: Zurich Cost of Education Survey 2017
The Cost of College Education
College doesn't come cheap and by the time a teenager reaches third level, parents are really feeling the cost of putting their children through university or college. Zurich's Cost of Education survey reveals the true cost of third level education in Ireland, and it's not surprising to learn that accommodation and college fees are the highest spend items during the college year. The cost of accommodation for the college year ranges from €2,628 to €3,866 and college fees start at €2,066. Given the high cost of accommodation for students either living in student or rented accommodation, it's unsurprising that 60% of students who are currently in third level live at home.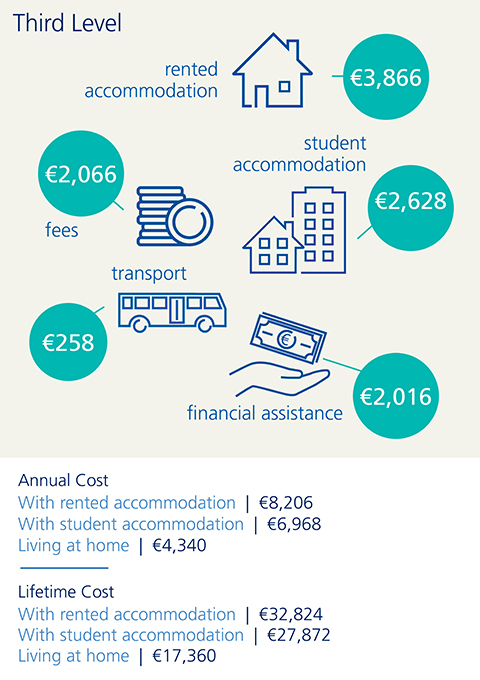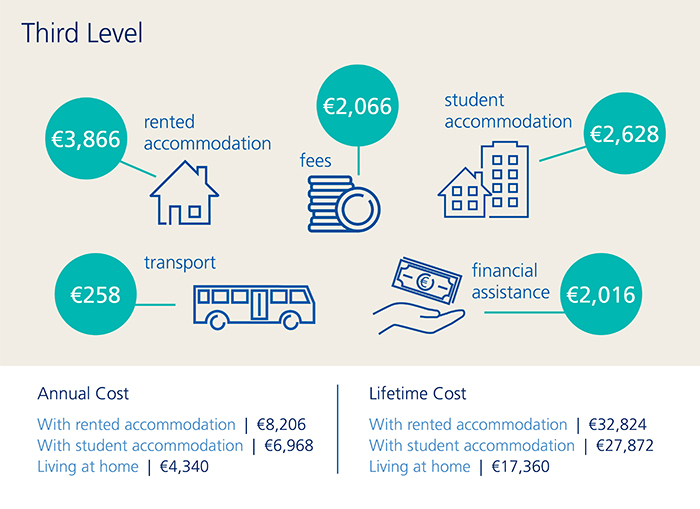 Source: Zurich Cost of Education Survey 2017
Saving for education
A great education is the best possible start in life and for most parents ensuring they can provide for their children's education, from primary school right through to third level, is crucially important. Two thirds (66%) of parents who were surveyed for the Cost of Education report said they want to open a savings account as early as possible in their children's life. With a Zurich Easy Access Savings plan you can gradually build up the funds necessary to support your children's education and future.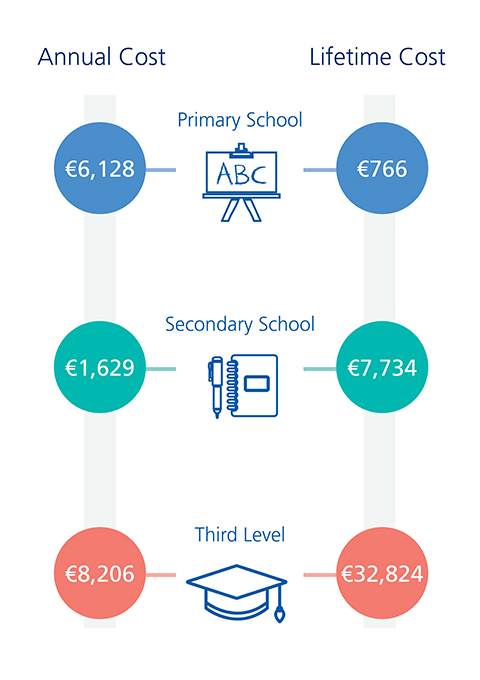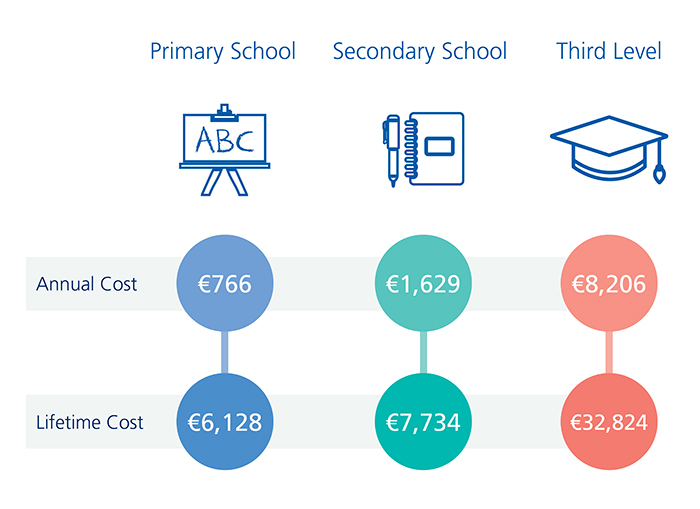 Source: Zurich Cost of Education Survey 2017
Budget Calculator
Use our budget calculator to see what your monthly income and expenses are. This handy tool will give you an idea of how much money you have available to save.
Budget Calculator
Warning: The value of your investment may go down as well as up.
Warning: If you invest in this product you may lose some or all of the money you invest.
Warning: These figures are estimates only. They are not a reliable guide to the future performance of your investment.
Warning: This product may be affected by changes in currency exchange rates.