Shopping for a work life balance in the Kingdom
Aged in his early forties, this savvy retailer started a pension in his thirties to provide the kind of adventure-filled retirement he wants. This article is an Irish Times Content Studio production.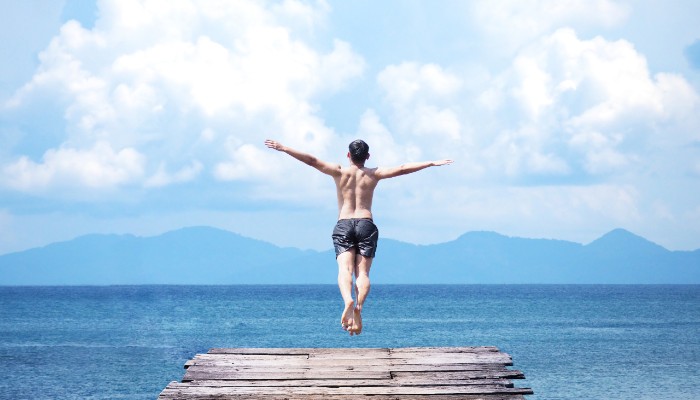 Kerry native Jerome Griffin has always had an eye to the future.
Growing up just outside Killorglin, on the scenic Ring of Kerry, some of his happiest memories are of cycling to his local shop, Hannah Mary's, to spend his pocket money on treats. "You'd go down with 50p and come back with loads of stuff," he recalls.
That the shop was his childhood 'happy place' makes the fact that he now owns it all the sweeter. "I always had my eyes on this shop," he explains.
Even before Griffin left school, he knew he wanted to work in retail. As a teenager he asked his mother to ask at a supermarket in a neighbouring town if he could have a part-time job. Though a shy teen, his mother's response was that if he wanted the job, he'd have to ask for it himself. It gave him the confidence to do so.
"She was right, of course. Still today, when parents approach me about jobs for their son or daughter, I always tell them to let them ask me themselves," he says.
The life lesson taught him that while he was ordinarily "the guy at the back of the crowd", when it comes to things he really wants, "I have the confidence to really go after it," he says.
That includes calling on the eponymous Hannah Mary, when he was still just 21 and working as a store manager elsewhere, to ask if she'd sell him her shop. She wasn't ready to retire at the time but seven years later, when she was, he was first in line, sealing the deal in 2010.
Twelve years later, he still counts his lucky stars he made it happen. "What I love is that it's so different every single day. I'm a people person, so I love that element of it. Every single day someone new comes through the door. I just love the whole business of buying, merchandising and selling goods too," he says.
The fact that he was able to own his own business at 28 years of age is attributable not only to his confidence but also to the fact that he was "always good with money. Once I started working, I banked every penny I earned."
It meant that after negotiating the lease for the convenience store, he had enough left over to revamp it, putting in new flooring for example. Today it has a hot deli counter, a full off-licence and a takeaway food service in the evenings. The business is thriving and employs 10 people, a huge achievement in a rural area.
"Cromane village used to have five shops at one stage, but they all closed. I think that when people saw what I was trying to do they wanted to support it, and they do." The business has even had a lucky Lotto winner, in 2016, who scooped €2.2m.
As the business did better, the renovations were completed and cashflow grew stronger, Griffin decided it was time to take stock of his personal finances, so he booked a review with an independent financial advisor. One of the main issues he wanted to talk about was pensions.
In the early days of starting the business, he hadn't the money to start a personal pension. "When I took on Hannah Mary's it was too hard to start a pension because I was putting everything I earned back into the business.
But by 2014 my accountant told me it was time to start taking advantage of all the great tax benefits you get when you are investing in a pension," he says. Those contributing to a personal pension get generous tax relief on their contributions, at their top rate of tax.
The fact that his father, a builder, ran his own business, and was "very savvy" about personal finance also informed his thinking.
"Growing up we'd always talk about business and finance around the dinner table and my father often talked about his pension, so I've always known how important they are," he explains.
"My parents only recently retired and now have both the state pension and their private pension, so I can see the benefits of having one first hand."
Griffin's financial advisor in Killorglin talked through the retirement investment options open to him. Because he was still in his early thirties at the time, Griffin opted to start a personal pension and invest his monthly contributions in a higher risk investment fund which, given the long timespan involved, should provide him with greater potential for growth in the decades ahead.
He plans to increase the amount he contributes at some stage too, to take full advantage of the tax benefits pensions offer, and also to ensure he has the quality of life in retirement that he and his partner want so they can spend more time doing what they love, which is trekking and sea swimming at Dook's slip.
"I never took time out to travel when I was younger because I went straight into work," explains Griffin. "That's something I'm hoping to do when I'm older and the one place I really want to go is where they film Summer Bay from TV show Home and Away. At the moment, the closest I get to it is the half hour's escape I get from watching it on TV each evening."
Even though he recently moved into a new home, a 1940s cottage which he bought and renovated, with the help of his father, he has never been tempted to stop paying into his pension.
"For me pension planning is about financial peace of mind," says Griffin. "I can see how happy my parents are now that they are retired, and how financially secure they are because of their personal pension. So, I'm determined to keep going with mine. That's what I'm like when I really want something."
Jerome Griffin was paid a gratuity for his time and contribution to this article.
The information contained herein is based on Zurich Life's understanding of current Revenue practice as at 1st May 2023 and may change in the future.
Warning: Past performance is not a reliable guide to future performance.
Warning: Benefits may be affected by changes in currency exchange rates.
Warning: The value of your investment may go down as well as up.
Warning: If you invest in these products you may lose some or all of the money you invest.
Related articles
Filter by category
Follow us on
Sign Up Here
For promotional offers, news, updates and access to exclusive reports from Zurich
Sending Response, please wait ...
Your response has been successfully submitted.
An error has occurred attempting to submit your response. Please try again.