The 12 days of Christmas fire safety tips
Christmas at home is a time of celebration but it can also have some potential fire hazards. Follow our 12 Christmas fire safety tips to keep you and your family safe during the festive season.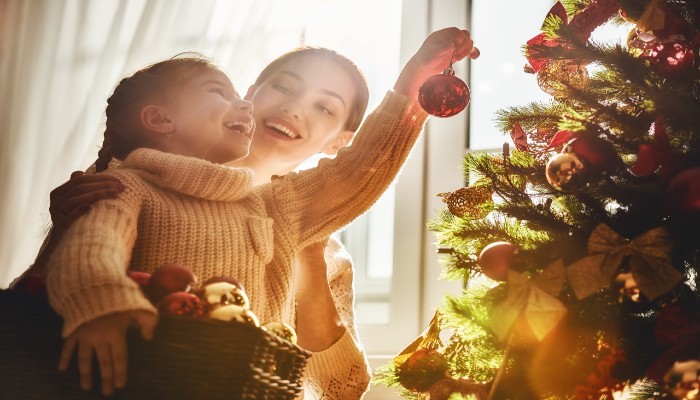 Christmas tree: If you purchase an artificial Christmas tree this year, be sure it has a CE safety mark and is flame retardant. If you have a real Christmas tree in your home this year remember that it can become a fire hazard, especially once the needles start to dry out. When buying a real tree, make sure its fresh and the needles aren't brown as this can be a fire hazard when the needles fall out. It is recommended to only keep a real tree for around four weeks, and while its up, keep it in a pot and continue to water it. Keep the tree away from direct heat, especially open fires, or stoves. Check that the tree lights are all working okay and always turn off the lights before going to bed and when leaving the house. When Christmas is over, dispose of the tree as soon as possible.
Candles: While candles in the house can create a nice atmosphere, a safer alternative are LED tealights, which are safe and which you don't need to remember to blow out. If you must have candles, keep them away from anything flammable like curtains, Christmas cards, decorations, and anything that can catch fire. Always blow out candles if you are not in the room and especially at night-time if you are going to bed.
Cooking: During the festive season we are all cooking and using kitchen appliances a bit more than usual so it's important to be extra vigilant of potential fire risks and have safeguards in place. Ovens and stoves are in use a bit more during Christmas so its important not to leave them unattended when cooking. Keep areas around the cooker free from tea towels and napkins as these can easily catch fire. A fire safety blanket in the kitchen is good to have too as if something catches fire it can be easily extinguished.
Child safety: Christmas is a very exciting time for children, and with excitement levels running high, accidents can happen. To keep you and your family safe at home this Christmas never leave lighters and matches within reach of children. Know where fire blankets and extinguishers are in the house and how to use them and know how to quickly exit the house in case of emergency.
Decorations: We all like decorating our homes with Christmas decorations, but always take care that they are not potential fire hazards. Like a Christmas tree, do not hang decorations near direct sources of heat such as an open fire or stove, or near naked flames such as candles. If your decorations have lights on them, always make sure they are working correctly. Turn them off when you are not at home or when you go to bed.
Electrics: Given all the extra appliances running and additional lights on at Christmas, there might be a tendency to overload sockets and run extra extension leads. This should be avoided as it can cause electric faults and fires.
Fireplace and chimney: Spending quality, cosy time around the home fire is all part of the festive season so enjoy this time safety by ensuring a fire guard is in place, especially with children playing in the house. It's also important to make sure your chimney is cleaned at least once a year.
Fire extinguisher and blanket: It is a good idea to have a fire extinguisher and blanket in the home and to familiarise yourself with how to use them. Fire extinguishers should be replaced every few years.
New Year's Eve fireworks: Ringing in the New Year with fireworks in the garden might sound like a good idea but fireworks are illegal in Ireland and can be very dangerous causing serious injury. The only fireworks that can be purchased by the general public are category 1 or low hazard fireworks, examples of which include party poppers, Christmas crackers and some sparklers.
Outdoor lights: When hanging outdoor lights, ensure that the lights are suitable for the outdoors and do not use them indoors. Outdoor lights are insulated specially for the purpose or being outside and should not be used inside the home.
Smoke and carbon monoxide alarm: While having smoke alarms in your house is a good start, you will need to ensure they are working properly. Install multiple smoke alarms in your home ensuring there are at least two smoke detectors in your house – hallways and stairwells are the most important areas. Test smoke alarms once a month and change batteries twice a year.
Smoke outdoors: Cigarettes can be the cause of a lot of house fires so if you do smoke it's advisable to do so outside the home. If you do smoke indoors make sure your cigarette is completely extinguished. You could extinguish it under a running tap or put water in your ashtray to be extra sure.
These Christmas fire safety tips should help keep you, your family and your home safe from fire this Christmas. We have other Christmas home safety tips here that might be useful and some general fire safety tips that might help you protect your home during the festive season.
About: How do you better protect your world?
Having your property and possessions protected by Zurich's home insurance comes with the peace of mind that should the worst happen, we'll be there to help when you need us.
Related articles
Filter by category
Follow us on
Sending Answer, please wait ...
Your answer has been successfully submitted. Thank you for your participation.
An error has occurred attempting to submit your answer. Please try again.