Happy campers: 'We want to have options and choices in retirement'
With a retirement master plan that involves a camper van and a lot of travel, forty-somethings Mary Gorman and Tony Grant have smart pension strategies in place. This article is an Irish Times Content Studio production.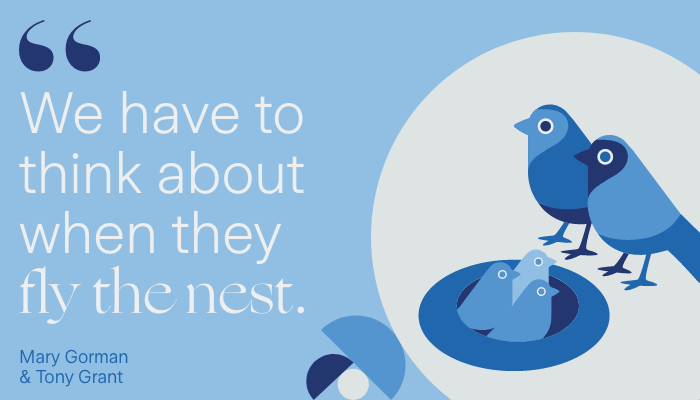 Mary Gorman and Tony Grant were teenage sweethearts who met while still at school in Balbriggan.
"We got together on the night Ireland beat Italy in the 1994 World Cup," says Gorman.
In fact, very many of their milestones are measured out in football games. Grant was a professional soccer player for years. He started as a trainee at Leeds United aged just 16, where a significant contingent of slightly older Irish players, including Gary Kelly, helped him settle in.
"It was brilliant to be there but it was a big city and daunting too, especially as I'm a home bird. The fact that I went with another Irish fella and shared digs with him helped," he recalls.
He can't remember a time when he didn't have a football at his feet. "Tony was always known as Boots Grant," explains Gorman. "Not because of football boots, it was because as a toddler he wouldn't take off his red wellies."
He reckons his choice of footwear helped hone his skills early. "Playing football in wellies is great training," he points out.
Grant turned fully professional while at Leeds and went on to have a great career both in the UK and Ireland with clubs such as Preston North End, Shamrock Rovers, Bohemians and Drogheda United, as well as playing for Glenavon, in Northern Ireland, which he loved.
When age and injury finally caught up with him, nearly a decade ago, he retired from professional football and began working for An Post. Sport remains a huge part of his life, whether as a highly insightful commentator on BBC or helping out at his local GAA club – where the couple's three daughters play.
Gorman meanwhile focused her attentions on academia, studying to master's degree level before doing her teaching diploma and becoming a teacher at a local girls' school. She teaches history and geography at Leaving Cert level and looks after its transition year programme.
Now in their mid-40s, retirement planning is increasingly on their mind.
During his UK playing days, Grant was given enormous encouragement to sign up for a pension as soon as he began drawing a wage - while still a teenager in fact. Because a sporting career is typically short lived, he was entitled to drawdown his sporting pension at 35.
In Ireland however he had to fight to have pension contributions included in his package, which he eventually succeeded in doing while playing for Bohemians, setting up a PRSA, or private pension plan.
"It was a great deal, with tax relief on contributions. It was nearly too good to be true, but the government gives really good tax breaks on pensions to try and encourage pensions," explains Gorman.
When he finished full time professional football, in 2011, he paused his PRSA payments for a number of years, as family commitments took precedence. The fact that his new job with An Post came with a defined benefit pension helped but, now that his girls are older, he plans to restart payments into his PRSA too.
While Grant has always had to be proactive about pension planning, as a teacher Gorman almost didn't have to think about it at all. Pension contributions were taken from her salary as a matter of course, something she is very grateful for now.
"I went into teaching at the age of 23. After six years at college, and having been without money for so long, I wouldn't have thought of pensions at all, only of new clothes and holidays," she laughs.
Her union, ASTI, provides regular financial health checks for members, which she has always availed of.
It was during one such financial review that she decided to increase her pension provision, paying into an additional voluntary contribution (AVC) whenever she got a significant salary increment.
Again, taking additional earnings away before they hit her account was the key. "If I don't know I have it, I won't miss it," she says.
Hearing staff members talk about pensions in the staff room informed her thinking on this.
"There was one older woman at the time who really wanted to retire early. She was having to put a huge percentage of her wages into her pension to try and buy back missing years. She said she really regretted not paying into an AVC earlier. I was listening and thinking, I really want to avoid being in that position, I want to have options when the time comes," says Gorman.
Her father had always taught her that if you look after the pennies, the pounds will look after themselves.
But her family has had a major impact on her financial thinking in more profound ways too. The sad loss of her brother, when he was only 42, made her determined to enjoy her young family to the maximum.
It's why the couple decided to pause Grant's PRSA contributions for almost a decade, so that they could save up and buy a caravan instead, to take the children away for extended summer holidays each year.
"We have had 10 great years of holidays and memories, so we don't regret pausing the pension one bit," she says.
"Absolutely," agrees Grant. "You have to live."
Now the family is moving into a different phase. "We have to think about when they fly the nest," says Gorman.
The couple's pension contributions are hard earned and never taken for granted.
"We have to make sacrifices," she points out. But the fact that Grant has already experienced one retirement, from professional sports, gave them first-hand experience at how quickly time flies, and how important it is to prepare for it.
True to their indefatigable spirit as a couple, their retirement goals are not measured out in financial terms, but in experiences.
"We want to have options and choices in retirement. Most of all, we want to trade our beloved caravan in, buy a campervan and head off ourselves," she explains.
And where will they go? "Everywhere," says Grant.
The information contained herein is based on Zurich Life's understanding of current Revenue practice as at 31st August 2022 and may change in the future.
Warning: Past performance is not a reliable guide to future performance.
Warning: This product may be affected by changes in currency exchange rates.
Warning: The value of your investment may go down as well as up.
Warning: If you invest in these products you may lose some or all of the money you invest.
Related articles
Filter by category
Follow us on
Sign Up Here
For promotional offers, news, updates and access to exclusive reports from Zurich
Sending Response, please wait ...
Your response has been successfully submitted.
An error has occurred attempting to submit your response. Please try again.