Should I buy an electric car now in 2023?
In this article, we'll explain why at Zurich Ireland we believe that 2023 is the right time to buy an electric car. With the following list of reasons and benefits of buying an electric vehicle (EV), we aim to help you make an informed decision before making a purchase.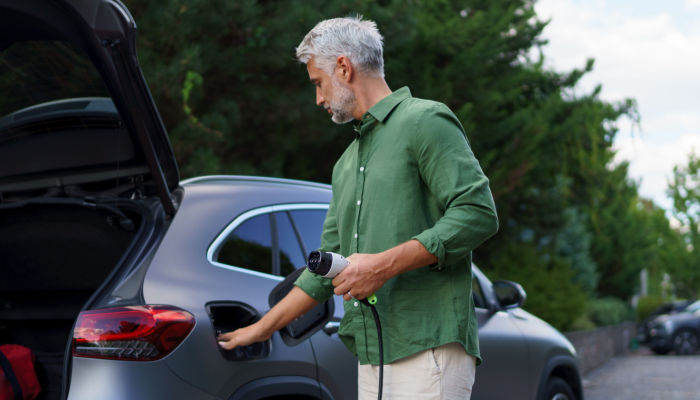 1. Electric cars are cheaper over their lifetime compared to fuelled vehicles

There are several incentives available to those who choose an electric car over a fuel one. The Sustainable Energy Authority of Ireland (SEAI) provide grants available to encourage greater usage of electric cars on Irish roads, so you should definitely check them out to see what's available.

The SEAI have also developed a handy tool to compare electric cars vs petrol and diesel cars in Ireland to see how much you can save in cost and emissions.

We used the tool and found that the annual energy costs for an Electric Peugeot 208 are estimated to be €640 compared with the annual energy costs for a petrol Peugeot 208 which are estimated to be €1,498.

When it comes to purchasing the same vehicle, the upfront cost to buy the electric version is higher, however over a 10-year period, the electric version will cost you €47,656 versus €52,920 for the petrol model.

SEAI have also developed a journey cost calculator which you can use to compare the cost of your daily commute using an EV or a petrol/diesel car.
2. EV grants up to €3,500 and EV charger grants up to €600
EV grants and EV home charger grants are also available through the SEAI. From 1st July, a maximum grant of €3,500 is available for battery electric vehicles qualified as a passenger car with a private selling price between €14,000 and €60,000.
Grants are also available for commercially bought EVs. And you can learn more about the SEAI grants available when purchasing an electric vehicle.
3. VRT EV relief available until the end of 2023
Vehicle Registration Tax (VRT) reductions are available when you first register a hybrid, plugin hybrid or electric vehicle. VRT categories A and B for electric vehicles registered before the 31st of December 2023, are eligible to VRT relief up to a maximum of €5,000.
You can find out more information and examples of VRT relief on electric vehicles at revenue.ie.
4. Motor tax is cheaper
One of the parameters taken into consideration to calculate your car motor tax is the CO2 emission level of the vehicle. CO2 emissions of electric cars are lower than fuelled vehicles, therefore the motor tax for EVs is at the lowest band of €120 per year.
You can learn more about motor tax rates on the motor tax website.
5. The EV charging infrastructure is maturing and growing
The first national electric vehicle charging infrastructure strategy was launched in 2022 and the plan is to spend €100 million on public charging points for EVs over a three-year period.
The strategy also aims to deliver a pool of high-powered chargers every 60km on motorways and increase home charging, residential neighbourhood charging, and destination and enroute charging.
The new Shared Island Sports Club Scheme was also launched to encourage more electric car charging infrastructure. The scheme fund will help sports clubs install EV charge points in local communities across the country.
As of today, ESB operates and maintains over 1,350 public charging stations across Ireland. On top of that, private EV charging companies are rising such as EasyGo who manages over 1,050 chargers.
There are lots of advantages and incentives should you decide to install an EV charger in your home. You can read our blog if you are considering installing an EV charger in your home.
6. Most manufacturers guarantee eight years of battery lifespan
According to SEAI, most manufacturers guarantee eight years of EV battery lifespan or 160,000 km. Some Consumer Reports in the US estimate the average EV battery pack's lifespan to be around 320,000kms. Considering the average annual kilometres an Irish person does is 16,400km, that's about 19.5 years of use.
If you want to find out more information about EV battery life, visit the SEAI website.
7. Many EVs have a battery range of over 300km
Electric cars' range can vary depending on battery size, capacity and other variables. However, you can use the SEAI comparison tool to compare and contrast between different makes and models and the rte guide to electric cars, provides some insights when it comes to battery range. Many cars have a range of over 300km, which is more than enough to drive from east to the west of Ireland in one run, but it is worth doing your research before you make a purchase.
About: How can we better discover our world?
No matter where you are travelling to in your car, your car and protecting those in it will be the most important element of the journey. Car insurance is a legal requirement in Ireland and having your car insured with Zurich Insurance gives you peace of mind that should the worst happen such as a breakdown, you protected. Our car insurance also has many great benefits depending on the cover you choose.
Related articles
Filter by category
Follow us on

Sending Answer, please wait ...
Your answer has been successfully submitted. Thank you for your participation.
An error has occurred attempting to submit your answer. Please try again.