Trade tensions dominate the markets
The markets experienced some volatility against a challenging political backdrop and trade tariffs are likely to dominate at the G7 Summit in Quebec, writes Ian Slattery.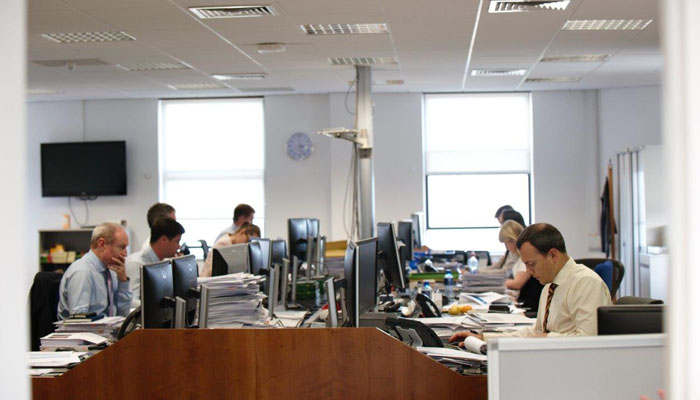 Italian political developments dominated markets last week, as negotiations traded back and forth between the coalition government and the President. Risk dissipated somewhat later in the week, as a more moderate Finance Minister was proposed. However, volatility flared in Spain as Prime Minister Rajoy was ousted in a no-confidence vote.
Trade tensions also flared as no eleventh hour trade deal materialised in relation to steel and aluminium tariffs on US imports from EU, Canada, and Mexico – and will be sure to be a key talking point as the G7 meets later in the week.
However, US stocks got a boost from a better-than-expected May jobs report with 223,000 jobs added, much higher than the 12 month average of 191,000. Unemployment also edged down to an 18 year low of 3.8%.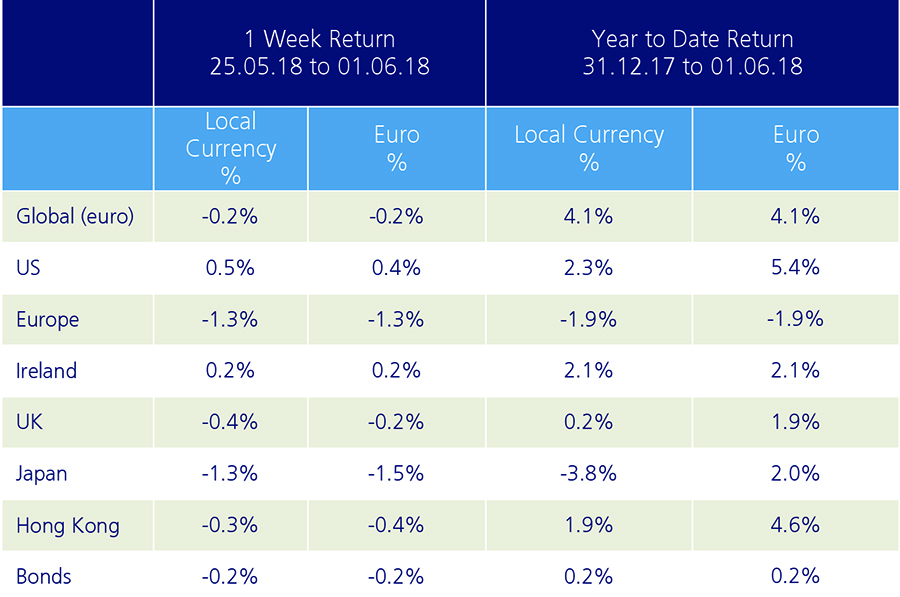 The global index closed lower last week, as negative price action in Europe offset gains in the US.
Commodities were broadly lower for the period as oil fell for the second week in a row, on the back of rising US output. Copper bucked the trend and was up 0.7% in dollar terms.
The 10 year US bond yield finished the week at 2.90% from 2.93% as prices (which move inversely to yields) rose, on the back of risk aversion early in the week, although these gains were partly erased by the good economic data releases on Friday. The EUR/USD rate finished at 1.17, whilst EUR/GBP was at 0.87.
The week ahead
Tuesday 5 June: UK Services PMI data goes to print, where the consensus expects the index to edge up slightly to 52.9 from 52.8.
Thursday 7 June: There is no change forecast as the final eurozone GDP data for Q1 is released, with the quarter-on-quarter growth rate to be confirmed at 0.4%.
Friday 8 - Saturday 9 June: Trade tariffs are likely to dominate at the G7 Summit in Quebec, with US Commerce Secretary Wilbur Ross to face some tough questions from his peers.
About: Zurich Investments
The team at Zurich Investments is a long established and highly experienced team of investment managers who manage approximately €22.1bn in investments of which pension assets amount to €10.1bn. Find out more about Zurich Life's funds and investments here.
Warning: Past performance is not a reliable guide to future performance.
Warning: Benefits may be affected by changes in currency exchange rates.
Warning: The value of your investment may go down as well as up.
Warning: If you invest in these funds you may lose some or all of the money you invest.
Related articles
Filter by category
Follow us on
Sign Up Here
For promotional offers, news, updates and access to exclusive reports from Zurich
Sending Answer, please wait ...
Your answer has been successfully submitted. Thank you for your participation.
An error has occurred attempting to submit your answer. Please try again.