The Cost of Primary School Education
The Zurich Cost of Education Survey 2017 highlights the increasing cost of primary school in Ireland. Here's a breakdown of what you can expect to spend each year for one child, and the lifetime cost of primary education.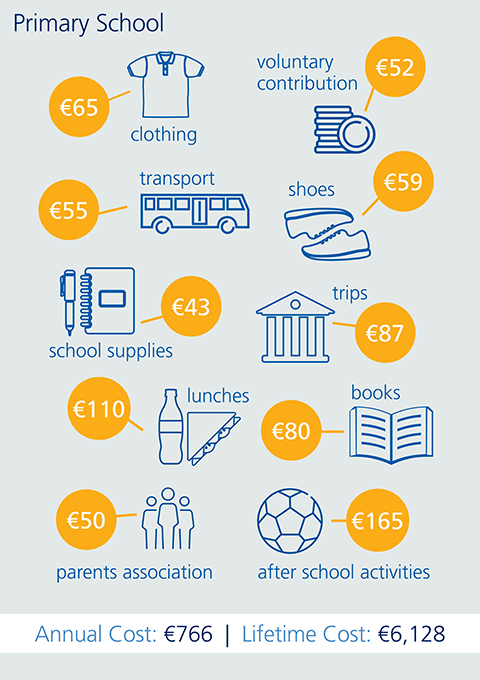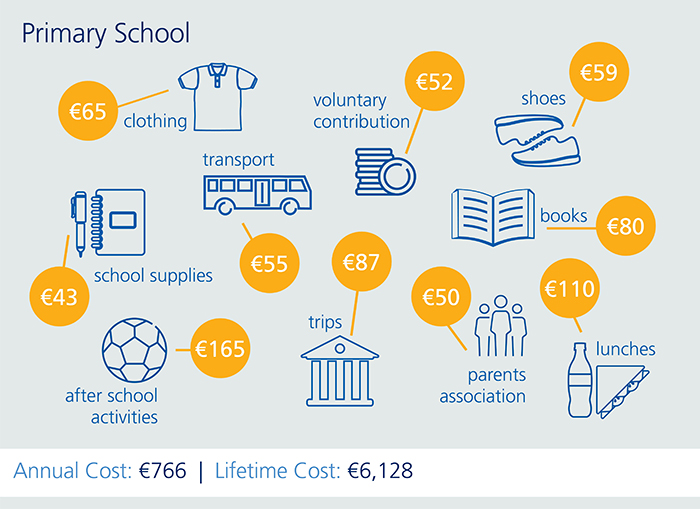 Source: Zurich Cost of Education Survey 2017
It all starts here; your child's first days at school are a big milestone. Their first day at school is also your first day of many years of (very worthwhile) expense and investment.
The average cost of sending a child to primary school each year is €766, but our research report into the cost of sending a child to primary school for one year finds that parents underestimate the actual cost and assume that it costs just €425 per child, per year, when in fact it is nearly double that*.
Often the first thing that comes to mind for parents counting the cost of sending their children to primary school is the cost of books and school uniforms, and while these items do account for a substantial expense, they are not the only costly item on the back to school shopping list. The Zurich Cost of Education Survey 2017 found that in primary school, the highest costs are activities at €165, lunch €110, school trips €87 and books €80. School uniforms cost on average €65 and school footwear €59 for each child during the academic year.
Because capitation grants paid to primary and post primary schools have been reduced in recent years, parents have seen this reflected in the increased voluntary contributions they are asked to pay, ranging from €50 to €100 on average in primary schools. When adding up all the figures, the average cost of sending just one child to primary school for one year is €766 and the total cost of eight years' primary school education certainly adds up and comes in at an estimated €6,128.
The Cost of Primary School Education
| Item | Estimated Cost |
| --- | --- |
| Clothing | €65 |
| Voluntary Contribution | €52 |
| After school activities | €165 |
| Books | €80 |
| Lunches | €110 |
| Shoes | €59 |
| Transport | €55 |
| School Trips | €87 |
| Parents Association | €50 |
| School Supplies | €43 |
| Annual Cost | €766 |
| Lifetime Cost | €6128 |
Hidden costs
In addition to the obvious expenses associated with sending children to school, the Zurich Cost of Education Survey also found other hidden costs and looked at whether or not there are means by which parents can better manage their finances.
It is not surprising to learn that because the cost of education for children is so high, parents try to find ways to reduce expenses. Most primary school children (86%) bring a packed lunch with them and only one in ten children in primary school eat in the school canteen. In primary school, 51% spent on average €110 on school lunches.
For the majority of primary school children (80%) required hard copies of books. Primary schools offered a book rental scheme for 68% of children and the majority of parents availed of this initiative. However, almost 40% of parents said they would like to see more widespread use of laptops, iPads and eReaders in an effort to reduce the cost of books.
When it comes to keeping the cost of uniforms down, the Zurich Cost of Education report found that 30% of primary school children are required to wear a full branded uniform and 23% a branded jumper only. The majority of parents surveyed (74%) said they were not eligible for the Back to School Clothing and Footwear Allowance for their children in primary school.
Other hidden costs that are often paid out on an ad hoc basis are extra-curricular activities and school trips. 85% of children in primary school take part in extra-curricular activities and the average spend on these activities in the primary school year was €165. In addition, 95% of primary school-going children went on school trips in the most recent school year costing parents between €80 and €100 in the academic year.
Saving solutions
There are some measures parents can take to reduce the cost of sending their children to primary school, such as providing packed lunches, walking to school and availing of book rental schemes. Other solutions to minimising the financial burden of children's education is early planning and financial saving.
Looking specifically at parents' saving behaviour, the Zurich Cost of Education research found that 77% of parents have a savings account and save an average of €5,299 per year. Half of those savers (49%) say their top saving priority is to cover their children's education costs. Furthermore, two thirds (66%) of parents have or plan to set up a savings account for their children. Most parents (42%) agreed that under the age of one is the best time to set up a savings account.
Something to think about...
It's clear to see that the cost of education is high and increases over the years. So, wouldn't it make sense to plan ahead and build up your savings year-on-year?
With a Zurich Easy Access Savings plan you can gradually build up the funds necessary to support your children's education.
The table below illustrates just how much regular savings can grow with a Zurich Easy Access Savings plan. For example, if you saved the Government child benefit of €140 per month for five years (as of January 2017) from when your child was born, by the time they started school you could have built up savings of €8,832 in time to fund this crucial stage in their education.
*Source: Zurich Cost of Education Survey 2017
Savings fund after five years starting primary school
Savings fund after 12 years starting primary school
Regular contributions of €140 per month*
€8,832
€22,564
Lump sum of €10,000 and regular contributions of €140 per month*
€19,700
€34,865
A gross investment return of 4.2% per annum is assumed, partial encashment, assignment, death or on each 8th anniversary of the policy tax is deducted on gains made. The figures shown allow for the deduction of tax (currently 41%). Saving amounts are after the deduction of the Government Insurance Levy (currently 1% as at July 2017 and may change in the future). No surrender penalties apply. An annual management charge of 1.25% and an allocation rate of 101% apply. The information contained herein is based on Zurich Life's understanding of current Revenue practice as of July 2017 and may change in the future.
Warning: The value of your investment may go down as well as up.
Warning: If you invest in this product you may lose some or all of the money you invest.
Warning: These figures are estimates only. They are not a reliable guide to the future performance of your investment.
Warning: This product may be affected by changes in currency exchange rates.